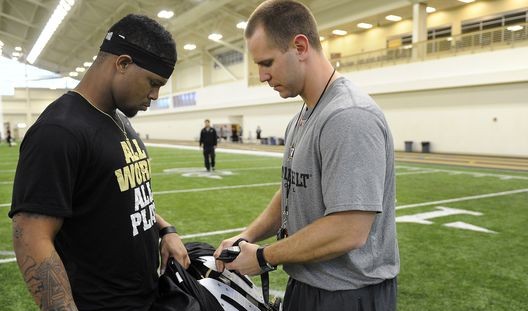 photo courtesy Geroge Walker IV - The Tennessean
I first met James Dobson when I visited Chris Doyle and his staff at the University of Iowa in 2002. "Dobby" since has been the head strength & conditioning coach at Nebraska and now is bring GPS technology to Vanderbilt.  This is a very interesting article written by Adam Sparks on the use of GPS in college football.
GPS in shoulder pads: Vanderbilt football goes high-tech
Used for years in Australia and Europe for soccer and rugby teams, Catapult devices gained popularity in American college football when Florida State adopted the technology during its 2014 national title run.
Four other SEC teams — Alabama, Kentucky, Missouri and Texas A&M — already use Catapult.
Vanderbilt is trying it out in spring practice. After one week, head coach Derek Mason called Catapult "unbelievable."
Science in sports
According to its website, Catapult monitors are physiological and biological devices that measure each player's workload, allowing coaches and trainers to know who is overworked and economize practice by removing the guesswork with scientific data.
Catapult measures speed, acceleration, change of direction, distance, impact taken from hits and much more. The devices record more than 400 variables per second for each player.
"That's a lot of data, if you didn't know," Schumacher said.
Thirteen players wore a Catapult device during the first week of spring practice. If the trial run is deemed successful, Dobson said more censors could be used during the season to better train players and manage practice for peak performances on game day.
"When you are dealing with athletes, you have to be very individualized because all athletes are different," Dobson said. "Genetically they're different. Training issues are different. Medical history is different. Playing history is different. So when we get these individuals on campus, we've got to treat them as individuals.
"A lot of the technology out there like Catapult allows us to be more individualized in training our players. The more individualized we can be, the more we can help these guys reach their potential."
Practical use
All technological jargon aside, Mason said Catapult has already affected his practice routine after seeing that longer on-field workouts were not properly mimicking the results of a typical college game.
"We saw what our first two practices (of spring) looked like, and we had played three and a half games in those first two practices," Mason said. "Now understanding how hard our guys worked, we can look at the levels of our workload and the frequency of it. So we can shorten our practices and still get the optimal work in — quality over quantity."
Schumacher said it provides an objective measurement of how long one player can be at his best relative to another. For example some wide receivers can accelerate at the same rate for seven consecutive routes, while others slow down after only three routes. That's valuable information in a game.
"And if our first-string guy is getting a lot of reps in practice and he's getting to the point where he's near the edge, we don't want to put him over the edge," Schumacher said. "We can pull back so he's recovered for tomorrow and ready for Saturday (in the game)."
Read the entire article here.
Source: http://www.tennessean.com