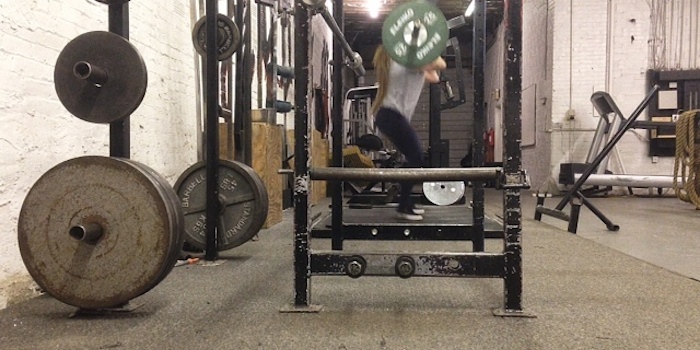 Background: I work at OSU as a graduate teaching associate and lift at Ludus Magnus. I am a raw lifter who competes in the 105lb weight classes, and am currently prepping for my next meet (when grad school finally gives me a weekend off) . Currently, I am in the process of trying to accomplish my lofty lifting goals,survive graduate school, and teach undergraduates about what I really love, TRAINING..
---
Deload Week3: ME lower (Friday)
Warm up-general
Warm up-general
1. Stepper
Warm up-specific
2. rdl-to clean-to-front squat drop down
3 x 4 combination reps (135 smoke show)
Training
3. Deload squat (no belt/reps)
Up to 3 singles at 205
Assistance
4a. 1 x 20 rev hyper
4b. 1 x 20 ghr
4c. 1 x 20 ab v-up
Training was short since this is my deload week...
Acknowledgements are for beginnings, not endings..
So, I mentioned in my last post I had some news.  I found out earlier this week that I will beginning my PhD studies at Ohio State's Biomedical Research Program this Summer.
For those that do not know, I am currently finishing up my M.S in exercise physiology with a focus in nutrition at Ohio State (I defend April 7th, 1pm, can we start the countdown clock already, yikes!).  I've spent the last year studying adipose (brown fat, cardiac fat, subq fat, visceral fat) tissue, some of the small molecules and hormones it secretes, and some additional stuff related to exercise and animal models.  However, at the same time I have been doing some work in the biomedical department and have become involved with the center for muscle health at OSU/Children's Hospital.
Since my interest was always in muscle (and fat, but not without muscle haha), when I found out back in 2013 that there were a whole group of people studying muscle hypertrophy, inflammation, membrane repair, wasting, and signaling, I started to toy with the idea of switching programs for my PhD.  But, since the biomedical program brings in students from all over with backgrounds in biochemistry, chemistry, physics, etc, I was hesitant to apply.  As time went on though, my questions about exercise, muscle, and fat became more and more molecular.  In my mind, I was still asking basic meathead questions, but I started to realized that to others, it seemed like what I was asking were questions in a completely different area (unless your a Mountain Dog Man like Alex, Bill or Trevor and used to my endless molecular-signaling pathway-exercise based rants).
The application process, which started in November, has been quite the adventure, filled a lot of lows, followed by a big high this week.  Actually, grad school for the past two years has been like that too, so I have no idea why I want to subject myself to even more of this madness in an area where there are a ton of things that will be brand new (about muscle and in general).  Except I know why: I have too many questions that I need answered.
And while I am beyond excited to get this good news, I wouldn't have even gotten to this point if it hadn't been for a couple of key people.  So, without saying, the people I am very thankful to have or have had in my life supporting my love of mountain climbing...
First off, my PI. My PI is great, as she has and does teach me many things about life and science.  She was supportive of my desire to move to a new program and I don't think it could have been possible without her.  And then there is my other boss Jae, who gave me the opportunity to juggle teaching and research full time with massive amounts of support and encouragement.  While I'm sure she was worried about me, I also know that she always believed in my endeavors. There were also quite a few PIs who were beyond helpful in this process, and I cannot thank them enough.   And then there is my parents, who god bless them, have been nothing but behind me in my endless pursuit of school and the associated low wages.  They are the best.  Oh and Grant Foglesong.  Grant, who is also in the program, believed I could and should apply to the program, well before I believed I could.  If it wasn't always for his  positive voice in my ear, I most likely would have struggled to make it around the roadblocks on the way.  Shoot, he even gave me his GRE books to study when I found out I had to retake the exam! And Bill Willis, who had dusted me off when I was down (more times than I can count or would like to admit), who had been a rock for the times when I was really wreck, and who had taught me to embrace the fact that I wanted my PhD in biomedical not exercise science (I struggled accepting that a bit).  And Lily Starobin, who hasn't disowned me as friend and has always been there, despite the fact that I work like a crazed madman.  And of course my amazing friends at school (Teryn, Sarah, Bolu, Shawn, Liz, Val, John, Alex Wells, Morris, etc!) and friends not from school that put up with living with me interview week (Alexander Cortes, Trevor Kashey, and Yessica Martinez).  They didn't complain (to my face hahh) once about my off the chart nerves that week and were nothing but the best, supportive friends a girl could ask for.  Oh and Ted Cox, for dealing with me every morning before work (during training) and making sure I leave the gym with a smile on my face and Matt Wenning for supporting school being a priority.  And finally (last but not least!), Traci Tate, Dave Tate and the EFS team, who I am so thankful to have supporting me in that time period working towards proving myself to the scientific/academic community.
<3
Seems like the mountain climbing is just about to actually start..And I am thankful to have so many good people and a great team holding the rope to get up it!