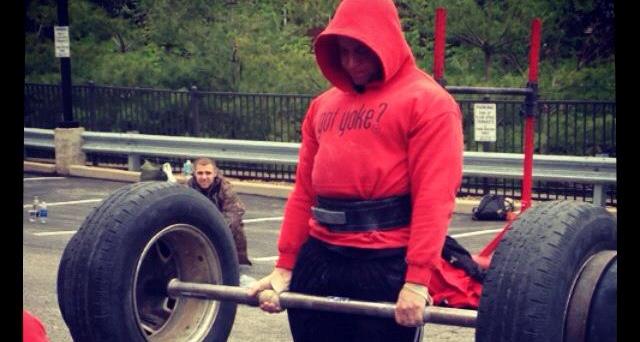 I am currently in an "off-season" phase focused on putting on some serious bodyweight while still getting stronger. I'm also raising an amazing infant boy, while still working, training and living life. My next competition will be the USS National Championship in late June where I'll be competing in the 220# class.
I've decided to compete next weekend here in Paducah. A friend of mine is hosting a competition for the third year (USS - St. Paddy's Day Smash). Since I've never competed close to home and most of my family, friends and clients have never got to see me compete. I won't be doing anything different training wise next week really. I'll just treating the competition as an event training day. Since I'm doing it and today was my day to deadlift I played around with one of the events -  axle deadlift from tires. I planned to hit my top set for a triple, but this thing was heavier than expected. With the axle having no flex and lifting off of car tires + plates it was different. And with 600+ pounds on the axle the pick height was just slightly higher than a traditional barbell deadlift. The axle height was right around 10 inches.
Today actually felt pretty crappy overall training wise. It was just one of those days.
3.4.15
A. Axle Deadlift
135x5
225x3
315x1
405x1
455x1
495x1
545x1
610x1
B. SSB Squats - (Short rest)
150x5
240x5
310x8
310x8
310x8
C. GHRs 12, 12, 20