So this past weekend (3/28), I had the privilege of getting to go back to College Station, TX (home of the Fightin Texas Aggies, my alma mater) to reunite with the Aggie Powerlifting team to watch two of our teammates tie the knot! It was an incredibly beautiful weekend. The weather was perfect (highs of ~80, lows of ~70); clear blue Texas skies (if you've never seen it-- you need to go visit Texas); it was bluebonnet season, so the wild flowers were popping up everywhere; and you had Aggie Powerlifters of all different generations coming together to celebrate the fact that two of our teammates hit the jackpot-- marrying their training partner.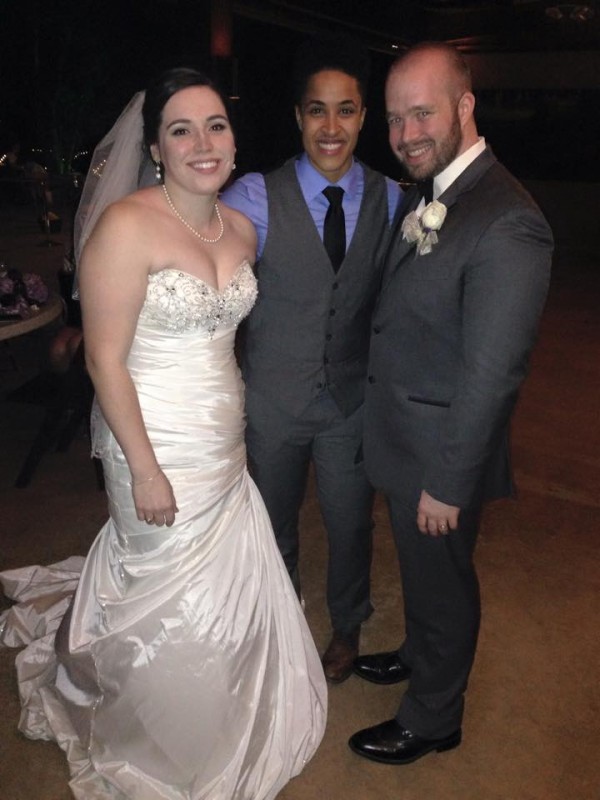 While Friday and Saturday centered around wedding festivities and reminiscing about old times with folks that were on the team with me a few years back, Sunday I got to spend time with the "new" generation of Aggie Powerlifters. It was a proud moment to walk into the Aggie PL gym and see the lifters who were young freshman and sophomore's a few years back, leading and running the Team practice like pros.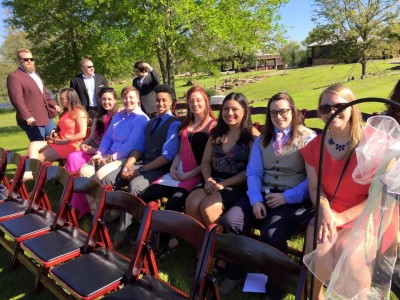 A few of these lifters were my main training partners when I was on the team, and I couldn't help but feel like a proud parent seeing how they've developed as lifters, leaders, and just individuals in general. I had a training session to get in-- so of course I went to practice with the team. It felt like coming home, as if nothing had changed. We lifted, we spotted, loaded, watched depth, gave commands (they were 12 days out from USAPL Collegiate Nationals at the time) and I spent some time helping out a few lifters that had questions about technique & training in general. While I only knew 4 or 5 of the 30-40 lifters going into practice that day, I left feeling like all of them were now a part of my (powerlifting) family. I made sure to give out my contact info to any of the new lifters who wanted it, and let them know to stay in touch (with lifting videos, life experiences, or just to chat) and that if they ever needed anything-- lifting related or not-- to never hesitate to reach out. I was sad to leave College Station, but I'm looking forward to visiting again and seeing how much progress the team makes after competing at National's this upcoming weekend. It's a very young team-- but there's some amazing potential. With the amount of commitment, strong leadership and some guidance, I'm confident that this Aggie PL team can and will reach new heights [I'm hoping one lifter in particular breaks my all-time Women's Team Deadlift record of 445lbs raw-- and you can bet I'm gonna do everything I can to help her do it!]. Oh, and I can't not mention the food... one of the main things I miss about Texas! The weekend involved a lot of tacos, fajitas, Texas BBQ, Deer Meat, and best of all-- Crawdad's! Needless to say, it was an amazing weekend all around. Training for the week is listed below!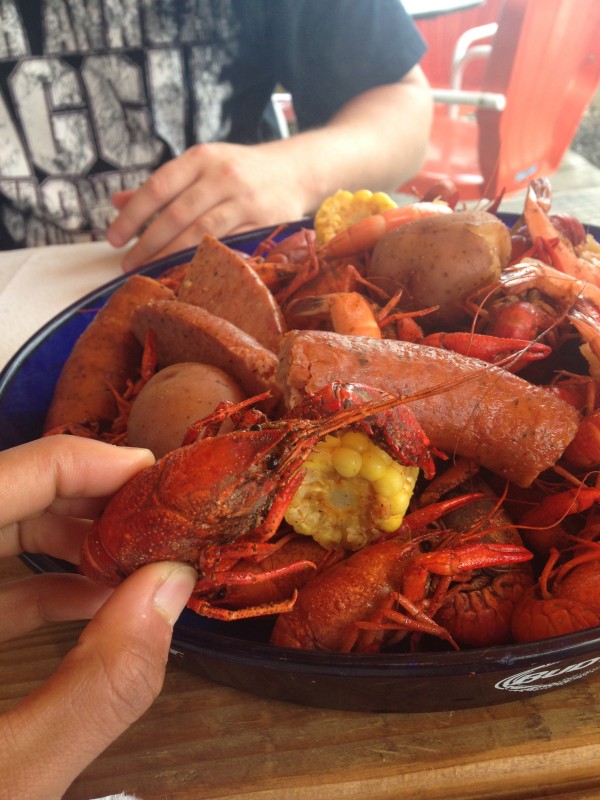 ---
3/23 [Main Squat, Primary Main Bench, Bench Supplement]
| | | |
| --- | --- | --- |
| Squat w/belt | | |
| Load | Reps | RPE |
| 245 | 5 | 7 |
| 260 | 5 | 7.5 |
| 275 | 5 | 8 |
| 275 | 5 | 8.5 |
| 275 | 5 | 8.5 |
| 275 | 5 | 9.5 |
| 260 | 5 | 8.5 |
| | | |
| --- | --- | --- |
| Competition Raw Bench | | |
| Load | Reps | RPE |
| 135 | 5 | 6 |
| 155 | 5 | 7.5 |
| 165 | 5 | 8.5 |
| 160 | 5 | 8 |
| 160 | 5 | 8 |
| 160 | 5 | 8.5 |
| 160 | 5 | 8.5 |
| | | |
| --- | --- | --- |
| Military Press | | no tag |
| Load | Reps | RPE |
| 75 | 9 | 7 |
| 85 | 9 | 8.5 |
| 80 | 9 | 9 |
| 75 | 9 | 8.5 |
3/25 [Secondary Deadlift, Primary Bench Assistance, Deadlift Supplement: VIDEO]
| | | |
| --- | --- | --- |
| 2" Deficit DL (4 mats) | | no tag |
| Load | Reps | RPE |
| 315 | 3 | 6.5 |
| 330 | 3 | 7.5 |
| 345 | 3 | 8 |
| 345 | 3 | 8 |
| 345 | 3 | 8 |
| 345 | 3 | 8.5 |
| 345 | 3 | 8.5 |
| | | |
| --- | --- | --- |
| CG Bench | | no tag |
| Load | Reps | RPE |
| 135 | 5 | 7 |
| 150 | 5 | 8.5 |
| 160 | 5 | 9 |
| 150 | 5 | 8 |
| 150 | 5 | 8.5 |
| | | |
| --- | --- | --- |
| Single-Arm Lever Rows | | no tag |
| Load | Reps | RPE |
| 50 | 9 | 6.5 |
| 60 | 9 | 7.5 |
| 75 | 9 | 8.5 |
| 70 | 9 | 8.5 |
| 70 | 9 | 9 |
[youtube= https://www.youtube.com/watch?v=frSEumgFNEI]
3/29 [Primary Deadlift, Secondary Squat]
| | | |
| --- | --- | --- |
| Deadlift w/belt | | |
| Load | Reps | RPE |
| 315 | 5 | 6.5 |
| 335 | 5 | 7 |
| 345 | 5 | 7.5 |
| 355 | 5 | 8 |
| 355 | 5 | 8 |
| 355 | 5 | 8.5 |
| 355 | 5 | 8.5 |
| | | |
| --- | --- | --- |
| 2ct Pause Squat | | |
| Load | Reps | RPE |
| 225 | 3 | 6 |
| 245 | 3 | 6.5 |
| 265 | 3 | 7.5 |
| 275 | 3 | 8 |
| 275 | 3 | 8 |
| 275 | 3 | 8.5 |
| 275 | 3 | 8.5 |