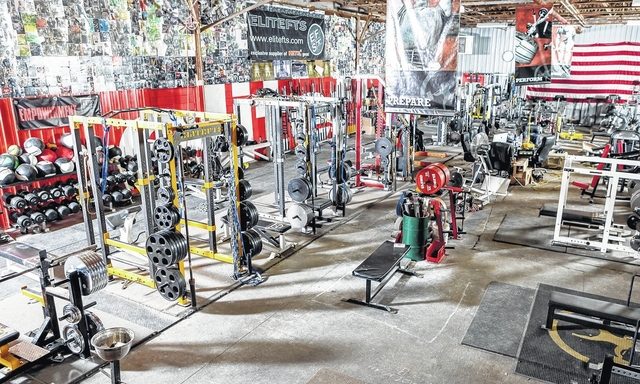 I always like any chance I get to check out a new powerlifting friendly gym. I was born and raised in Northeast Ohio, went to college in southeast Ohio, and currently live in south west Ohio, so, I've been able to train in some pretty cool gyms around the state. Here is a list, in no particular order, of the best gyms in Ohio that I've trained at.
1. Old School Iron (formerly Iron Asylum). Cleveland, Oh.
www.osigym.com
The first time I trained here was probably 10 years ago, and it was The Iron Asylum. One of my best friends, Jack Finucan, AKA Nuke, who pretty much got me in to powerlifting. He had been training there for a while and I went with him to check the place out. Walking in, I wasn't overly impressed until walking down the stairs to a dark, dingy, graffiti tagged basement, full of everything you'd need for powerlifting, strongman, and bodybuilding. The perfect place to train.
From there, they moved twice I believe ( I've trained at both locations) to their current location in Brook Park. The 16,000 square foot gym is awesome and packed with the absolute best equipment, including 4 mono lifts, dumbbells up to 200lbs, and tons of elitefts equipment. Plus, everyone I know who has competed there says they host some of the powerlifting meets around.
2. Powerstation Gym. Middletown, Oh.
Another gym I visited with my buddy Nuke when he came to visit me in Cincinnati about 8 years ago. It was about an hour or so drive to the gym, when we got there it was the middle of the day and there were a few bodybuilders training, as well as Rich Franklin (Pro MMA Fighter), who was training with the owner. We ended up talking to them a little bit and they asked where we were from and what we were doing in that area. When we told them we just came to train at that gym he refunded our drop in fee, so that was pretty cool.
This gym is absolutely packed with equipment. I highly doubt there is anything they don't have. Check out this tour of the gym and see for yourself. The video only shows part of the gym, but you get the point, it's awesome.
3. Old School Gym. Pataskala, Oh.
https://oldschoolgym.com/
It was ranked #10 Hardcore Gyms in America, and it was even good enough to make my list! They aren't trying to impress anyone with the facility (which just about every one of these gyms will have in common). You know when you walk in this gym was created for people who want to train hard and is not for the average joe crowd.
4. Westside Barbell. Columbus, Ohio.
I probably don't even need to say anything about this one but I will. I've trained there twice now, and it is as advertised. As a fan of the sport and a fan of everything Westside has done for powerlifting, it was an incredible experience to train there. The atmosphere and intensity are incredible. It would be impossible not to get stronger being surrounded by great training partners in that intense environment.
5. Elitefts. London, Ohio.
www.elitefts.com
Another obvious one on the list. My first trip to the world famous Elitefts s4 compound was attending the Powerlifting Experience 1 as a client with a 1,600 something total. My coaches for the day were Chris Duffin, David Allen and Brandon Smitley. Being surrounded by these guys who were so down to earth and helpful are one of the biggest reasons why I went all in on powerlifting.
I've been lucky enough to be able to train at elitefts for the past couple years and train with some of the strongest guys on the planed and be coached by some of the best coaches on the planet.
I would post a gym tour, but here is my favorite elitefts video of all time, enjoy:
6. The Dirty Gym. Dayton, Ohio.
www.thedirtygym.com
Another one that isn't trying to impress anyone by the facility, which I love. They are the only gym in the Dayton area that I know of who have the equipment and expertise to train athletes, powerlifters, oly lifters, and crossfitters. I've been to this gym a handful of times to train and to attend very well run powerlifting meets. They have everything you'd need as a powerlifter or strength athlete and are owned and operated by great people. Here is one of the owners Marcus Mucheck squatting at The Dirty Gym:
7. The Strength Lab. Wilmington, Ohio.
www.thestrengthlab.com
Ok, I'm probably a little biased. My business partner, Chad James, and I built this gym from the ground up. We started in the cheapest 5,000 square ft warehouse we could find, on a next to nothing budget. We now own a fully outfitted 15,000 square ft facility. We specialize in sports performance training, with athletes ages 8- high school, collegiate, and professional athletes. Over the past 7 years, we've trained a high school football team that won back to back state championships, a High School All American football player, 2x Ohio HS offensive player of the year (football), an NHL First Round Draft Pick, a couple of other professional athletes, elite level powerlifters and dozens of NCAA D1 athletes. In addition to our bootcamp classes where we've had a couple clients lose 100+ lbs. Long story short, we're awesome.
On my list to visit:
Sweatt Shop in Cincinnati ( it's only about a half hour from me, so I don't know what has taken me so long).
The Spot Athletics in Columbus. Owner, JL Holdsworth is a long time Team Elitefts member and from a business stand point, as well as training I've wanted to visit this one for a long time.
Let me know what's missing from this list!