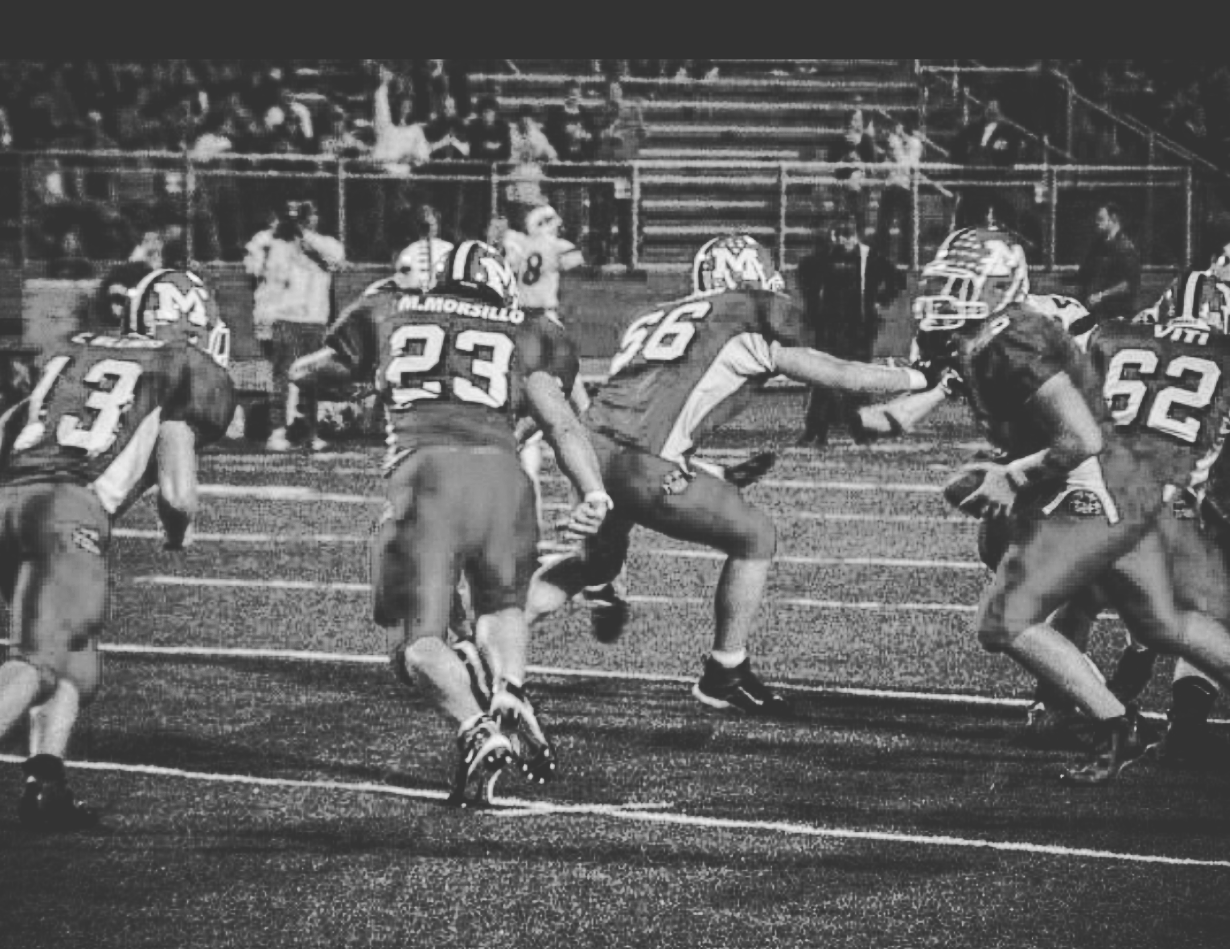 In Memory of Mitch Morsillo
Only 11 people know this story, and I'm willing to bet few of them even remember it. But, to preface it…
I grew up a year behind Mitch in school. I admired him in every way. He was built like a grown man. He was fast and athletic. He worked his ass off in the weight room. Despite being a hothead, or I'd like to call it passionate, he was respectful of his coaches and teammates. And he respected me, a younger teammate. But not just me, everyone down to our third and fourth string players. As you grow up and mature, you realize that's the right thing to do. But in high school it's easy to forget that. Mitch got it. In fact he lived it, and he set that example for his peers. Not all of them walked that line, but I know I did when it was my turn to lead and I'd like to think Mitch had a lot to do with that.
So it was my junior year, Mitch's senior year. We were good, unfortunately underachieving in the playoffs but the whole team and community dealt with that 'pain,' using that word loosely at this point. We were playing Hopewell at home.
Now keep in mind four out of our five linemen that year went on to play football in college. They were good. And my fullback, #23, was the best in the state. He went on to play at Ohio University. He was bigger than me, stronger than me, and as fast as I was. I couldn't have picked an easier job than to play running back behind those guys.
I ran for 240 yards on three carries in the first three quarters and took a kickoff back for a touchdown. To give you an idea of how good my teammates were, I think I got touched on only one of those plays. As the fourth quarter approached I was still under ten carries. Matt was having a good night throwing the ball too. It was one of those "close your eyes and pick a play" kind of nights.
There were some grumblings on the sideline about me being close to the school rushing record. Something I honestly didn't care about. I think most of our team was focused on winning and taking a shot at the state title.
The clock was winding down in the fourth quarter and we were up a few scores. The game was out of reach. Matt came in to call for a knee. Before he could break the huddle Mitch grabbed him and said "FUCK THAT. Let's get CWill the rushing record." Matt declined out of respect for our coaching staff and the other team, so we took a knee and moved on to the next opponent.
I didn't care about the record. It's just a number and records are meant to be broken. I cared infinitely more about the fact that a guy I looked up to, my teammate, a leader, and the better athlete wanted to do that FOR ME. Mitch, an 18 year old stud athlete, could have very easily made it about him. He could have made his senior season about him. He could have expected us to carry him. But Mitch was their for us. He was there to carry us.
I can't help but feel like we let Mitch down in some way. Maybe we failed him as friends and teammates. Or maybe this was "supposed" to happen. Either way, it hurts. There will always be a void. I wasn't as close to Mitch in recent years as I would have liked to been. I just appreciate the example he set, the friendship we shared at the time, and the love from his family.
Patti and Jim- you're wonderful people. I always felt welcome in your company. At times I felt like part of the family. I think that's a testament to Mitch as much as it is to you. He was a good man. He had a great heart. And sometimes life isn't fair. I love you both and wish you the best.