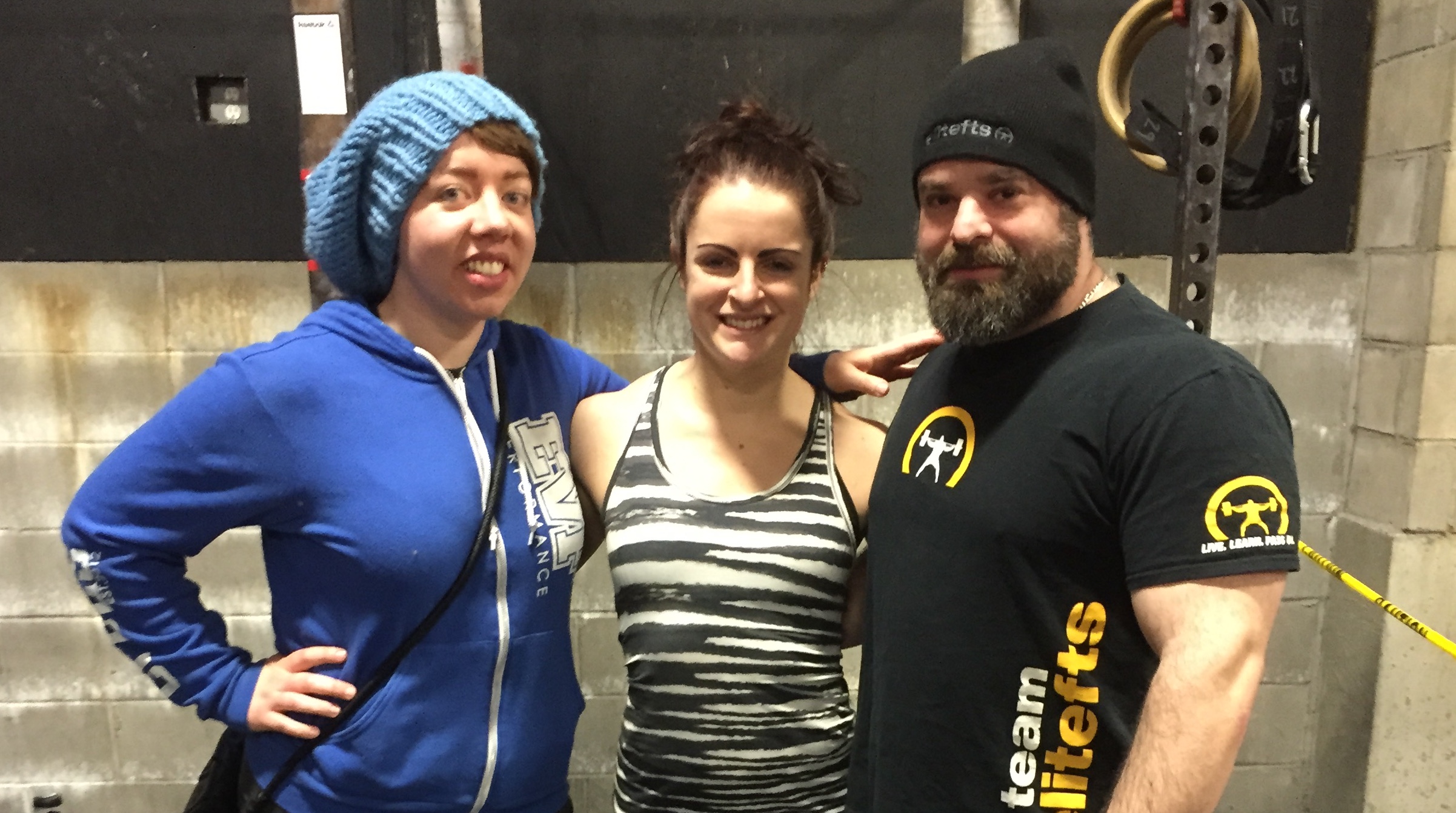 This past weekend, I coached two athletes at the Iron Maidens Open at CrossFit South Brooklyn. About a month ago, a new lifter named Rebecca joined the powerlifting class I teach at EVF Performance. She had signed up for this meet and wanted some help with her technique. She is a good athlete, and was already fairly strong, so it didn't take much to get her ready for a first meet. Since I'm always interested in supporting powerlifting, I decided to go along and coach her through it. One of my other lifters Veronica, came along for additional help and support. Since Rebecca's sister Stephanie was alsollifting, I wound up coaching her a bit as well. Since it was an unsanctioned meet being run by a CrossFit box, I really had no idea what to expect, and to be honest, Seeing some of the things I've seen in both CF and local PL meets, my expectations weren't very high. Getting to the venue, the facility was about what I expected, (yep, it's a CF box) and my heart sank a little when I saw that the warm-up area was two flights of stairs up from the meet. I wasn't worried about the lifters mind you, I was concerned for my own life.
My expectations started to improve however, when the rules briefing started. The head judge was Rori Alter, who I knew as an excellent lifter from the area, and the rules were laid out clearly, just like any other meet. The only major change was that the women would be divided into only 4 weight classes: Pixies, Ladies, Dames and Broads. I actually liked this change for two reasons. First, this was clearly a meet targeted towards beginners, so fewer weight classes would mean fewer lifters would be tempted to cut. The second reason I liked it was that more lifters in each class meant more competition, so the girls that did place (as mine did) would actually feel like they won something.
Also, since this was a beginner's meet, singlets were not required. This was fine with me because it meant one less barrier to entry for girls that did not already have them. Not to mention every time I steer a female lifter towards her first meet, they freak the f*ck out when they find out what they'll be wearing. Mind you, they'll run around in the CF classes in a spandex tank top and boy shorts every day and twice on Sundays, but for some reason if you connect the two, they feel as if they are wearing nothing but a thong and scarlet letter.  Meanwhile every ugly fat guy I know in the sport won't even bother to go to the bathroom to change into their squat suit, and will just go ahead and drop their pants in front of whatever unfortunate women and children happen to be innocently walking through the warm-up area. I've even seen some of the Eastern Europeans go through half of their warm-ups in just their underwear.
It's a strange sport sometimes.
Sorry, back to the meet.
This truly was a woman's meet, because not only were all of the lifters female, but so were the judges and platform crew and announcer. And I have to hand it to the spotters as they caught a few nasty dumps throughout the day, with no one getting hurt. For an unsanctioned meet, I was really quite impressed with the whole thing. There was a large screen to above the platform to keep track of the flights, and although the warm-up area was far from the platform, there were runners to keep us on-time. The pace was brisk, with our two-flight session running about 4-5 hours from start to finish. The Judging, which is one of my main concerns at every meet was fair and consistent throughout the day.
If I had to make one bit of constructive criticism, if the meet directors want to attract more experienced lifters, or pursue a sanction in the future, I would recommend the use of a meet quality bench and squat stands, rather than the typical CF stuff that was there. However since the vast majority of lifters were used to training on the same type of equipment, I don't believe anyone had an issue with what was used. My ladies both had great days, each winning second place in their respective weight classes, and having a great experience for their first time out. Huge thanks to the entire crew at Crossfit South Brooklyn for putting this together!