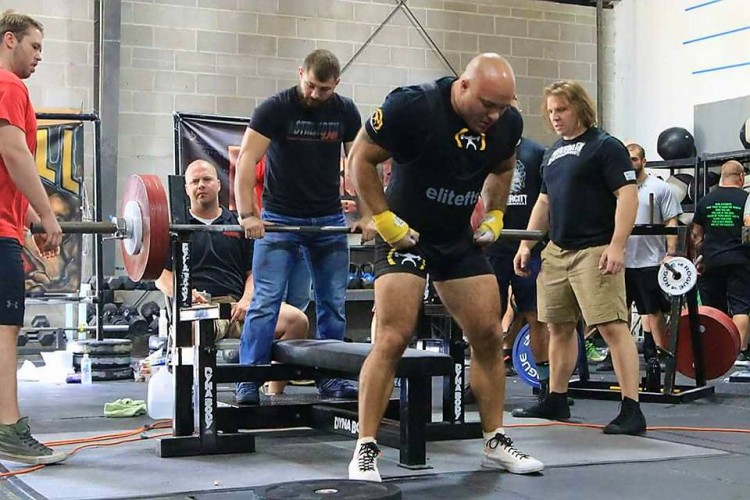 Well, it has been 1 year since my last full powerlifting meet. Needless to say, I was hoping for some PR's, despite having a few set backs this training cycle.
This was an RPS meet and XPC/Arnold Classic qualifier. Rivercity Barbell does a fantastic job running meets, the judging is very consistent, strict by most standards, but I would 100x rather see that than garbage lifts passed. The environment there is always great and they run so smooth, 55 lifters finished by 4:30.
I had a lot of ups and downs this training cycle but we had a great powerlifting crew at The Strength Lab, who really trained hard to prepare for this meet. The other two Strength Lab lifters Adam Privett, and Hunter Collier also hit PRs across the board. And a huge thank you to two other Strengh Lab lifters, Josh Cioca and Shane Thiel for all the help on meet day! I also trained every weekend at EliteFTS, alternating Saturdays, for max effort lower body, and Sundays for max effort lower body.
On to the meet....
Squat: My meet PR was 640.
Attempt 1: I opened with 635, which was easy and a nice confidence booster.
Attempt 2: 675, good lift. Another easy lift and a 35lb PR. This was my original goal to hit this meet.
Attempt 3: 700, 2 reds for depth. It felt every bit as good as the 675. I knew with the strict judging at this meet it wasn't going to get passed, and I agree with the call. It did leave me with a lot of confidence that I could hit this and more without a problem.
Bench: Current meet PR 430
Attempt 1: 410. Easy. I believe this is the most I've ever opened with
Attempt 2: 425. Felt pretty good. This is the most I hit in my training cycle.
Attempt 3: 435. No Good. I though for sure going in to the meet that I would be good for this and probably more, but I wanted to hit a PR. Oh well....
Deadlift: Current Raw PR: 750
Going in to the meet I had some back issues and hadn't pulled more than 675 since March and the 675 was a struggle in the gym.
Attempt 1: 675. Not as easy as I would have liked, but not anywhere near how bad it felt in the gym
Attempt 2: 725. I was actually pretty nervous to pull this because I wasn't sure how much I'd have to grind it out. It ended up being one of the smoothest, fastest heavy pulls of my life.
Attempt 3. 755. Good lift, 5 lb PR. It felt heavier than it looked in the video. I was obviously very happy to hit this considering I didn't know if I was good for 700 going in to the day. I actually told my wife she could leave after bench because I wasn't even going to attempt anything heavy. I'm glad she didn't because the best part of the day was having my 4 year old daughter Maizy run up and hug me after my last deadlift.
I ended up hitting a 60 lb total PR, finishing with 1,855 lb total at 220, raw with wraps.
Thank you so much to everyone at The Strength Lab and Elitefts who I've trained with for helping prepare me for this meet Thank you Jaclyn for always supporting me in everything I do! And of course, thank you Dave and Traci Tate for trusting me to represent Elitefts.