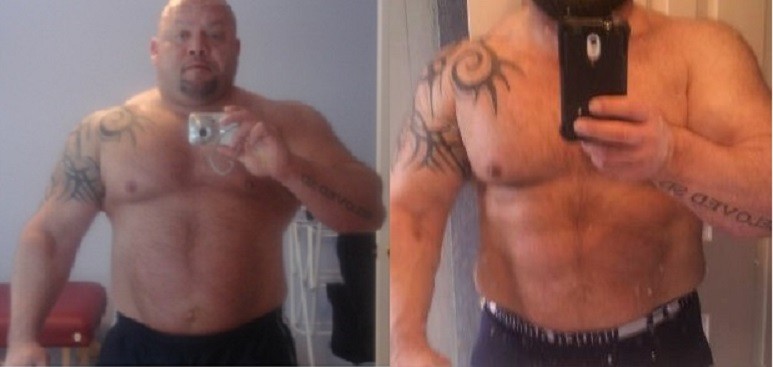 Happy Anniversary! It seems like forever, but it is now one year that Operation Be Less Fat has been underway. You have all seen the before pictures I use, but those are from way back in the superheavyweight days. I look pretty awful, and boy I still have a few atrocities I have not busted out yet. So I have been steadily dropping weight for some time, but I really only put the name to it a year ago, hence, the one year comparison pics.
How do I feel about my progress? I'm stoked. To use an analogy I have talked about at seminars, my best gain on the bench was the three years it took me to put 15 lbs on my bench. That was the difference between benching 585 raw and 600. However, a lot of people would not be happy with just making five lbs of progress a year on a lift. Much like, some would not be happy with taking a year to lose 33 lbs. Yep, last year I was 288 and now I'm at a new low of 255.
In the past, I have taken off 30 lbs in only 12 weeks. Now that's what people are usually looking for. Guess what, I put it all back on. I really did not learn anything from the process at the time. I was more worried about hitting the number than adopting a healthier lifestyle. It's different this time around. The process is not painstaking, and I am learning with each step of the way.
One of the things of which I'm most proud is that during this past year, I was able to hit a huge milestone of a 900 lb equipped bench all while shedding weight. I had chased that number for years even at a much heavier bodyweight. However, sometimes bad comes with the good. Unfortunately that lift also caused a great deal of trauma to my body. I ended up with a back and hip issue that took close to nine months to rehab. Just as those issues were getting resolved, I ended up with a grade 2 sprain of my mcl. So taking the weight off has not been easy.
I have really not been able to train or condition intensely for the better part of the year. You know what that means, it's been mostly diet. Go figure, the food I stick or more importantly, do not stick in my fat face, has made the difference. Where my threshold of calories used to be around 4,000, it's now down to 3,000. Oh yeah, it's a numbers game, and it sucks.
There are guys like Wendler and Rhodes who just took weight off by eating less. Some guys and ladies can do that, not me. I not only conditioned myself to eat like a pig to gain 120+ lbs since starting powerlifting, I just love food. It's hard for me to believe, but there are some people who just don't love food. You have seen these people. They are the ones who actually leave food on their plate. Meanwhile, I'm the guy licking up the extra crumbs. Truly living the motto, "No calorie left behind."
So unlike my hetero life partner Rhodes, who just eats less, I need a plan. During this past year's journey I have used a number of nutritional approaches. I followed carb backloading, iifym, carbnite, and ketogenic diets. Guess what, it all came down to numbers. Of course you can manipulate macros to optimize training and to ensure maximum amounts of fat loss, but to lose weight a lot of it is just calories.
I could talk about my diet experiences at length, but that's an Operation Be Less Fat update for another day. Right now this is just to observe my one year anniversary. So thanks for reading. I especially want to thank all of you who have offered words of encouragement on posts, emails, social media, etc. It means a lot. I'm also grateful that I have been able to help and inspire a lot of other people in their journeys. I encourage you to keep corresponding with me. There's strength in numbers because this process ain't easy. Alright, I'm off to celebrate. I wonder if I can stick a candle in my kale, beet, Greek yogurt, banana, carrot, and strawberry smoothie. It's sure thick enough to hold one.