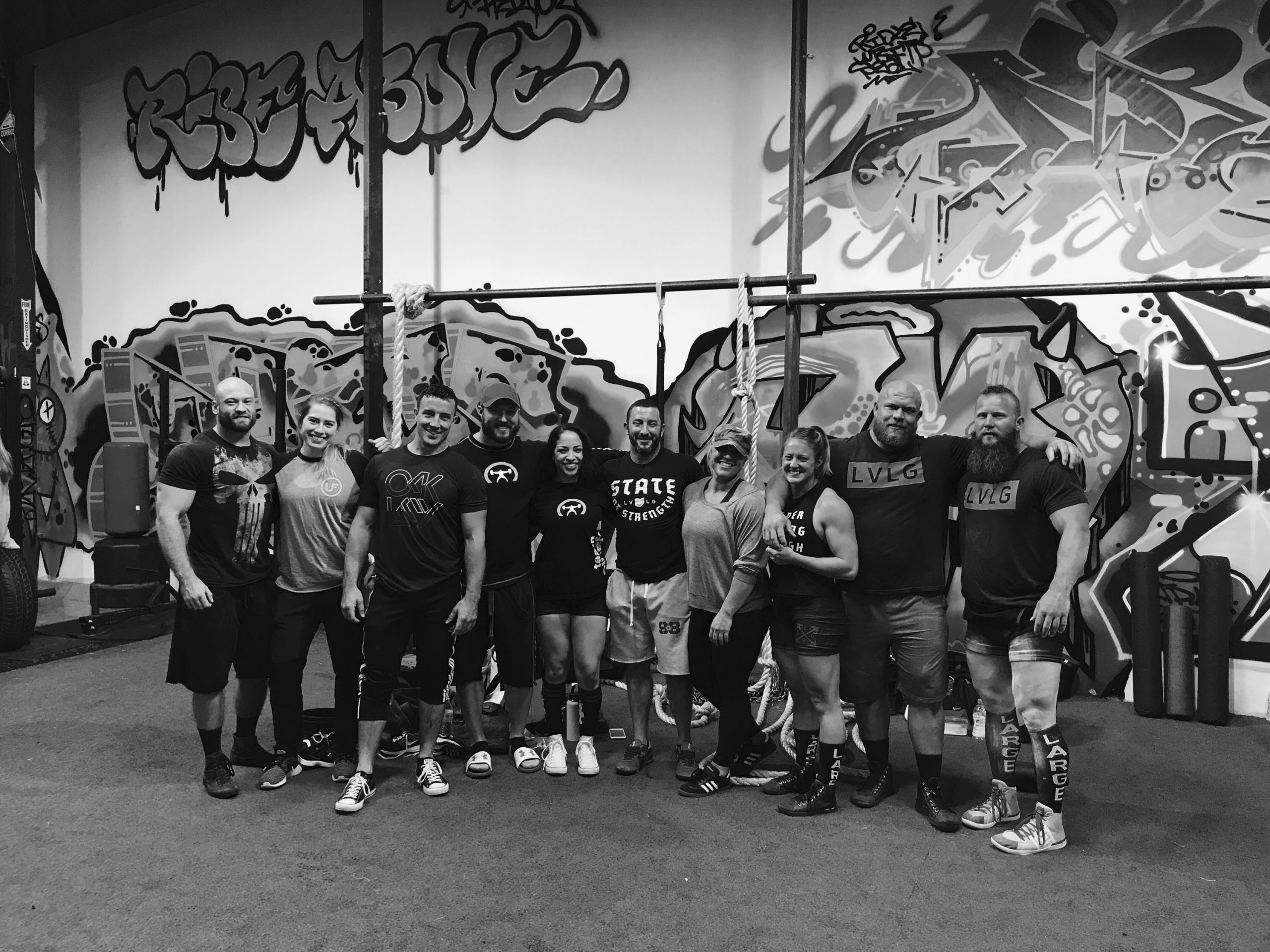 I must say, I was fortunate to have only one 'freak out' moment and it had nothing to do with the meet. We all have our routines, especially before and day of a meet. Casey and I went to bed early. My alarm was set for 430. His, 5am, until he woke up to the sound of my yelling. The night before I heard him drop a few things in the bathroom and didn't think much of it. And in the morning, I woke up with my contact case opened with dried prune contact lenses. And they were conveniently my last pair. I will give it to Casey, in times of 'crises', he really knows how to calm the situation. I showered blind and he let my contacts soak in solution. By the time I got out, we were golden. And that concludes the hardest part of the day. Everything else was easy peasy.
Going into this meet thinking it was to prep for the next really took the pressure off. My priorities were to feel confident in each lift going 9 for 9, make sure my fellow training partners had my support in anything they needed, learn something and have fun.
Well, I went 9 for 9; I wrapped three people and helped handle Casey; and I hit my goal of totaling 900+ (and I've been working towards that goal for almost two years). Then it hit me, what if we shifted our approach about each meet. Rather than putting all the pressure of what we want into that meet (ex. I need to hit x amount), we tell ourselves that that meet will prep us for the next one no matter what. This doesn't mean that you shouldn't give it your all or that you should play it safe but rather play it smarter. Self talk is important and it shapes your approach on everything and I believe that simple shift helped.
This meet was my best meet yet. I was still anxious (which is a good thing, it means it's important) and I still did my routines and warm-ups. So what was different? I believe it was my approach. I didn't worry that I would be exhausted after wrapping knees. I just did what I was set out to do and then some. Our training crew did amazing and they did what they sought out to do, and that was motivation too.
Meet
I usually have my numbers planned out for each attempt of each lift. I'll adjust if needed but sticking to it lights a fire up my ass to really focus. Casey helps with that. I've never had a 9 for 9- executing each lift like how I've trained and envisioned really gave me the boost of confidence. I had so much left in the tank but again, sticking to the plan and being smart was what I needed to get me to that next meet to hit bigger numbers.
Results
358/187/358
I have been working with Goggins for the last 6 months and have made huge improvements. Stick to a program and you'll know if it works. We work well together and bust each others balls and for that I am truly grateful for his coaching and guidance.
Casey is my coach, my support, my mentor, my everything. This meet we both conquered barriers. After being diagnosed with ulcerative colitis and having some hardships in our relationship, this meet brought us closer together. Being surrounded by our friends who are family to us and experiencing these moments together; it grounded us and were fortunate to do what we do with the people we love. Powerlifting may just be a sport or a hobby but it has brought so many good things into my life. Its brought me to this very point in time. Powerlifting is not everything but it has given me everything.
Congrats to Jodie Burford, my training partner and good friend, she totaled 1100 in the 132 weight class which is bonkers. Casey made a huge comeback (which I regrettably said before his third squat attempt that messed up his knee) and came back full circle after battling a disease. Joe (also known as Father Joe) missed a few lifts and STILL PR'd. John (whose just John) totaled a meet PR after a few setbacks with injuries. We also added a new powerlifter to the clan as it was her first meet (cudos Beth). And a few of our friends showed up for support and filmed all of our bloated faces.
Cheers to 9 for 9 and being injury-free. Hard work and most importantly, patience, really does pay off. Until next time...
[youtube=https://www.youtube.com/watch?v=4vQfJibzNqQ]
[youtube=https://www.youtube.com/watch?v=wrMFyEHc_YI]
[youtube=https://www.youtube.com/watch?v=IZM8pzPOzD0]