Penultimate Squats and a Shirtless Day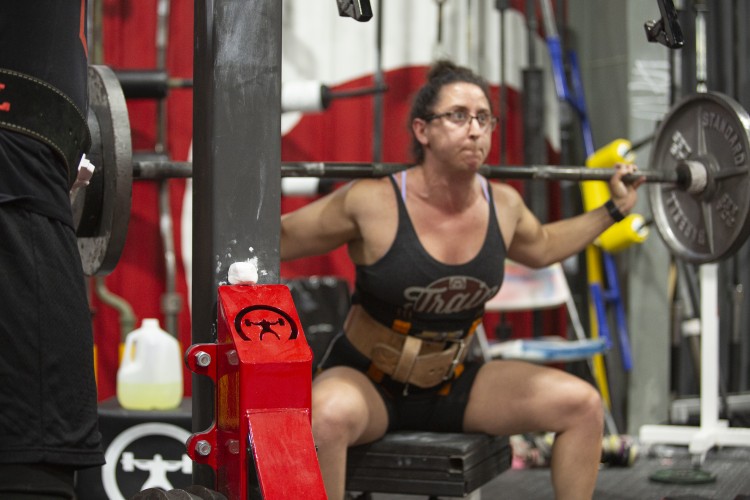 Training for the IPA Buckeye Brawl December 14th. Programming by Dave Tate in 

italics

.
Saturday
Warm Up
Hanging Leg Raise
Reverse Hypers
Pull Down Abs
Face Pulls
Low Rows
GHR
*2-4 sets (whatever you need)
---
Squat
+ Work up to 94% Pm for 1 single - then add reverse bands for one more single
Worked up to 500 for a nice deep speedy single. Straps up, wraps on. And this shall be my opener!
Took my last warm up at 440 (unwrapped). I try not to take small jumps when I'm working up in a meet-type scenario. The point here is to get to a certain weight, get used to the gear, and get used to meet-style warm-ups.
Then threw on some reverse light bands (well the bands were light, set up in reverse style) for 560. I wrote 560 but I had quarters on there and it's a 60 lb bar so that is 570 but OKAY. I can't even trust my own brain!!!
---
Same set up as last week but 10 more pounds per side. 
+ 6 sets of 1 speed pulls at 40% against bands = to 30% ( + 10 pounds)  of best meet pull 
Oh my favorite cryptic word puzzle to figure out every week. At least I only had to figure it out one week then add 20 lbs on the following week. Because my brain is not in peak condition. Peaking for meet and peak mental sharpness are inversely correlated.
Anyway 175 bar weight against light and mini bands.
---
Leg Press with Close Stance
+ 3 sets 5 reps
Work up to heavy set of 5 - more weight than last week 
7 plates per side with some sort of band menagerie
---
Reverse Hyper
+ 4 sets 10
(leaving 2-3 left in the tank t the end of each set)
3 plates per side
---
Hanging Leg Raise
+ 3 sets 5 reps (weighted)
10 lbs
I didn't write down what I did today. What did I do???!??? I'm going to go out on a limb and say I did what I always do for free time- some hams, some quads, some upper back, some innie outtie so I can crush watermelons on the deadlift platform if I bomb out, like the powerlifting Gallagher.
---
Sunday
Warm Up
Hanging Leg Raise
Reverse Hypers
Pull Down Abs
Face Pulls
Low Rows
GHR
*2-4 sets (whatever you need)
---
Bench Press
Work up to 70% of what you think you can max right now for 5 singles
Phew a raw dawg day. I gotta be honest, kind of nice not to spend an extra hour fucking aroun with my shirt while all my bench fellows are finishing up with their accessories.
170 for singles.
---
Vertical Pressing (can be standing, seated with back supported - off pins, etc)
+ work up to 3x3
Shoulder press machine (mmm i love not having to set anything up) 2 plates and a 5 on each side
---
Pushdowns - Any 
+ work up to 4 heavy sets of 5 reps 
Like 130
---
Low Rows 
+ work up to 5 sets of 5
Like, also 130
Free Time: suggested items like pull downs, low rows, shoulders with rope, pull apart, face pulls
Lats, shoulders front and sideys, grip on the clamp machine, heave face pulls, banded triceps.
Loading Comments...