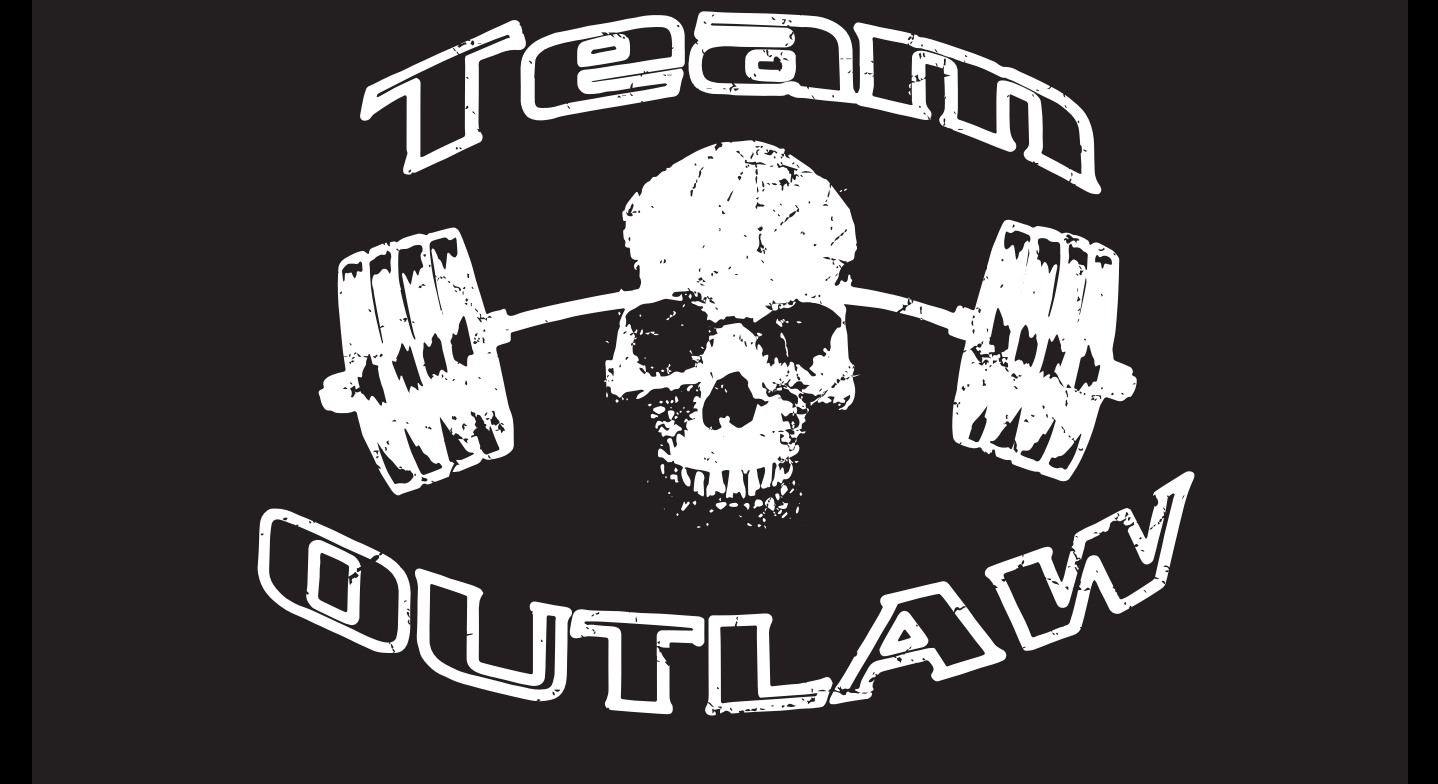 June 17th and 18th in the small city of Brantford Ontario, Team Outlaw stormed the platform. Ken and I had the honour and privilege of coaching/handling 6 of our closest Outlaw Team Members and quite a few others. I seriously got more out of watching our friends compete and crush their goals than if it had been me on that platform. Our Team Members are friends and family, we are a community and we are strength in numbers. None of us could have done this alone, it's a team effort between spotting, loading, programming, critiquing technique, picking attempts and keeping organized. We trained, we competed and we prevailed as a team.
Here is a compilation of our team's best lifts, strength in numbers.
In no particular order but I will start with the girls first, meet Team Outlaw
Weighing in at a whopping 118 lbs, and co-owner/founder of the Wharehouse Strength Academy powerlifting gym in Kitchener with her partner in Crime, Grove Turtle meet;
JAYNIE WHITE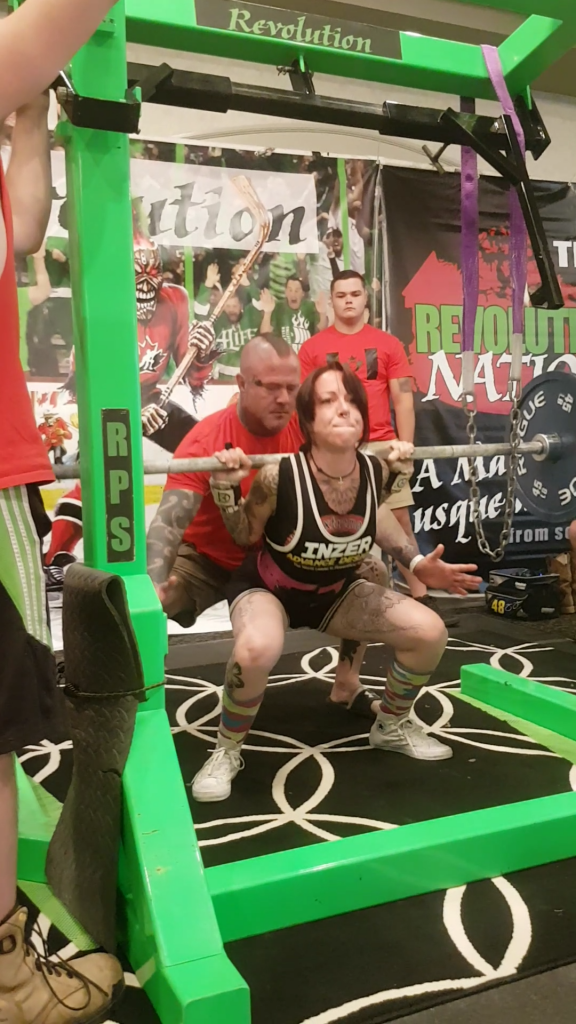 It's a head game. Strengthening and conditioning for powerlifting isn't just about the body...there's a mental component!
This meet was not my ideal meet...I didn't hit any PRs infact I hit less than my meet in September on all three lifts. 4 for 9 up a weight class. Guess what though...I laughed all day long and I was grateful for that "bad meet experience".
I went 4/9 and that's ok! I learned a ton and this journey was a battle for me. Firstly I had to fight 12 weeks to get right in the head about going up a weight class. I know it sounds little to some but this was my biggest win...I competed at 118 lbs and I generally compete at 114. The number on the scale has been a huge obsession of mine but I did the work and just went in to compete where I was! Win!
Now for my lifts I got my openers only on squats and bench...I almost had that amazing meet pr for squat but I tinged a bit high...good call by the judges and a learning experience for me. The bench opener flew and we went right to that pr but I have a huge mental block there and I let it get the best of me...learning experience!
I needed to have this to propel me into that next wave of training and to get a little more serious and a lot more technical.
I left with a first place trophy and if I'm being honest it feels a little like a participation ribbon, but I ll gladly accept it as a memento of the day I walked out of a meet with my head held high and a full heart! Love and light my friends...lets keep journeying!  Jaynie White
Competing with more setbacks and health issues than anyone I know and helping make the RPS event happen, meet;
ANDREA HARRIS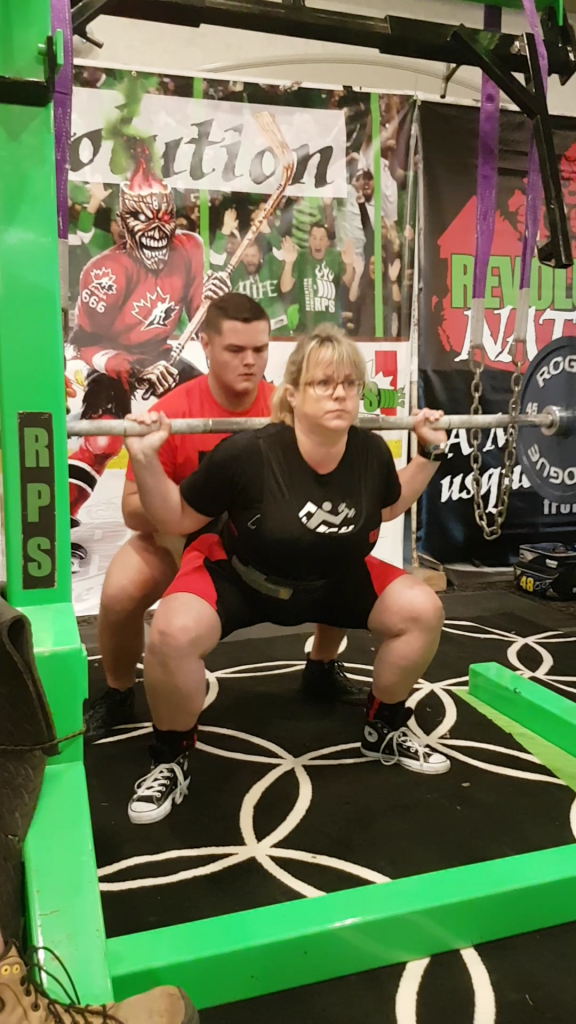 My training cycle for this meet was nothing short of a hot mess. My program started on March 25 and I was so excited to get to work. I had big goals in mind, I wanted to hit a 235 lb squat, a 140 lb bench and a 300 lb deadlift.
My body had other plans for me and some medical issues arose. I had everything ranging from extreme blood pressure issues, moderate kidney failure and a shoulder impingement. I was frustrated to say the least but I was not quitting yet. I made the most of every training session possible. I worked with my coach to ensure my technique and form was dialled in. At this point I was just going to use the meet as  social outing and would be there to cheer on my teammates.
Four days before the meet my Doctor cleared me medically to compete. Meet day ended up being the best day ever. Team Outlaw kicked ass. I broke the Women's world record squat with a P.R. squat of 242.5 lbs. My bench was respectable with my shoulder injury with a 135 lb bench leaving some in the tank. Deadlifts were hard I was exhausted by this time. My plan was to open with 255/285/300. I got my opener and maybe jumped the gun too high and couldn't get the 285. All in all I had a wonderful day and am happy how it turned out.
I will give myself some time to rest, recover then hit it hard again. My goals are reset and I can't wait to get back to the gym. Andrea Harris
My training partner and Kettlebell competitor who trained the minimalist approach, meet;
CARRI CHILLINGWORTH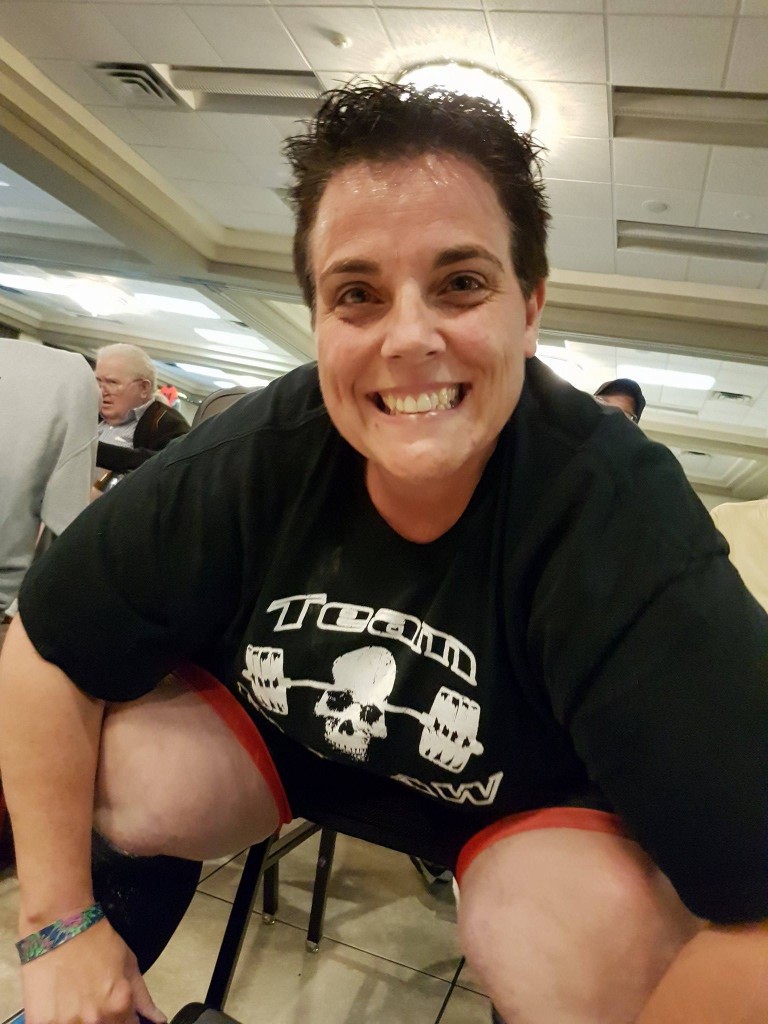 April 1, 2017 began my next training cycle. Meet #2. I didn't think it would happen that quickly! I committed to at least 2 nights a week under the bars in the Outlaw gym. And 2-3 nights at home with kettlebells. A few weeks in, Sheri and I discussed a few numbers that might make good goals. 200, 300 and 120.
These seemed like numbers I would never reach anytime soon. But each week in the gym the numbers kept climbing! Increasing my PRs by huge numbers.  I hit each of those numbers one time only during training, and we worked really hard on accessories, and form. Spending a lot of time on squat depth and staying tight.
Aside from a few extra days rest at about week 8, I was happy with how training went. Nerves were still a factor this time around, but there was also excitement about having a goal- and wanting to reach it! My goals were- a 200 squat. I hit 210! Met my goal of 120 bench, and rocked my 300 deadlift!
I cannot give enough thanks for the coaching and friendship from Sheri and Ken. They push just hard enough to get the numbers, without ending training sessions in failed attempts and disappointment. I was always wanting more.  Training with the Outlaw team has been incredible. So many new friends and I have learned SO much from talking to and watching the amazing lifters they are.
I don't know what's next, but I feel like I have more in me. I know I am committed to supporting my training partner Sheri in her next adventure! Carri Chillingworth
Ken's training partner who never missed a lift during training and had the best meet prep ever, who is AKA James Cyrl, meet;
MATT BRASS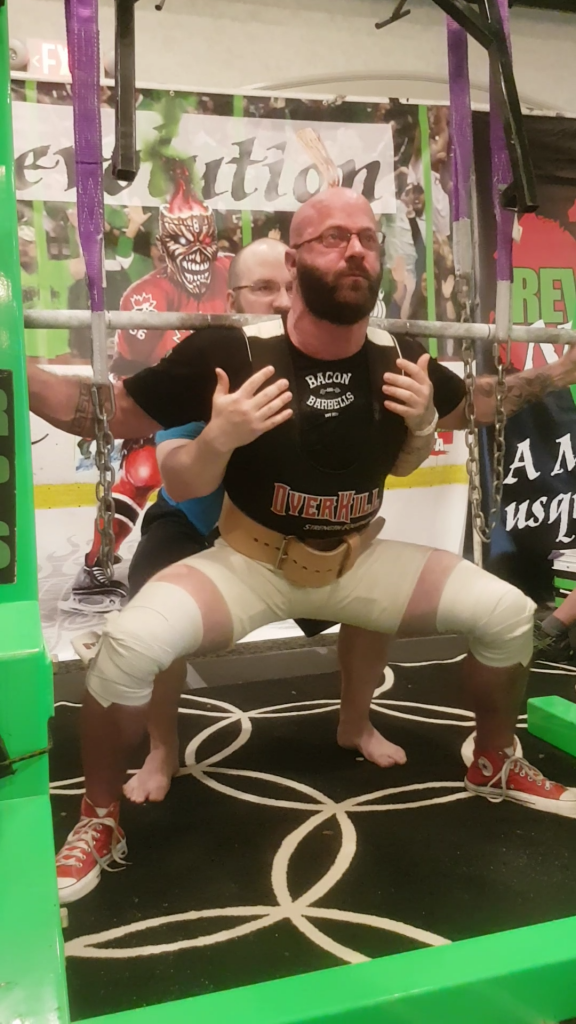 What an amazing two days! Lots of laughs, hugs, high fives, popped blood vessels, happy tears, and junk food!
As my nagging injuries got worse, I decided 6 months ago that this would be my last full power meet. Prepping all three lifts has become too hard on me with my family history of auto immune disorders and I couldn't be happier with how it turned out.
I was very lucky to have Ken at my side the whole day. Ken and I have trained together twice a week for years now so no one knows me as well and what I need (even if I think I need less wrap on my knees, he tells me different!). Shane Church was there as well who had coached me for years, this really made me happy. Shane coached me to my first 700 squat and taught me the basics of so many training principles I have used for years, it was a joy to have my buddy there on my last big one, and I knew if I had any tough questions I would get a fast and honest answer.
Okay, I'll try to make this short:

Squat:
warm ups felt great, got to the platform, no rack height issues which was a first for me. Smoked my opener of 715, three whites. Took 755 on my second, all time PR and 5 pounds above the meet PR of the first geared squatter I ever trained with and looked up to. I can say for certain I would not have gone that high if it weren't for the push to beat him. Smoked it, three whites. Called it there, it was a grinder which I'm not used to, I knew I was done and I was happy.
Bench:
My shoulders were a mess after squatting and luckily Sheri was there to get them moving again for me. I only took 2 warm ups in my shirt and went to work. 475/505(pr)/515. all good, all brutal to touch and all what I felt were perfect benches. I've been chasing 500 for 4 years, it felt amazing to hit two benches above it and I knew I got them before I even saw the lights because Shane and Ken were cheering so loud.
Deadlift:
Booooo! this sucked, but I was on such a high I didn't care, my DL has always been mediocre so I wasn't shocked. I knew after my last warm up that I was only getting my opener. The meet moved so fast that I couldn't catch my breath from three big benches taking almost 10 seconds to touch. I barely got my opener of 575, two whites, one called for up and down. Then I missed 605 at the knees, put a smile on my face, shook each judges hand and left proud.
I couldn't have ended on a happier note, two huge PRs, my first 500+ bench and first 1800+ total, my team and friends by my side. This was also the first time I competed with Brianna there and I have never felt so supported and taken care of by a partner; from running out to get me tums the night before, to carrying my bags and making sure I didn't forget anything to just putting up with all my craziness, I am a very lucky man to be surrounded by so many amazing people. To me the weights and PRs are second to the community that is powerlifting.  Matt Brass.
One of our newest members and strong as hell, competing at his second ever event, meet;
ROBIN MCLEAN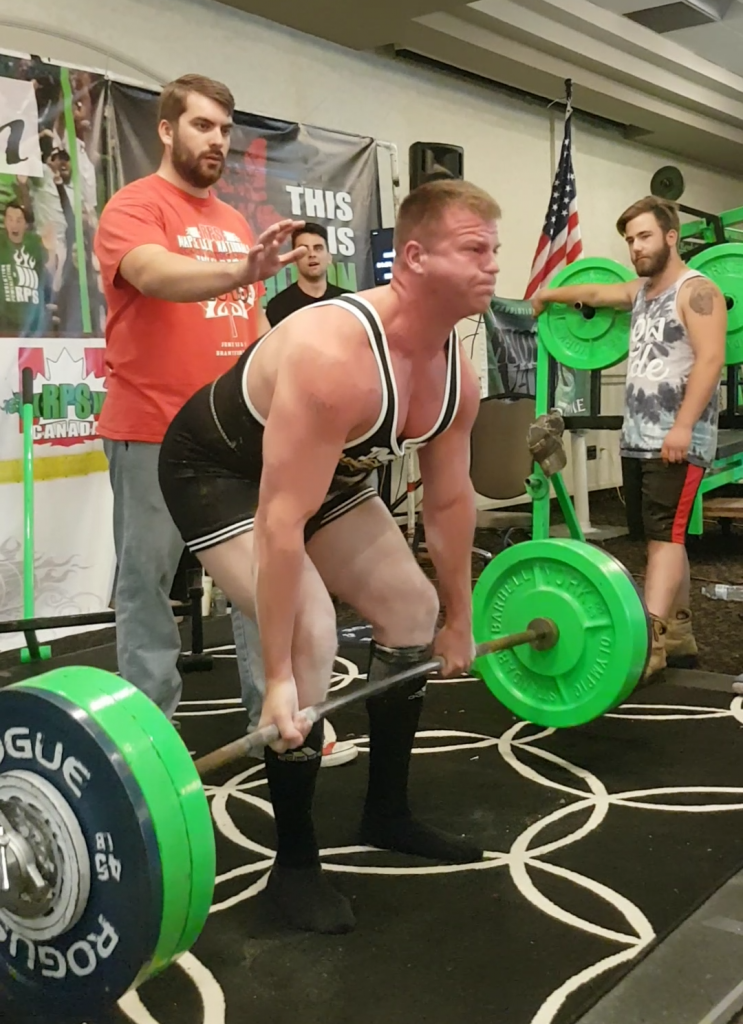 Training went fairly well.  As good as I could have with my  left ring finger tendon injury. I was unable to dead lift the first 6 weeks of my 10 week meet prep cycle. I decided to squat heavy twice a week- which turned out to be a mistake. It fried my nervous system and I lost my meet prep momentum.
Weight cut- I cut 15 lbs the last week of the meet . I decided to gain weight in order to have a larger bench. This plan may or may not have worked. I achieved the bench record but I was very close in October 20lbs less and I felt 100% better.
Meet day was great, I had lots of people there that I knew who I trained with and were familiar with my lifts. This was a great confidence builder as they handled and judged as well.
I felt strong with lots of energy but somehow, I Lost my balance on my squat opener. May have been nerves, who knows. I decided to retake my opener. In hind sight I should not have. I left too much weight on the platform.
Dead lifts were too easy. I had a pre set weight in mind entering the meet. Again left too much on the platform. All around happy with my performance though. Lots of lessons learned.
Hit 475 on squats, 342.5 in bench and 570 on deads for national records in my division. Lots of room for improvement. Diet and training methods. All in all very happy. All part of the process.
Thanks so much for team Outlaw for their love and commitment  to the sport, but most of all the dedication to the team. With a team like that, anything is possible.  Live learn and pass on, Robin McLean
We call him little Nicky, he is far from little and neither is his bench, you will see him on the Main Stage at the Arnold's I'm sure, meet;
NICK DRIMMEL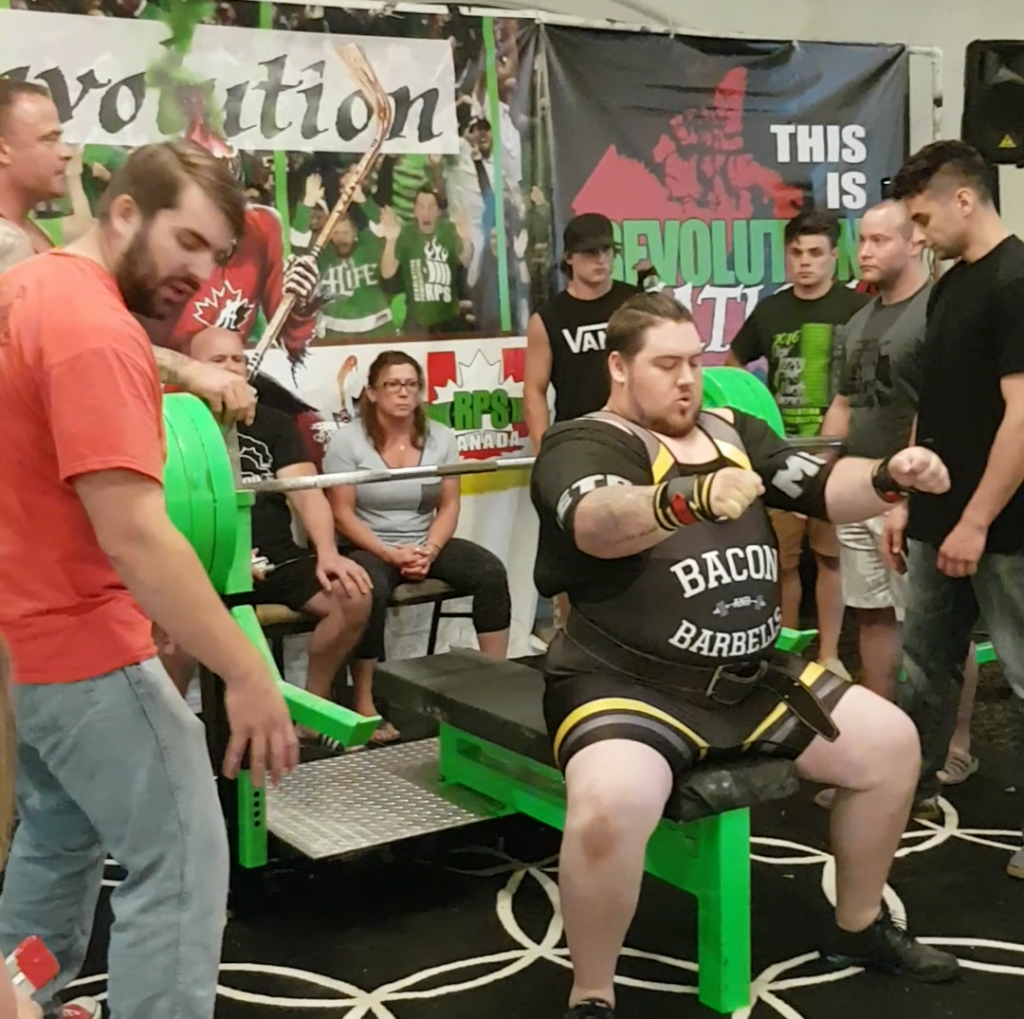 This is the first meet I've had in over a year where physically and mentally everything has come together . Ken Whetham and I came up with a new game plan to put some heavier weight in my hands and tighten up my technique, we executed perfectly . This meet I ended up benching 675/700 and missing 720 for my third setting a new RPS world record and gaining a 50 lb PR . I could no be happier with the accomplishments and goal I met. I can't thank the outlaw team enough for all the help and support over the last year and a half I wouldn't be where I am with out them . Nick Drimmel
Robin's training partner Larry, whom we had the pleasure of helping out, hit's 1,000 total on his first meet ever at the age of 57, meet;
LARRY LEVESQUE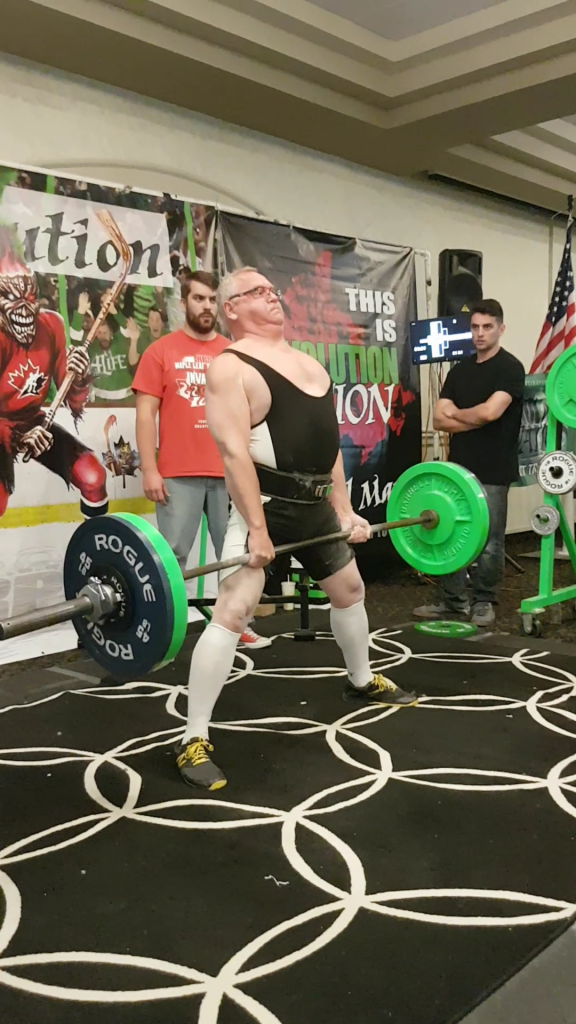 Training went fairly well considering that this was my first time competing.  I didn't know what my maxes were so 4 weeks out from the meet, I tried my maxes. Then continued with the 10 week prep cycle. Big Thanks to Robin Mclean for the continued coaching along the way.
I didn't need to cut weight but decided to do the water loading along with robin to improve my wilks.  I cut 12 lbs and got down to 200.4 lbs for the competition. I found it challenging but definitely doable.
After a full day of replenishing with water and food all day Saturday, I felt good and strong.
Meet day was an awesome experience. I was so happy to be part of team Outlaw. They were so helpful with spotting and giving tips.
It was nice to have friends helping you along the way. Especially as the first timer, it made the day so much easier.
Overall, I am very happy with my results. Could have been better, but I missed some lifts.  I got a 375 lb squat, a 245 lb bench and a 380 lb deadlift.  I will get better for next time.  Larry Levesque
From myself and Ken what a great day with great success and a big thank you to Team Outlaw for representing us with the utmost pride, respect and honour.  Live, Learn, Pass On.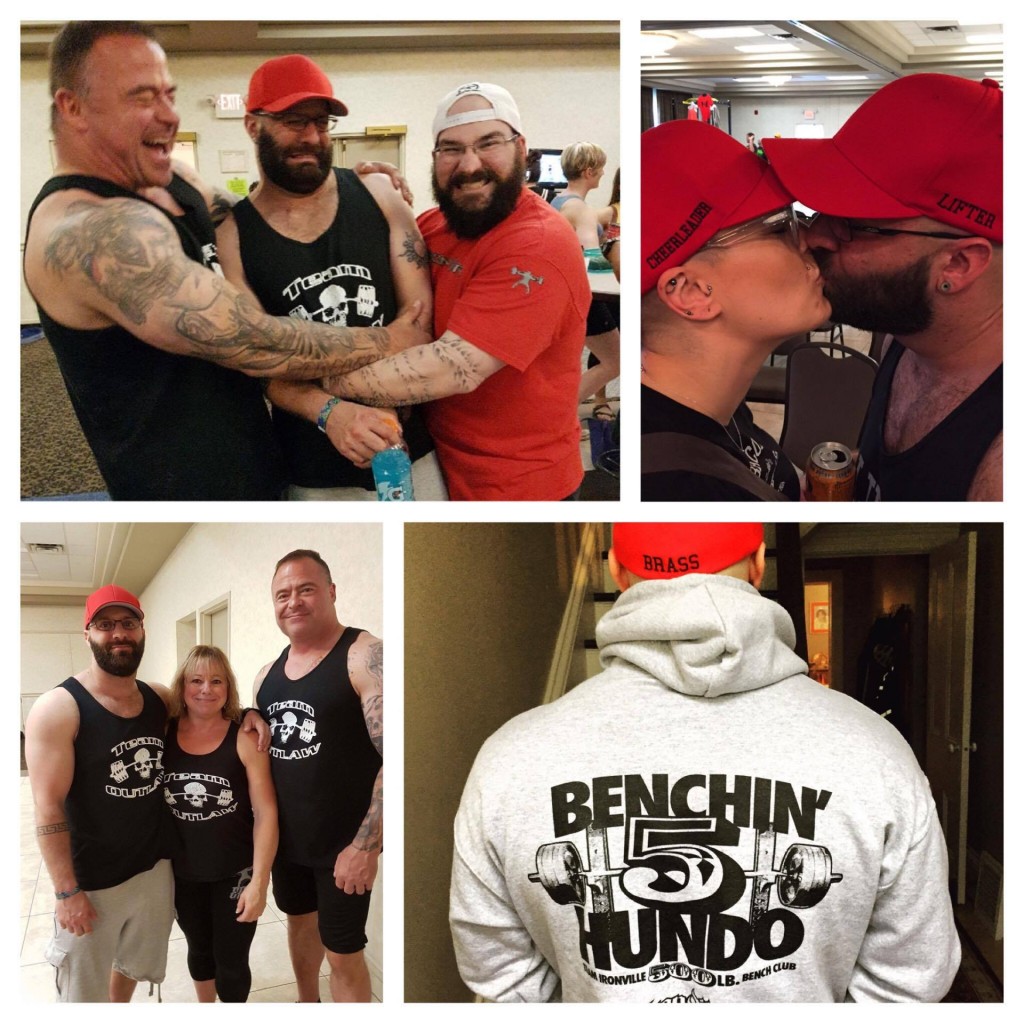 #livelearnpasson #teamelitefts #teamoutlaw