Suit Squats in a Roomy Fleshbag, Shirted Benches, and Many Gym Visitors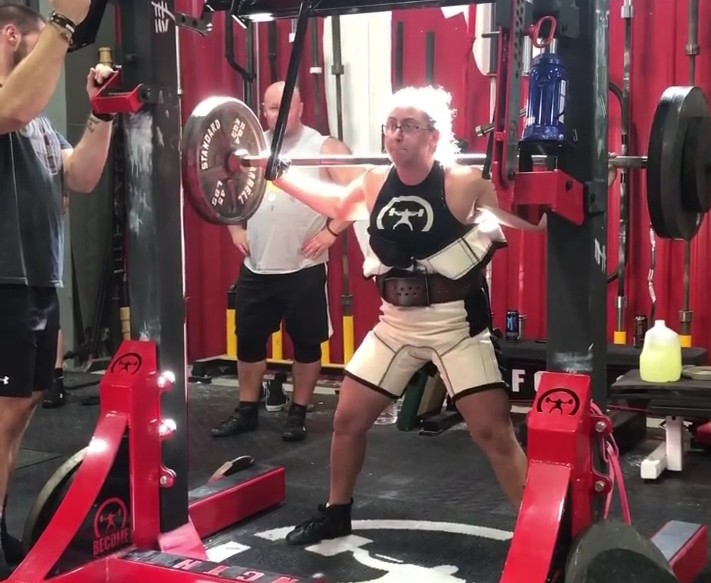 Training for the IPA Buckeye Brawl December 14th. Programming by Dave Tate in 

italics

.
Saturday
Warm Up
Hanging Leg Raise
Reverse Hypers
Pull Down Abs
Face Pulls
Low Rows
GHR
*2-4 sets (whatever you need)
---
Squat
+ Work up to 75% Pm for 3 sets of 5
I got a squat suit 2 sizes larger on the recommendation of David since you can take a suit in but can't take it out. Unless you want to take it to a nice seafood dinner and have some lackluster conversation.
That bad boy went right on! Holy shit I did not waste ¾ of my training session grinding into a suit made for a tween and then cursing my voluptuous thighs when I can't get out of it. What a nice change of pace.
355 3x5
Anthony's roommate was also in for the day getting ready for his first meet and needed a lot of squat tweaks but let me tell you, that bad boy looked 300x better by the end of the session. Changed the stance and bar position, and worked on creating tension from the feet up through the legs and hips, breathing, and back tightness. He looked like  a new man by the end.
---
Close Stance Low Box Squat with Yoke Bar
+ 3 sets 5 reps
Use more weight than last week
Plate dime 5 1 set plate 2 dimes for 2 sets since my back was still feeling a little weird.
---
 Glute Ham Raise
+ 4 sets 6 reps
40 lb dumbbell oh shit workin on those ham hocks
---
Hanging Leg Raise
+ 2 sets 6 reps (weighted)
I could only find a 10 lb med ball so I did it even though it was dicey.
---
Free Time: suggested items like pull downs, low rows, banded leg curls, ghr,
Free timeeeee: sissy squats, lying hamstring curls to even out my quad pump I got from sissy squats, innie outtie for an inner thigh pump...
---
Sunday
Warm Up
Hanging Leg Raise
Reverse Hypers
Pull Down Abs
Face Pulls
Low Rows
GHR
*2-4 sets (whatever you need)
Internet friend Kayla came to visit us all the way from a Dakota (which one? I don't remember!). She recently bought some training briefs so she worked up in those and hit I think 380 which was the heaviest she's ever had on her back (the most she had done in briefs was 275x3) so that was exciting to see her keep throwing the weight on and hit some big numbers.
I was helping her for a little and then Dave came over to assist. I will always, always defer to Dave when he's helping a lifter and I am in the vicinity. As an aside, I asked him if I should work on her pick at all since he was working on the actual squat part. He held off and then after a few attempts where her pick looked unsteady, he said, and I quote "YES YOU ARE RIGHT WORK ON THE PICK".
OH MY GOD I EVEN HAVE WITNESSES THIS IS THE FIRST TIME DAVID HAS OUTRIGHT TOLD ME I WAS CORRECT LET IT BE KNOWN IN OCTOBER OF 2019 AT ELITEFTS IN LONDON OHIO DAVID LESLIE TATE TOLD ME, LILY STAROBIN, THAT I WAS RIGHT. I wish we had video cameras in there so I could turn that into my ringtone.
After that I put my big ass shirt on.
---
Bench Press
+ work up to 75% Pm for 3 sets of 5.
225 3x5. Still working on bringing my body up to meet the bar. This went aout the same as the previous week and I touched a few when Dave PUSHED DOWN ON THE BAR WHILE I WAS BENCHING.
---
Vertical Pressing (can be standing, seated with back supported - off pins, etc)
+ work up to 4 sets 5
Spent 15 min setting up the OHP off pins for 5 min of actual pressing. I think up to 95 or 100 x 5. Fuck you lil shoulders.
---
Extensions - Any
+ work up to 4 heavy sets of 8 reps
Rolling triceps. Rollin rollin rollin, keep those triceps rollin.
---
Low Rows
+ work up to 4 heavy sets of 8
Some amount of weight.
---
Free time- front and side raises, tricep extensions, shrugs on the calf raise, grip work.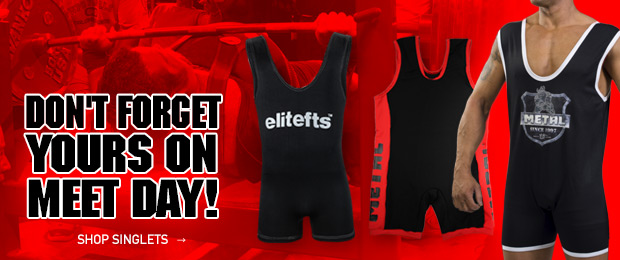 Loading Comments...