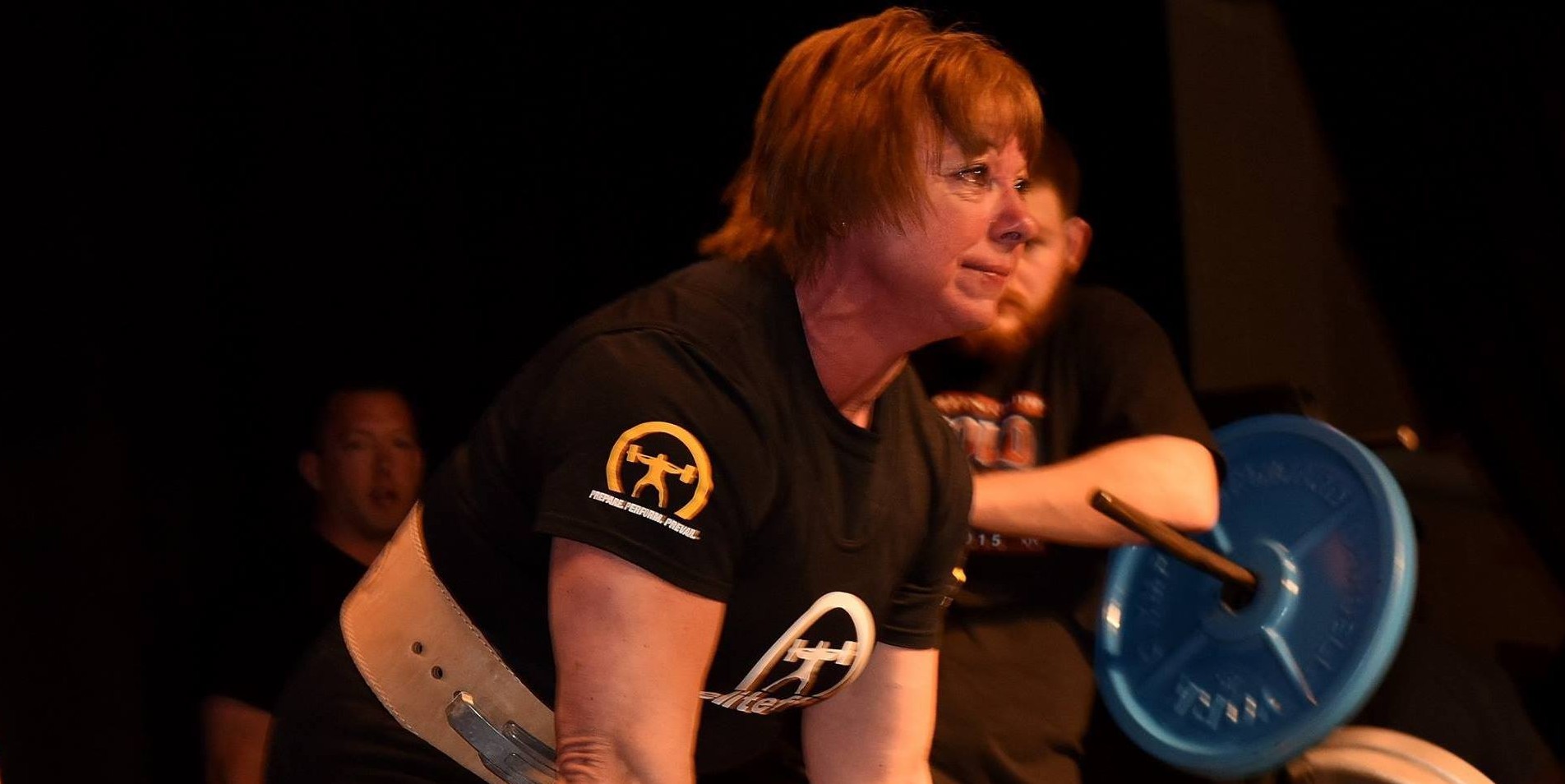 ARNOLD XPC FINALS MARCH 6, 2015
Training for the Arnolds went without incident. I was just coming out of the Worlds last November from a pretty regimented 12 week program. That program gave me 130 lb overall meet total and some pretty big P.R.'s so I decided to use that program again. I tweaked it a bit to work on my weeknesses which seemed to work as I hit the numbers I was searching for.
Working on my openers two weeks out from the Arnold's I knew I was feeling stronger and ready to crank out some P.R.'s so I set my goals pretty big for this event. I have never competed in the Open class before being 53 years old so I knew I needed to up my game in order to "Fit In" with all these Strong Women!
With my Coach's advice I kept my openers light, lighter than I wanted to but I guess you always need a safe opener especially when you have a million butterflies in your stomach,  just to get it in, get comfortable and used to the environment. Besides, nobody wants to miss an opener.
I set my second lifts on squat and bench as meet P.R.'s and hindsight now I do not know why I didn't on my deadlift as I could have easily done it. My 3rd attempts were all huge P.R.'s for me hitting 9/9 and leaving some on the platform.
SQUATS
280 Lb safe opener
330 Lb P.R. ( I was a bit nervous about depth as I was using my new metal knee wraps and had never tried them before but that proved to be needless worry)
350 Lb 3rd attempt, giving me a 42 Lb meet P.R.
BENCH
160 Lbs safe opener
180 Lbs  Meet P.R.
200 Lbs  giving me a 23.5 Lb meet P.R. and putting me in the 200 club, I have been trying to hit a 200 bench since January ! It felt amazing I have to say!
DEADLIFTS MY FAVOURITE OF THE 3
340 Lb safe opener
380 Lb 2nd attempt (hindsight should have gone 405)
420 Lb 3rd attempt, giving me an 18 Lb P.R. and I left some in the tank, knowing I could have gone more inspires me to train harder and go after that 1,000 lb total for my next meet in June.
Overall, this experience will be something I will never ever forget. I came into this meet with a plan and big goals, and I accomplished them all. What most people don't see is the behind the scene work that has to get done, the coaching, the programs, the training, the pictures, the video's, the support, encouragement and the list goes on.
I could not have done it without the help of my amazing Husband and Coach Ken Whetham, also Molly Edwards who wrote my 12 week program and coached me through technique issues, gave me tips and exercises to work on my weaknesses (to get that 200 bench) and her help handling me during my meet was amazing.
Team Elitefts, my fellow team mates for their encouragement, support, well wishes, (too many to name, you know who you are) and for those who inspire me to be better than I was yesterday.
To Josh & Sheena for the Video's, pictures, interviews, hugs and support, the behind the scenes work these two do is amazing, thank you !
To Steve Colescott for inviting me to the UGSS which has been a game changer for me, thank you for believing in me and giving me an opportunity to become a member of this amazing team.
Last but not Least to Dave and Traci Tate, thank you. These two are Elitefts, they are the real deal, sincere, inspiring, professional and two of the most respected people I know. Dave and Traci were there supporting their team, taking pictures, coaching, helping where needed and giving back to the team.
It was one of the proudest days of my life that day, I am so grateful to be part of team Elitefts.
Moving forward, watch for my training logs, I will reach that 1,000 lb total this year and you too should do what I did, seek out the people who know, the people with the information and kindness to help you be a better person, lifter or whatever it is you desire!
#elitefts #strongher #oldher #livelearnpasson #driven