Holiday Wrap-Up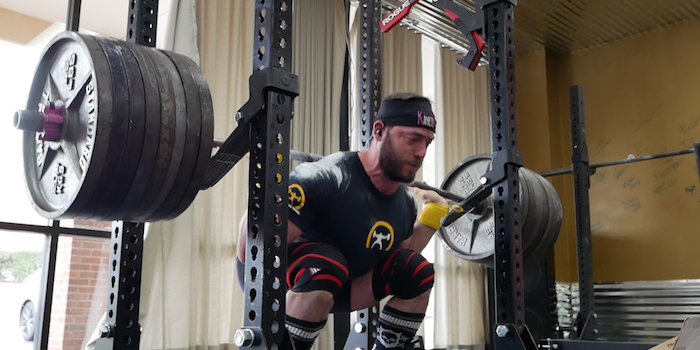 I've been MIA for the past week or so, traveling for the holidays and getting in some quality family time, but I wanted to share some of the awesome workouts at awesome gyms with awesome friends from the past few sessions!
Smashing Squat PRs with Rob Da'Savage Hall and Rusty Coffman
I worked up to an easy single with 735 here, and took a swing at 800 but missed a bit out of the hole.  I think with some more practice with wraps I'll have this easy.  Da'Savage (who's training with Josh Bryant, in case you didn't know) crushed an easy 730 squat in sleeves, and Rusty smartly decided not to push too hard after a hamstring tweak earlier in the week.  Learning when to push and when to back off is, in my opinion, one of the hardest parts of powerlifting.  It's so difficult to take an easy day when there's energy in the gym and you want to SFW, but you have to keep the longer term in mind.
Shoulders with Matt Makara and Mike Kropaczek
Happy to get in a shoulder sesh with some friends from back when I did strongman.  Matt and Mike are both training for contests early this year, and hit some nice overhead numbers.  My overhead pressing has never been strong, but I'm working on it now that Tammy Marquez at Kinetix Body Science is helping me fix some of my imbalances.  Hopefully that's going to carry over into a big bench pretty soon.
Squats and Pulls at 5 Rings Fitness
Big shout out to one of the best facilities I've visited recently.  5 Rings is packed with some sweeeet EliteFTS equipment like the Classic Monolift, Competition Bench, and Prowler (I didn't use the Prowler because I don't hate myself).  Everyone there was a serious strength athlete and they've clearly put together an intense, supportive environment.  Really looking forward to visiting again soon.
Going Forward
It's meet prep time again!  I'll be competing at the USPA Corpus Christi Classic as a warmup meet before the USPA Open in San Diego in April.  Looking forward to putting up some PRs and getting on the platform with some other big names.  Let me know if you'll be at either meet!
Loading Comments...