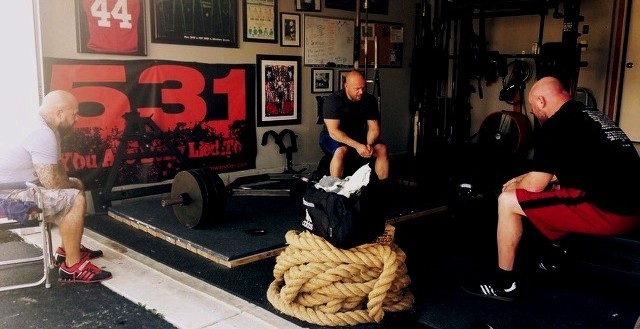 School started on Monday and we had staff meetings and we met as a strength staff...  There was no desire to train.  Plus, my Tuesday and Thursday schedule and schedule, overall, dictates it's much easier for me to train on these days.  So, that's what happened.
Monday
Bike: 30 minutes
Tuesday
FBB Press: 100x5/110x5/120x5
Hurdle-unders
FSL: 10x5@100
Pull-ups: 10x5
Prowler: 10 trips of 40 yards w/90lbs in 20 minutes
Wednesday
Walk around my neighborhood
Thursday
Trap Bar: 195x5/225x5/255x5
KB Row: 5x10 w/70's
FSL: 10x5@195
Dips: 5x10
Curls: 5x10
Friday
Weight Vest walk around campus.  It's always enjoyable to get the weird looks when I walk with the vest on.