12-Week Progress Report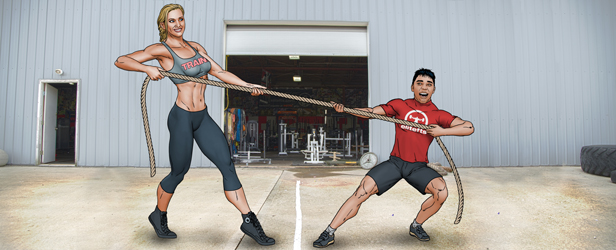 You and I train because we love it. We don't question it, we just do it. We find pleasure in the pain, time under tension, and the added resistance weighing us down. We anticipate, look forward to, and fantasize about growth, strength, hitting PRs, perfecting technique, overcoming plateaus, experiencing the pump, and supporting protein synthesis.

Then there comes a time when it's not so much about you or I, but more so about he or she. This he or she may be your son or daughter, a friend, a spouse, a mother or father, perhaps a neighbor. We want them to experience the joys of the gym, and value how strength gains made inside, carryover to all the important things, outside.

This series is intended to provide simple and often overlooked reminders and considerations for you, the parent, teacher, or trainer, to gain applicable ways to incorporate physical activity in your child's, student's, or client's day. Clearly not every suggestion will work for all, but instead will provide approaches that you may find effective.

As you may know, Blaine (Dave Tate's son) and I have been training together weekly here at the compound since May of 2013. As this is an extension of Dave's series, They Are Not Angry Birds, I'll be sharing my hands-on approach to programming and training for a child with Autism.

---
Twelve weeks into the program, I created a progress report to verify the successes and shortcomings of Blaine's programming. Using my observations and data, I presented to Dave what I had collected over the twelve-week period. I asked for him to review my report and record similar information in specific categories. Using my information, and Dave's feedback, my goal was to gauge and evaluate our findings to solidify an effective plan for the next twelve weeks.
Creating the progress report myself, I used ten different categories to focus on. I felt these areas held the most value in my planning and in Blaine's behavior and performance. The ten categories were:
In each category, I reported what I found to be successful and unsuccessful, within the twelve-week period. Here's what I found to be successful within each of the ten categories:
Schedule Layout
Blaine begins his session by automatically coming into the gym and heading over to the dry-erase board. He takes a few seconds to read over the schedule, adds to it by using the dry-erase marker wherever he reads "Blaine's choice," and then tells me he's ready to get started. The eight-step layout gives us at least one-to-two hours of movement. When we first began to work with each other, 60 minutes was our threshold. The extra time (20-60 minutes) has been due to us being more comfortable with each other, which in turn allows us to be more productive and creative. Blaine is aware of when he's late to a session (one minute late and counting), but shows no concern of how long our sessions run. Sometimes, it comes down to Dave officially ending our session by saying to Blaine, "You smell," "It's getting dark," or "Mom is going to be concerned."
Exercise Selection
The following exercises have been demonstrated to him first, and then he has executed each. He has been willing to try everything, and most of these exercises end up being reselected when it's his time to make a choice. I have categorized the following exercises into strength, grip, conditioning, recovery, body awareness, and hand-eye coordination.
Strength Movements: Hip Lift, Single-leg Hip Lift, Donkey Kick, Stability Ball Roll-out/Knee Pull-in/Plank/Seated Bounce, Barbell Bench Press, Box Squat, Duck Under, Tire Step-up, Table Step-up, Table Floor Crawl, Medball Slam, Shrek Pulley Upright Pull-down, Standing Calves
Grip Exercises: Dumbbell Hold, Shot Hold, Sand Grab, Rice Grab, Rope Pulls, Paper ripping, Lacrosse Ball/tennis ball Squeeze
Conditioning: Prowler Forward and Backward push, Running, Walking, Obstacle Courses, Circuits, Relay Races, Stations
Recovery: Trigger Release, Foam Rolling, Rest period for socializing and water/Sprite
Body Awareness: Vertical Foam Roller Weave, Trigger Release, Ladder Work
Hand-Eye Coordination: Catch with stability balls and weighted balls, Tire Target Practice, Bowling using med balls and foam rollers, Foam Roller Stacking
Play
This category is the heartbeat of what we accomplish each week. Through play, Blaine is motivated to try new things, work to exhaustion, and complete tasks he'd regularly have no interest in. Play, planned within our schedule, allows Blaine to stay focused and on task. The games we've played/created include: Cops and Robbers, Freeze Tag, Water Balloon Toss/Fight/Target Practice, Hide and Seek, Wrestling Match, Gross Out, Tic-Tac-Toe (on the dry-erase board or on pavement using rocks and chalk), Rope Tug-of-War, Truth or Dare, Obstacle Course, and Bowling (using medballs and foam rollers).
Effort
Blaine shows effort each week. He prefers games, stations, and obstacle courses (which include strength exercises) over singled-out, individual exercises. I mix these two worlds together so I can emphasize form and technique on specific exercises. If he can see the schedule previously, see that he has choice or preference following the less preferred areas, he becomes motivated and displays effort. For example, when I include water balloon games, I always tuck these in mid-session. Prowler® work, for example, would precede any work with the water balloons. He's always willing to accomplish the heavy work because something fun and "less demanding" is next on the schedule. Many (mostly all) of the exercises introduced to him have been new. He is patient in watching me, although tends to rush when it's his turn. I motivate him to try new things, applaud his effort, while also reinforcing proper technique. If all I did was correct every single movement displayed, he'd internalize this as failure. As this is the opposite of what we are trying to accomplish, I balance correctives.
Behavior
Blaine is a joy to work with. There have been a few sessions where at first he did not seem to want to be at the gym (on his birthday), but as we get started, he immediately becomes engaged. In twelve weeks of working together, there has only been one meltdown in the compound where Dave had to step in and take control of the situation. This was short-lived, and we were able to continue on and have a successful session.
Strength
His strength is improving. His body weight is increasing as well. When we first started working together he weighed 117 pounds. At twelve weeks in, he's up to 122 pounds. Because he's a pretty active kid, his movement patterns and ability to move weight were not completely unacceptable. In most cases, it's him thinking he can't do something that distracts his ability to complete a given task. He may perceive that extraneous work will cause him unnecessary pain, and again, this deters him from doing something, even though he's fully capable. A good example of this is when I introduced to him hex dumbbell holds for grip strength. The sight of dumbbells caused him anxiety and perceived pain. After modeling to him my expectations, he showed little interest, may have complained a little, but took the dumbbells in his hands and held them for a few seconds before dropping. Did he go to complete failure? No. Did he give 100% effort? No. But, he attempted the task. Knowing the attempt was huge for him, I praised his efforts, and then we continued on to the next task. Weeks later, he ended up choosing hex dumbbell holds to grip. This led us to using a stopwatch to see how long he could hold them, to us having mini competitions, to now using 8-pound dumbbells instead of the initial 3-pound dumbbells. No longer are we just using dumbbells for grip, but we've incorporated brass ball holds (shot balls), plates, and sand-filled balls, too. What's pretty entertaining is that now he chalks up when grip will be recorded for time.
Relationship
I feel Blaine and I are forming a great relationship. I absolutely love working him, weekly. He listens and respects me, and we are able to go from a client/coach exchange to playmates. I find Blaine to be clever, bright, positive, hard-working, creative, polite, and funny. I've learned when to push him and when to back off. One thing that strengthens our relationship is our ability to communicate. In 60 minutes, we communicate a lot. When he talks, I listen. When I talk, he listens. Aside from coaching, we share and make up stories, we talk about our interests, dislikes, and fears, we've covered how to build character, what's gross, and what's not so gross. I've also learned a lot more about Dave and Traci, and how great they are as parents.
Consistency
When we first began training, we met every Tuesday at 7:00 PM. A few weeks in, we switched to Thursdays at 7:00 PM. Every six weeks or so, Blaine will suggest he needs a week off. I like that he is used to this type of "deload" week in other sports he's been part of, and likes to keep that schedule consistent. Other than taking a week off every six weeks, or taking off due to vacations, holidays, and/or sickness, Blaine and I have not missed any sessions. We even trained on his birthday! Dave and Blaine also arrive to training on time every week.
Progression
Each week, I make the schedule progressive by nature. Exercises are always changing in form and modified with how much weight is used, if any. With many of the exercises, pauses may be incorporated, rep schemes change, different equipment is used, and rest periods are altered. If PRs are reached and/or if obstacles are undertaken, we celebrate. Most progressions added, are based on form and whether or not the task will lend itself to discomfort and/or a possible meltdown. If form looks good and Blaine shows no sign of melting down, we push as much as we can. I also record progression in terms of communication, behavior, creativity, flexibility (mostly the mental aspect), tolerance, motivation, fun, play, independence, initiative, effort, and patience.
Results
Dave's primary objective from day one was for me to create a weekly fun, active experience for Blaine. He wanted Blaine to consistently come to the gym and be excited to move and exercise. We've done just that. Through planned play, each week we follow a schedule, complete everything on it, while progressively adding new exercises, fun challenges, and creative games. I feel very comfortable around Blaine and can read his body language to know how and when to modify and adjust the schedule as needed. Never is a schedule untouched or unchanged in some manner. Our abilities to communicate, and be flexible and adjustable to each other's needs, allows our partnership to be trustworthy and accepting.
Two areas of concern fall under the category of exercise selection. My first concern is that Blaine eventually loses the fear of doing squats. Reading the word "squat," he immediately becomes worrisome, and wants nothing to do with it. Although I incorporate squat-like movements during many of our sessions, I would like for it that one day we technically improve his technique with direct attention. My second area of concern is that I be very specific when titling all exercises. For example, "Duck Under" is too abstract and heightens Blaine's frustration level. Therefore, if in a session I wanted to "Duck Under," I will title it "Duck under barbell from side to side." I will also draw a stick-figure diagram to illustrate how it looks.
Gaining feedback from Dave, my thought processes on the successes and shortcomings of our training is secured. He relayed that Blaine looks forward to seeing what is on the agenda and loves the ability to make changes. He feels Blaine is working hard and is showing much more effort than he ever expected.  He reported that his goals for Blaine have been achieved at a level higher than predicted, and he wants to continue to see Blaine having fun. As he understands progress and skill are important, he's more interested that as Blaine matures, he'll be more receptive to turn stressors and frustrations into positive experiences, through training.
Moving forward, Dave and I hope to accomplish the following short- and long-term goals:
Short-term Goals (1-3 months):
1. Continue to have FUN!
2. Build a strong(er) relationship.
3. Stay consistent, as we have been.
Long-term Goals (4-6 months):
1. Incorporate more strength exercises with progressions, documented by video or picture.
2. Use training to address daily stressors and frustrations.
Loading Comments...