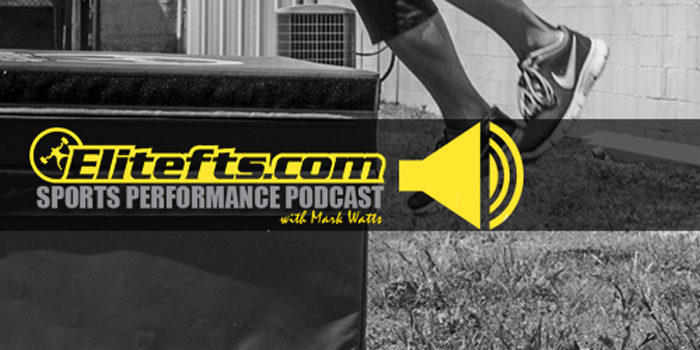 Joe Kenn introduced me to Loren Landow at the 2013 NSCA National Conference in Las Vegas where Loren was the keynote speaker. Landow is a fixture at most conferences due to the high demand of his ability to communicate his vast knowledge  and experience to practitioners in all arenas.
Landow has trained everyone from Olympians to NFL Players to UFC fighters at the highest levels. Landow has earned a reputation for his training top-notch athletes and has developed a rapport through trust with some of the best athletes in the world.
This interview reinforced the positive interaction I have had when speaking with Loren at conferences and clinics. Loren is about helping others and has no secrets when it comes to producing the best training information he can. It is evident that Landow cares for his athletes and wants the best for them as people and not just as testimonials. Landow is one of the best at what he does, but he doesn't have the ego to match. Enjoy.
Topics in this Podcast
Mentally Preparing for the NFL Combine: 8 Weeks for 2 Tenths
The Training Structure of Combine Prep
Positional and Individual Differences When Teaching Combine Drills
The Biggest Mistakes Athletes Make When Changing Directions
What Athletes Do Wrong on Linear Acceleration Starts
The Best Strength Training Exercises for Speed and Agility
The Overlooked Quality of Deceleration Training
How Brendan Schwab got Loren Sarted Training MMA Fighters
Preparing Cat Zingano for Her Fight Against Ronda Rousey
The Misconceptions: Why Strength & Power Training is so Important for MMA
There is No Off-Season in MMA — The Organization of a Training Camp
Training When Bodyweight is a Factor
How Loren got into Sports Performance and His Biggest Influences
Loren's Best Advice for Young Coaches
Best Way to Follow Loren
---
The Loren Landow File
Loren received his bachelor's degree in kinesiology with an emphasis in exercise physiology from the University of Northern Colorado. He also holds a number of additional certifications:
Muscle Activation Techniques Certified Specialist
Resistance Training Specialist - Mastery Level
National Strength and Conditioning Association (NSCA) Certified Strength and Conditioning Specialist (CSCS)
USA Weightlifting (USAW) Certified Coach
National Academy of Sports Medicine (NASM) Advanced Level Trainer
American Academy of Health and Fitness Professionals: Essentials of Post-Rehabilitation
CPR/First Aid Certified
Coach Landow has trained hundreds of athletes in numerous sports to maximize their athletic potential while reducing their risk of injury. He has successfully trained over 400 professional athletes, including 30 NFL (football) All-Pros. Coach Landow has also trained the USA U-19 National Rugby Team, over 60 nationally and internationally ranked high school and collegiate tennis players. Olympians and athletes from the NHL (pro hockey), MLB (pro baseball), MLS (pro soccer), UFC (mixed martial arts), and NCAA (collegiate sports) have all been treated by Coach Landow.
In addition, Coach Landow serves as a consultant for several professional organizations. He is highly sought after for his ability to analyze and correct biomechanics. As a certified Muscle Activation Techniques Specialist, he utilizes soft tissue massage techniques to correct imbalances and enhance muscle regeneration. Through his various innovative methods, Coach Landow has made dramatic improvements in an athlete's speed, power, agility, coordination, and balance.
Other notable achievements for Coach Landow include:
Member of the SPEED advisory council, a position reserved for the top performance coaches in the country
Nationwide presenter and speaker for the leading associations in the performance industry
Appeared on "Team Carwin" on the UFC program The Ultimate Fighter 16 television program.
Author of the book My Offseason with the Denver Broncos: Building a Championship Team (While Nobody's Watching)
Bio Courtesy http://www.shcdenver.com