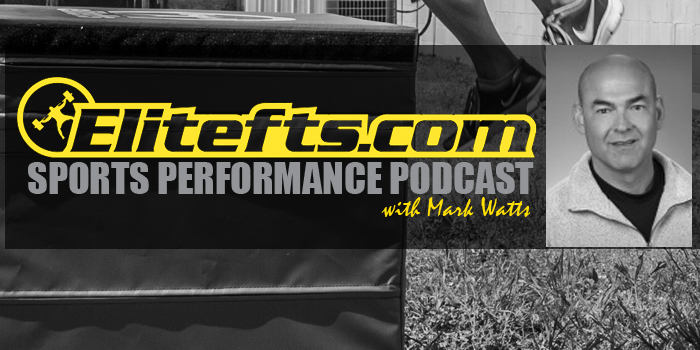 Bob Alejo is a coach who I've always looked to as one of the pioneers in the field of strength and conditioning. Since the first conference I attended in 2002, Alejo has been a fixture at clinics and conferences for good reason. Alejo has been an open book and has never hesitated to pass his wisdom on to others.

After 25 National championships at UCLA, two stints with the Oakland A's, and a gold medal in Bejing, Alejo has been able to utilize the talent he was presented and kept his athletes healthy and performing at a high level. Now, as the Director of Strength and Conditioning for North Carolina State, he is bringing decades of knowledge and experience to the WolfPack.

In this interview, Alejo dates himself purely on the amount of perspective he brings to the profession. His advice on communication and rationale on injuries in athletics is both eye-opening and refreshing. Not many coaches have as much success on so many sports at the college, professional, and Olympic levels.
Topics Covered in the Podcast
How Coach Alejo Got Started in the Industry
How the Game of Baseball has Progressed
Communication with Athletic Trainers and Physical Therapists

Abdominal Injuries  in Baseball
Baseball Players vs Throwers

Tommy John's Epidemic...A Different Take

Total Body Strength is the Best Way to Increase Bat Speed
More Resiliency in Younger Arms
Innings Thrown vs Pitches Thrown
Monitoring the Bullpen
Baseball is Performed from Your Toes to the Ends of Your Fingers

Assessments

Approach Athletes Like They're Damaged Goods
It's Not A One-Day Deal

Go-To Exercises

There Is No Exercise You Should Avoid
Pressing Overhead for Overhead Athletes
Finding the Research
About Balance More Than Movement

In-Season Training

High Intensity during the Season
Decrease the Slope of the Decline by Lifting Heavy
If You Can't Gain Strength at the Rep Range, How Can You Maintain It?
Low Volume Reduces Fatigue and Soreness

Conditioning and Speed

Rest, Sets, and Intervals
Quantify Everything
Low Intensity Tempo Work
Tempo to Speed Endurance to Speed
Everything Comes Down to First Step Speed

Strategies to Build Rapport with Sport Coaches

Everything Data Driven!
Start Correlating Your Data
If You Are Going to be Fast, You Need to be Strong
If You Are Strong, You Can Change Direction

Best Advice for Young Coaches 

Technology Has Enabled Coach to Contact Anyone
You Don't Need to Guess Anymore
Call Your Peers
Your Group is Your Group — Get Them Better First.
---
---
The Bob Alejo File
Assistant AD/Director of Strength and Conditioning Bob Alejo oversees all of the strength and conditioning efforts of the department, and coordinates the day-to-day efforts of the men's basketball team.

Prior to joining the Wolfpack staff in April, Alejo served as the Director of Strength and Conditioning for the Oakland A's, a position he also held from 1993-2001. In that role, he was responsible for all aspects of the organization's year-round physical preparation at both the major league and minor league levels. 

Prior to rejoining the A's, Alejo was the Director of Strength and Conditioning at UC Santa Barbara from 2005-2008. During that time he was also a member of the 2008 U.S. Olympic Team as strength and conditioning coach for the Gold medal-winning men's beach volleyball team of Todd Rogers and Phil Dalhausser. 

From 1984-1993, Alejo served as strength and conditioning coach at UCLA where he worked with 23 men's and women's teams, including the men's basketball team while current Wolfpack head coach Mark Gottfried was an assistant coach. During his tenure in Westwood, the Bruins racked up 25 national championships and produced more than 100 All-Americans. 

Prior to joining the Bruins' staff, Alejo served as strength and conditioning coach for football at his alma mater, Chico State. He earned his B.A. in physical education from Chico State in 1982 and is a member of the Wildcats' Athletic Hall of Fame after a successful baseball career.

An accomplished lecturer and author, Alejo is a Certified Strength and Conditioning Specialist (through the National Strength and Conditioning Association's Certification Commission) and holds the advanced NSCA Registered Strength and Conditioning Coach distinction. He has also been elected to three halls of fame: Chico State Athletics, Chico State Baseball (inaugural inductee) and the Chico Professional Baseball "Legends of the Diamond."