Coaching, Motivation, Powerlifting, Program Design, Training, Video
REGISTER NOW: April 30th Training Camp with JL Holdsworth, Swede Burns, and Casey Williams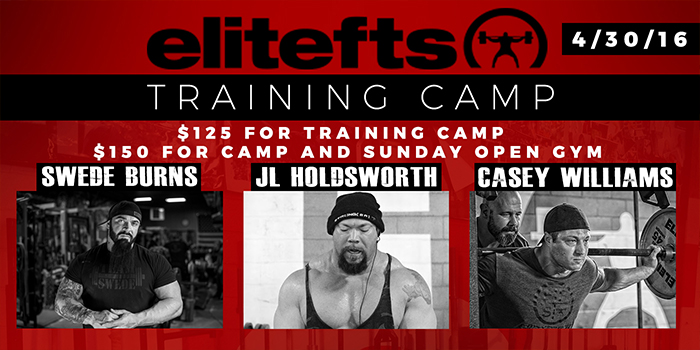 We've taught the squat, the bench press, and the deadlift at dozens of seminars, from Learn to Train all the way through our more recent Powerlifting Experiences I and II. What we've learned is that there's a lot more our attendees want to know after learning the main movements.
This is where the elitefts Training Camps come in. This time, we're doing one with JL Holdsworth, Swede Burns, and Casey Williams.
Here's what you can expect from this event:
Add pounds to your squat, bench, and deadlift in one day

Learn perfect technique in all primary and secondary training movements
Refine your training program with the years of knowledge and expertise the coaches provide

Train with the world's best coaches
The April 30th Training Camp will cover all of the finer details of strength training. If you're looking to learn more about how to squat, bench, or deadlift, the three coaches we've assembled for this day will surely help you. We also want to open up discussion for even more knowledge; these coaches will help you learn things you weren't able to at previous elitefts seminars.
At this training camp, you will have the opportunity to learn about any topic in strength training you choose, from execution of the main lifts all the way down to minute details of accessory work such as hand position in a pressing movement or stance width in a good morning. The best part is, you get to decide. Want to know more about programming? Done. Need to know which board height will carry-over to your bench? No problem.
The day will begin with a question and-answer session with each of the three coaches. During this discussion, you will become more familiar with one another and find out what topics you want to cover during the day. This is the beginning of a seven-hour training day during which you will work very closely with professional strength coaches.
At this training camp, you are the one in control. The coaches will give you only the information you need, and will not waste time covering lessons you may already know.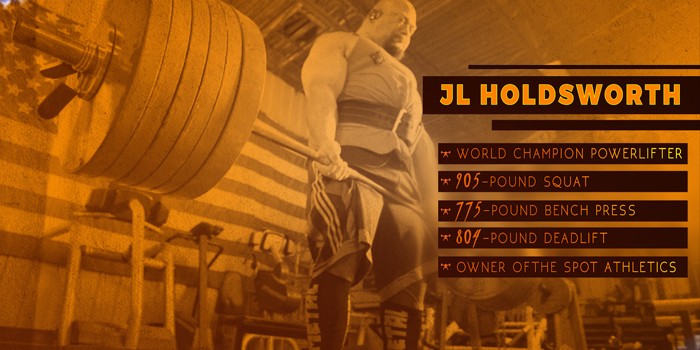 JL Holdsworth
With over 20,000 hours of practical experience in both the collegiate and private sectors, JL Holdsworth has earned the respect from every strength coach in this industry. His personal accomplishments are impressive enough in their own right—a 905-pound squat, a 775-pound bench press, and an 804-pound deadlift—but JL's expertise goes far beyond what he has done for himself in the weight room. His training and performance facility, The Spot Athletics, employs dozens of highly qualified trainers that work with athletes of all backgrounds and experience levels. He consults for teams in the NFL, NBA, MLB, and Division I football programs and in conjunction with his coaches at The Spot Athletics has produced world, national and state champions in track, football, lacrosse, volleyball, wrestling, rowing, and jiu jitsu.
Through first-person experience and coaching, JL has been the best and he has coached the best.

Swede Burns
If you aren't familiar with Swede Burns, you likely haven't been paying attention to the strength world. Author of 5thSet, released last year on elitefts.com, Swede seems to have vaulted to celebrity status overnight. But if you look closely, you'll realize that Swede's success is anything but a fluke.
Swede has owned and operated Keyhole Barbell for many years, using his lifters and their success as the foundation for his 5thSet philosophy and program. This philosophy has made Swede such a success because of his ability to take complicated concepts and apply them for lifters in an easy-to-understand fashion. He coaches many record holders and works with dozens of clients online as well. From all-time record holders to first-time lifters, Swede's training philosophy works for everyone. Need evidence? Tarra Oravec, one of Swede's most prominent lifters and the newest member of team elitefts, has built a 1200-pound raw total at 181, training exclusively under Swede's tutelage from day one.
This is what makes Swede unique: his knack for making extreme challenges seem simple for his athletes. He knows how to bridge the gap between knowledge and ability, and this is what he'll do for attendees at the elitefts training camp.

Casey Williams
From Division I football player to top powerlifter, Casey Williams has proven himself as an astonishing athlete. He has a 2088-pound raw total in the 242-pound weight class and works with numerous powerlifters, providing program design and technical coaching to lifters of all experience levels — from the most advanced to the most basic beginner. Casey has held multiple powerlifting records, including the all-time world record drug-tested raw squat and total in the 220-pound weight class, which he set in 2012.
Casey knows how to fine-tune training methods to succeed as a powerlifter — he has done it himself. He has coached others through it. And now he'll do the same at the training camp.
---
This training camp has a hard cap at 45 attendees. When we reach this number, we will not accept any additional registrations. For an additional fee of $25, you can also train at the S4 Compound Sunday Morning, May 1, with members of team elitefts. This will be an open-gym session during which you can train however you choose.
Schedule:
Day 1 — Training Camp, April 30
8:30 AM — Coaches Arrive at S4 Compound
9:30 AM — Participant Check-In, Tour, Team elitefts Trains in the Compound
11:00 AM —Q&A/Short Informational Sessions with Athlete
12:00 PM — Break for Lunch with the Team (Lunch Not Provided)
1:00 PM — Training Camp Stations
3:30 PM — Final Q&A, Closing Discussion with Dave Tate
Day 2 — Optional Open Gym Training at S4 Compound
10:00 AM — Arrive and Train at the Compound
1:30 PM — Departure
Loading Comments...