Opening Your Athletic Training Facility An EliteFTS Roundtable Discussion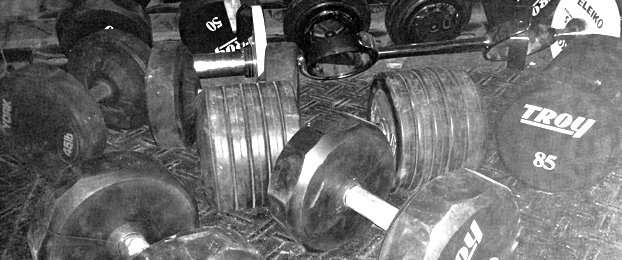 With Alwyn Cosgrove, C.J. Murphy, and Jason Ferruggia
There have been many questions about opening a training facility for athletes. Our group of athletic specialists chimed in and gave us some tips on how to get this done.
When you first started, did you separate your training sessions by the level of athletes (beginners versus intermediate/advanced)? Or were you comfortable with putting kids together that were at different levels? For example, what if one athlete can already squat double his body weight and the other guys can't squat the bar?
Jason Ferruggia: When I first started training athletes, I had already been training regular people for a few years. Getting the athletes took time. I started with one for a few months. He finally referred me a bunch more. At the time, I was only training kids who had tons of money, and I charged them $50 per session and worked with them all one-on-one. Shortly thereafter, I knew that wasn't the way to go, and I started offering monthly rates. I trained several kids at once.
I didn't have the choice of separating them by levels at first because I only had a few kids. Once I got more and more athletes, I might have been able to do this but it was too late because many people already had their set time slots. In reality, it's quite hard to group them by levels anyway. I always train a minimum of six athletes at once, but they're not always doing the same program. It's tricky and hard work to do this. It can be done though. I may have an absolute beginner in there at the same time as a team captain college football player. It doesn't matter. Obviously, they'll be doing different programs, but they're training at the same time.
C.J. Murphy: I agree with Jay, but we have trained different levels in different groups. We run "camps" periodically such as beginners' strength training or power development for football. You do need to make sure the kids are capable of certain things though. One way to run different abilities at the same time is to put the kids who squat well together, and the ones who need more work together. Group them by ability.
Alwyn Cosgrove: It would be nice if you had that many athletes and their schedule would allow it, but it's not practical. It's actually even better to mix the sessions in my opinion and have different sports and different schools working out together.
How much of a change in working hours do you see from the summer to the school year?
Jason Ferruggia: In the summers, my schedule is pretty crazy, and I train over 60 kids every day. During the fall, all of my professional baseball guys come home, and I'm lucky enough to work with several local college athletes so I stay pretty busy. It definitely drops a little but not significantly. The winter break is usually almost as busy as summer, and then for me, I slow down a bit until May.
C.J. Murphy: Summer is busier around here, but we also have a ton of "regular" part-time clients who keep us busy. Groups are where the money is at though.
Alwyn Cosgrove: About the same. Although during the summer, the kids come in earlier so not as many late nights.
When you first started, what mistakes did you make that you look back at now and wish you would've done differently?
Jason Ferruggia: Not training kids in groups was the biggest mistake. Not hiring help soon enough, trying to do everything myself, working myself into the ground, and getting burnt out on several occasions. Not taking enough vacations when I could have easily afforded to during my first few years of being super busy and not offering incentive-based referral programs. I would have gotten involved in the community sooner, done more public outreach, learned more about business sooner, and about a million other things. As always, experience is the best teacher.
C.J. Murphy: The list is endless. I've been doing this since 1989 so I've made many mistakes. The biggest ones are discounting rates to "hook people up" and training people like bodybuilders.
Alwyn Cosgrove: Seriously, private training. Never do private training, and never charge by the "session" or package. Offer semi-private, monthly memberships.
How long did it take before you had a big enough client base that you felt comfortable with your income?
Jason Ferruggia: I was already training regular clients so I was comfortable already when the athletes started coming. However, it took about three years for me to be able to survive happily by training only athletes.
C.J. Murphy: I'm still not comfortable with my income!
Alwyn Cosgrove: I'm never comfortable. It took about a year before I wasn't poor. It took another year before I felt ok and another two years before I felt financially secure.
Did you start your own place, or did you rent space from an existing local gym?
Jason Ferruggia: I started my own place and gradually added equipment as I went.
C.J. Murphy: I started in a martial arts gym that I was working at. We had some weights in the back room, and I did part-time training at local gyms.
Alwyn Cosgrove: I started my own place in 2000. I also rented space from various facilities before that.
Did you incorporate or become an LLC?
Jason Ferruggia: LLC
C.J. Murphy: Sole proprietorship
Alwyn Cosgrove: Incorporated
How long did it take before you had someone working for you or under you?
Jason Ferruggia: As I mentioned above, that was a big mistake I made, and it took me over six years of burying myself on a daily basis before I hired people. Don't make this mistake. Remember that as a business owner at least 50 percent of your time must be spent getting clients and keeping new ones. Don't get caught spending too much time working in the business and not enough time working on the business.
C.J. Murphy: I started my own business in 1999 and hired a full-time personal trainer in 2001. I had several part-time coaches for boxing/kickboxing from day one.
Alwyn Cosgrove: Six months to the first part timer. Now I have six full-time staff.
Alwyn, what's the biggest problem you see with private training? I'm assuming you mean one-on-one rather than group sessions. And also, why the preference toward monthly memberships rather than package deals? Most training centers I've seen offer for example 6- or 12-week deals?
Alwyn Cosgrove: Private training I think is pointless. Even if you can get $200 an hour doing private training, you could get $150 for semi-private and get 3–4 in a group. Generally, rehab is done in semi-private settings, as is professional strength coaching. I have no idea why the middle of the market needs one-on-one. It's pointless to tie up a trainer one-on-one.
Monthly allows a longer commitment and lets the consumer know that I'm serious about what I do. They can't buy "ten sessions" and get a discount on the price. Six- or 12-week deals are ok though. Just don't sell by the "session."
Alwyn, how would you do a semi-private while in another facility? How did you work it out with the facility owner? Did you ever have a problem with too many kids coming in at one time?
Alwyn Cosgrove: I only ever paid for each hour I trained people, not per person that I trained. However, I could've worked that out too. My thought was that if a trainer is giving the gym $10 per hour for one-on-one, I only had to give $10 for an hour too, regardless of how many I worked with.
To be honest though, I really didn't get the semi-private thing going well until I had my own facility. We no longer offer one-on-one at all now.
Loading Comments...