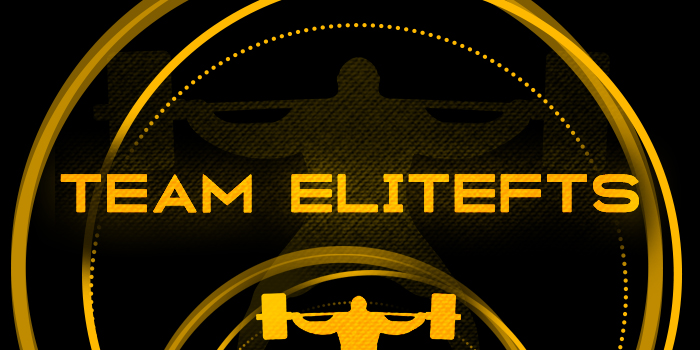 August 10th, 2019 — I competed in my 45th strongman competition at Brute Strength Gym in Norfolk, Virginia. This was somewhat of a different competition for me for some reasons that have nothing to do with strongman.
In February of this year, my dad died rather unexpectedly. I took almost a month before we were able to have his remains laid to rest in the veterans cemetery due to a delay in getting the death certificate and then scheduling the interment. The result of this was that we buried my dad the Monday before my wife and I got married in mid-March. It probably goes without saying that my training and diet went to hell around this time along with almost everything else in my life, especially with the added stress of still acclimating to a new job.
---
RELATED: Training for Strongman in a Commercial Gym
---
Most of my paid time off for the year was used up during the period of January through March because of my family obligations, which I do not regret at all, but that significantly reduced my ability to compete since I would need to take at least one to two days off from work in order to go to nationals or some other competition I couldn't drive to on Friday night or Saturday morning. So my training was sparse at best, my diet was largely spur of the moment decisions, many of which were crap, and most of the consistent things in my life were in total disarray.
Initially, I tried to just pick things up where I left off in terms of training once I was back home with no immediate travel plans on the horizon. This failed miserably, and I learned that sometimes even though you know what to do and have a decade or more of experience in doing it right, you have to start back at the beginning to get your life back in order.
I may expand more on this in the future, but for now, here is a pic of one of the whiteboards in my garage gym where I keep track of my programming and training. For reference, each row is one week and it starts in January of this year.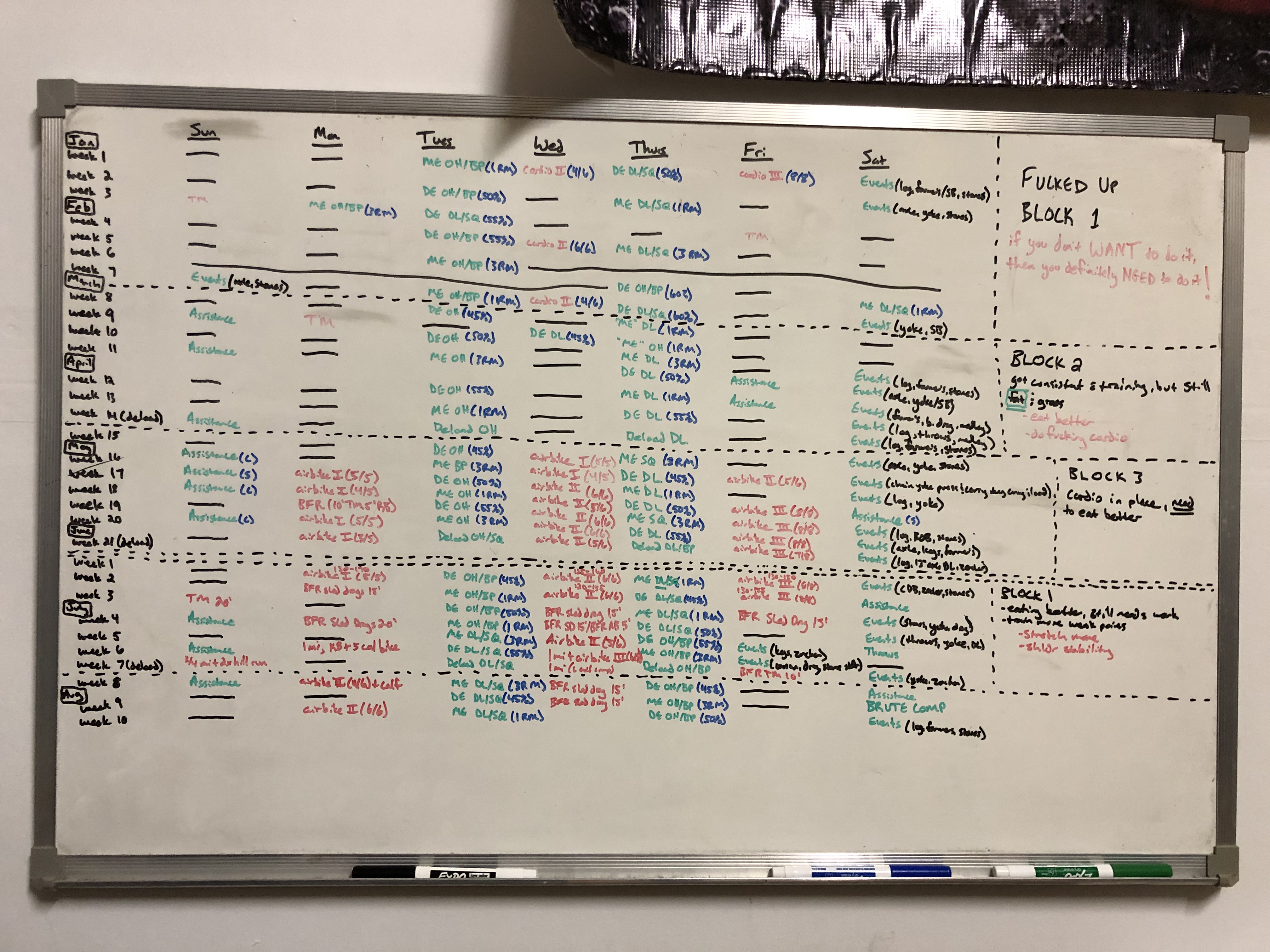 Once I finally had my life in general, and training and diet in particular, back in order, I started looking for a competition I could do that was close enough to drive to without having to miss any work and that was run by someone or somewhere that I know and respect as a quality promoter. The obvious answer was Brute Strength Gym. I've been training and competing there for almost as long as I've been involved in strongman (more than 10 years), and I've never had a bad experience there.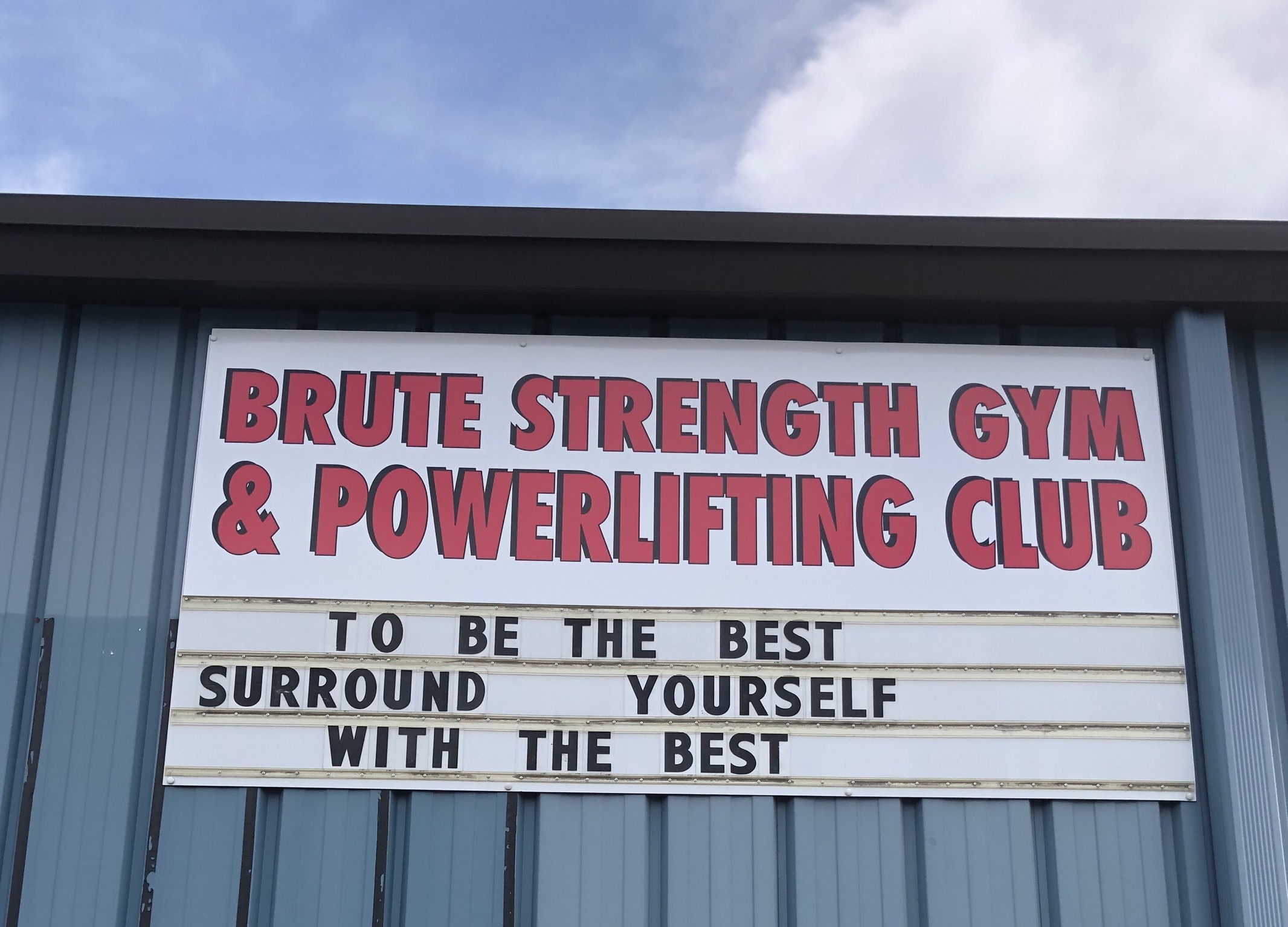 It has been almost a year since my last competition, which was 105k World's Strongest Man in Finland last year, where I finished up 13th in the world. This time around, my goals for competition were very simple: don't bomb any events and don't do anything stupid (last time I competed at Brute in August 2017, I hurt my knee trying to flip a 1,187-pound tire and had to withdraw from the competition after the second event — the only time in my career that has ever happened).
While I did train specifically for this competition, it was much less than normal for me, partly due to the events and partly due to frequent trips down to Richmond to visit my mom.
Regardless, I felt moderately OK waking up at 3:45 a.m. on Saturday to pack and drive down to Brute with my wife in time to make it for weigh-ins.
I signed up for the 265-pound heavyweight class, figuring it would most likely be combined with the super heavyweights, but it was not. We actually had enough big boys for two separate weight classes, though all of us used the same weights for the events.
Event 1 – Yoke
(730 pounds for 80 feet, only 1 drop allowed)
I had trained yoke a few times for this comp, but I did not feel super confident about it. I felt like I should be able to finish the event with no drops, but my yoke times have not been fast recently in training. This held true and despite the offer of butt touches from the one and only Kevin Dickhut, my time was a slothful 17.3 seconds to finish the 80-foot run. This was good enough for first in my weight class but second overall in the heavyweights behind Graham Gill, who finished at 13.78 seconds.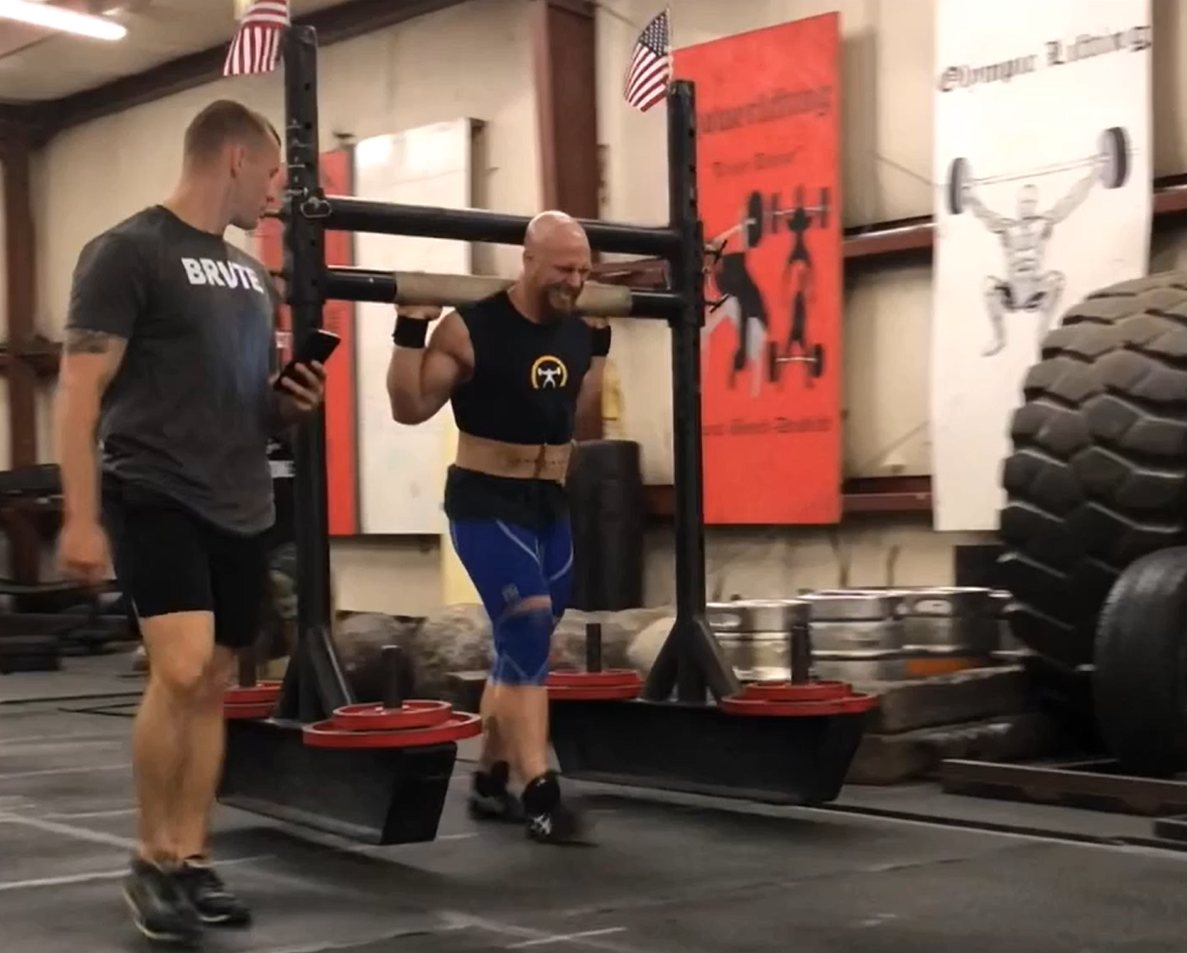 Event 2 – Keg Carry and Load
(240-pound keg for 40 feet, 260-pound keg for 20 f33t, 280-pound keg for 10 feet – all loaded to 48 inches)
I trained for this event two to three times at my storage unit but always with lighter weights. Just like the first event, I felt like I would be able to finish it for sure, but I was not feeling good about my speed. Also just like the first event, I was right. I finished in 24.75 seconds, which was first in my weight class and second overall in the heavyweight division — again with Graham beating me by only 0.03 seconds and long-time Brute powerlifter and strongman Chad Dunn just barely behind me by 0.01 seconds.
Event 3 – Odd Stone Shouldering for Reps
(223-pound stone)
During my one training day at Brute Strength Gym prior to this competition, I tried out this stone for the first time and managed to get six reps total with it with my best set being a triple while all others were singles. This stone is a new one for Brute, so I had never done it before, and it definitely felt very inconsistent in terms of my ability to do it for multiple reps in a row. I had the dubious honor of going first on all events since I had signed up so close to the deadline, so I was the first one to touch it while everyone else had the benefit of watching me to see what I did right and wrong. I did introduce a new item into my strongman gear arsenal for this event — the wrestling headgear.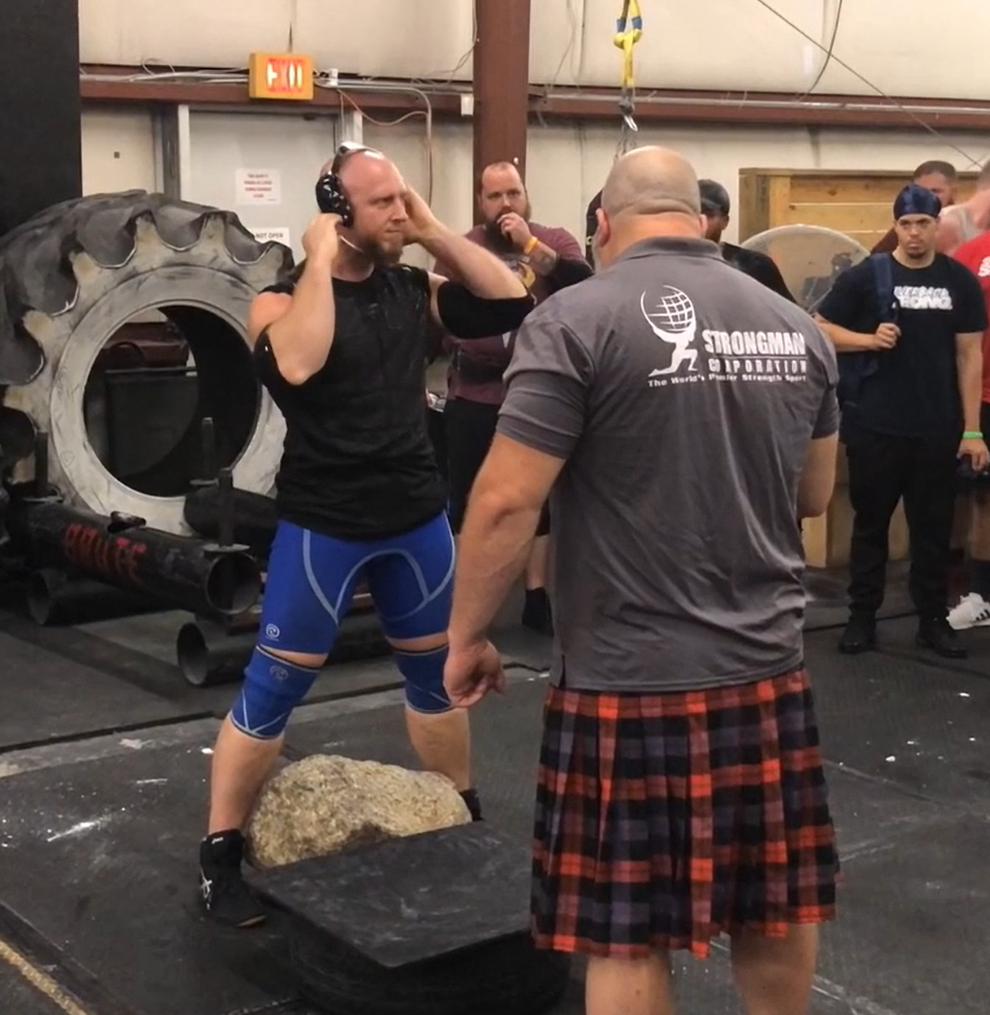 I have done stone shouldering events in the past with no problem when I have been allowed to keep both hands on the stone, however this time the stone had to be shouldered with one had removed before a good call would be given for the rep. The couple of times I tried training this with atlas stones, I smashed the hell out of my ears, which I felt like was a limiting factor.
My solution was to go back to the days of my high school sports career where I had been a pretty not bad wrestler for six years and where I had worn my headgear during both practices and matches to prevent cauliflower ear.
This worked perfectly, and the only downside was that since I had only trained with it twice, I forgot to snap the chin strap in the height of my pre-event nervousness, so each of my first three reps, I almost knocked it off my head. I stopped after the third rep to snap it in place and then went on to finish the event with six reps, which was much better than I expected and twice as many as I had done in my previous encounter with that stone.
This was good for first in my weight class again, but second to Graham again in the overall heavyweight division who beat me by one rep.
Event 4 – Chain Drag
(510 and 670 pounds for 40 feet each)
I had trained for this event twice: once at the Unit with a poor attempt at a simulation using the prowler where I had to stop after the first run and put more weight on and then drag it back, and once when I trained at Brute. It had not gone well at Brute with the real chains, but I had also trained it with heavier weights than the competition.
Time started and the 510-pound chain went down the lane without too much trouble (VERY relatively speaking – it was still awful). Then I ran back on Jell-O legs, and my first try at getting the 670-pound chain started ended abruptly in failure.
I tried again, and it finally started moving very slowly. I figured I would be able to get some speed going once it got moving, but I figured wrong. I had no idea what the time was or if I was even moving backward or just marching in place, but I knew I was not going to stop until they made me stop. Time was finally called, and I ended up pulling the heavier chain for 25 feet of the 40-foot-long course.
I did not feel very good about that distance since I was very light compared to most of the rest of the heavyweight and super heavyweight athletes (I had weighed in around 230 pounds). Everyone was able to finish the 510-pound chain, some faster than me, I think, but the 670-pound chain hurt some feelings, and I ended up finishing first in my weight class and also overall in the heavyweight division. Graham finished this one in third overall, which allowed me to make up some points on him.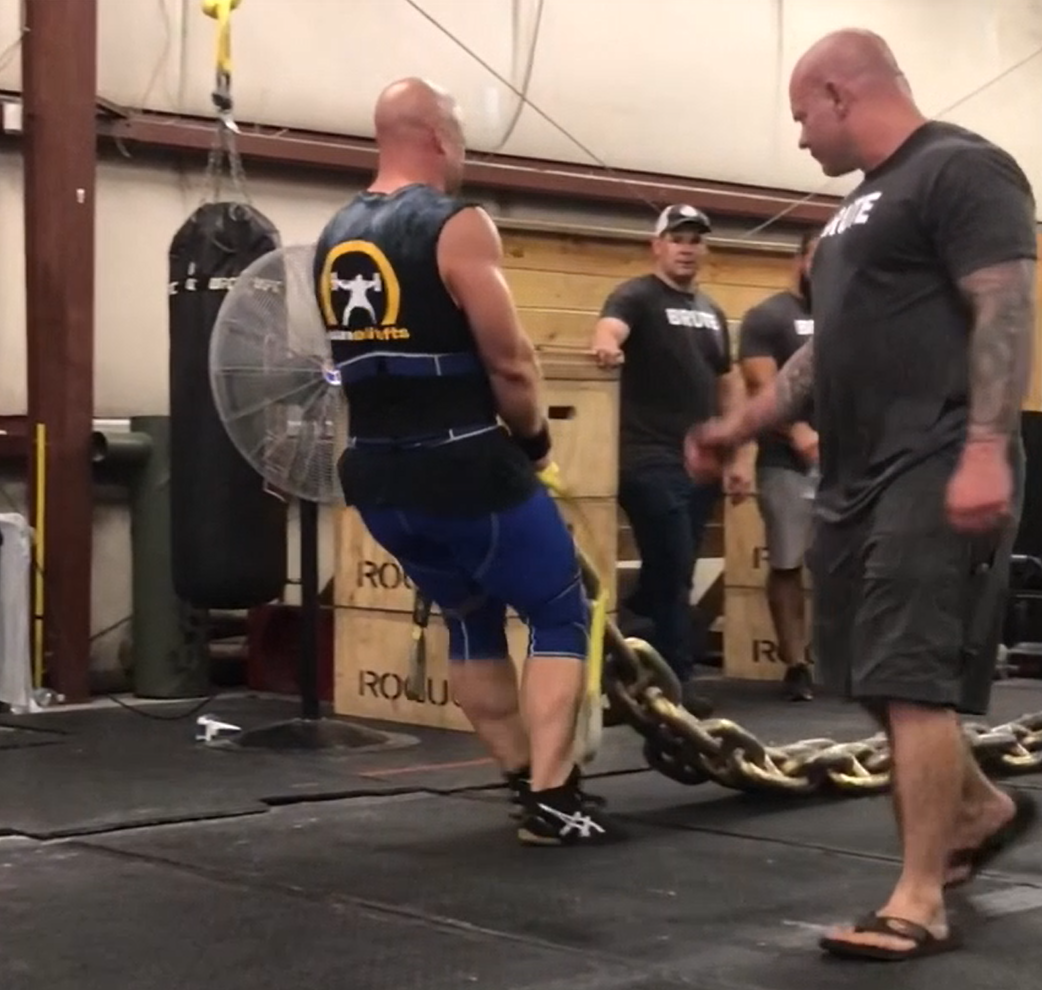 Event 5 – Conan's Wheel
(700 pounds for max distance, one drop and re-pick allowed)
Let me start by saying that I hate Conan's Wheel! I used to own one, which I bought solely to train for the competition where I won my 105k pro card back in 2010. That competition we had to carry a fucking Harley Davidson, and that still stands as the heaviest and most soul-crushing thing I have ever done in strongman.
I had trained this event once at Brute just to do an actual Conan's Wheel and a few times doing Zecher Carries with my yoke. Conan's is an event that is hit or miss for me. I have done pretty well on it at times, but also very, very poorly at other times. This time, we were allowed to re-pick it and keep going after our first drop if we wanted to, which I thought was a terrible idea, and I was dubious about my ability to do that.
However, it actually ended up being very helpful for me, and I got an extra half lap with it after my initial drop. I went exactly 1.75 laps and was just happy that I had not bombed it or passed out (which has happened to me before and to a couple of guys in the lighter weight classes who went before me). I had no idea how that distance would stand up, but I was happy to have finished without bombing any events and without doing anything stupid, so I achieved both of my goals.
My distance turned out to be just barely good for first in the 265-pound weight class again, giving me a clean sweep for the win there, and first in the overall heavyweight division — three places ahead of Graham, letting me sneak past him for the overall heavyweight division win as well.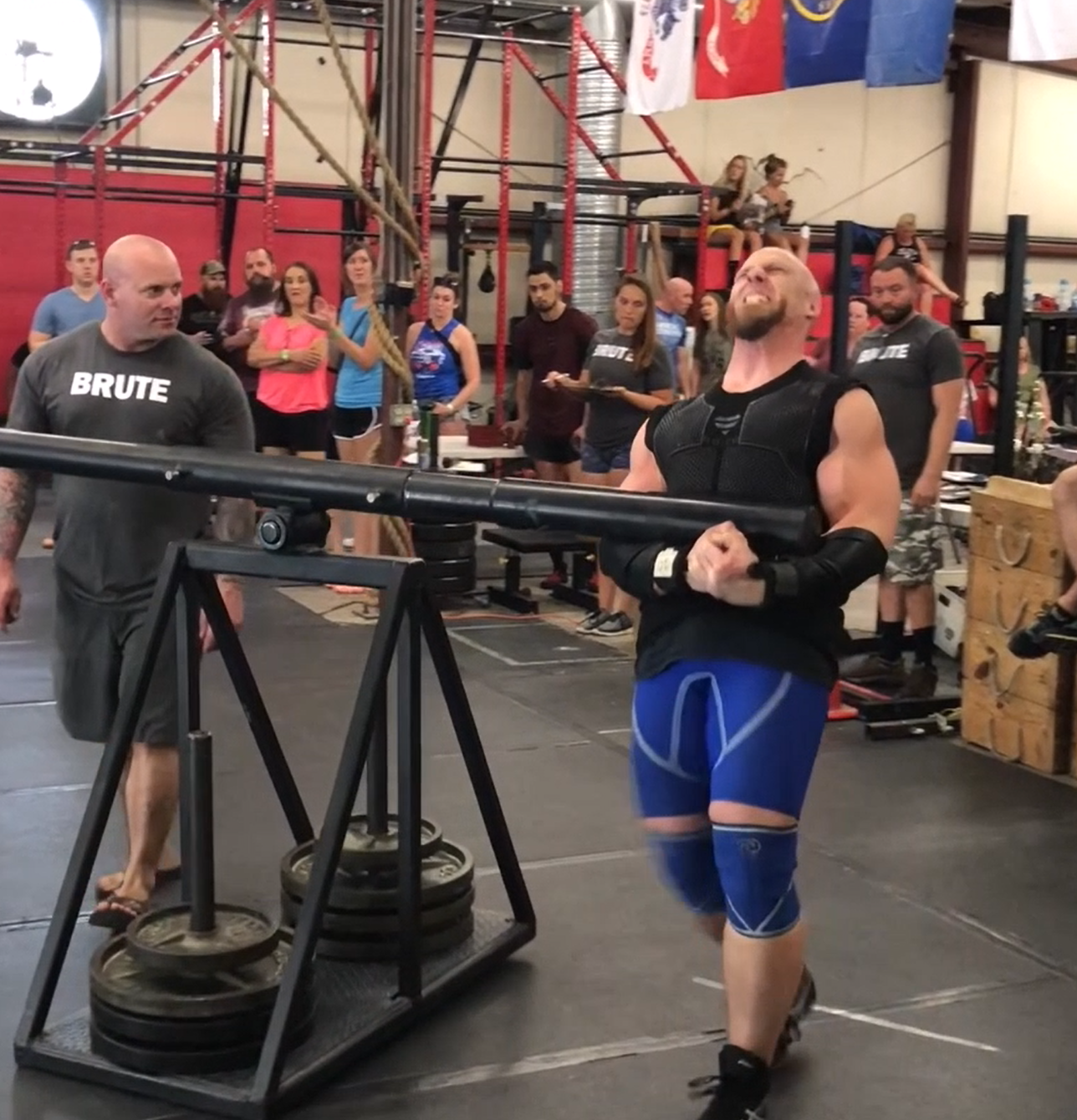 This competition meant a lot to me since I was able to come back from having all of my training and diet totally screwed up and still compete at a reasonable level again after almost a year. Also, I did have some nagging worry in the back of my head since I had hurt my knee (not my biceps, as you can hear the guy in the video saying during my keg run) last time I competed at Brute.
So a big HUGE thank you to Dave Tate and everyone at elitefts for sponsoring me for the past nine years and for continuing to provide the best equipment and the best information to the strength sports and strength and conditioning community around the world.
Thank you to Stella, Kevin Dickhut, Matt Foti, Chad Clark, Brian Browne, David and Liz, and everyone who helped out with setup, cleanup, loading, timing, judging, scorekeeping, pics, planning, executing, MCing, and everything else to make this such a well-run and enjoyable competition and for keeping Brute Strength Gym as one of the top places to train and compete anywhere in the country.
Thanks to Jayme, Andrew, and BAR-Q for slinging some of the best food that I've ever eaten ever. I will never miss the opportunity to get BAR-Q in my belly every time I have the chance.
Thanks to all the athletes and their friends and family and vendors and everyone who came out to compete or support the event.
Thank you to my amazing wife for driving me down, getting pics and videos for me, and always supporting me in my dubious choice of how I spend most of my free time.