Motivation, Podcasts, Sports Performance, Sports Performance, Strength & Coaching
Elitefts Sports Performance Podcast (Episode 2)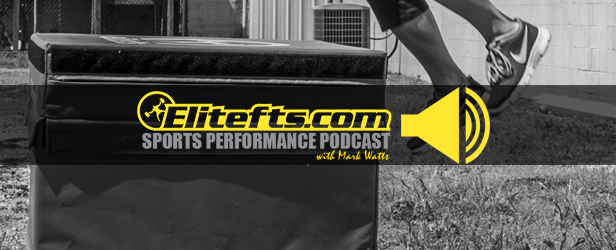 Interview with Chad Scott, Tim Kontos, and Jon-Michael Davis
I had the opportunity to sit down with three strength and conditioning coaches that I have the utmost respect for. Not only are these three gentlemen outstanding coaches, but they have been both friends and mentors to me.
I was introduced to Tim Kontos many years back through elitefts™ columnist Todd Hamer. Tim is one of the most respected strength and conditioning coaches in the industry and his work ethic, practical knowledge, and unwavering integrity are unparalleled.
I have known Chad Scott since the Spring of 2010 when he came to Denison University for a USA Weightlifting Certification and I met Jon-Michael Davis a few months after. In the summer of 2011, I brought my interns on a professional development trip to elitefts™ and also took them to Eastern Kentucky University. At the time, Chad Scott was still an assistant at EKU and he, Coach Davis, myself, and all of my interns spent the day talking shop. It was an invaluable learning experience for my guys as we talked about real-life coaching issues with brutal honesty. We also had a chance to poke fun at every stereo-typical coach, athlete, and NARP until I laughed so hard my face hurt. Chad and Jon-Michael are great men and role models for young coaches.
We all sat down in the lobby of the hotel during the Collegiate Strength & Conditioning Coaches Association National Conference in Kansas City Missouri in May. We talked about how each of them got their start in the field, advice for young strength and conditioning coaches trying to break into the profession, and the biggest challenges of being a strength and conditioning coach.
Chad Scott
Director of  Strength & Conditioning Coach at Charleston Southern University
Tim Kontos
Assistant Athletic Director for Sports Performance at Virginia Commonwealth University
Jon-Michael Davis
Head Strength & Conditioning Coach at Eastern Kentucky University
Related Articles
Elitefts™ Sports Performance Podcast Episode 1: Dan John Interview
By the Coach for the Coach: Rules for Being a Strength Coach
---

Loading Comments...