Equipment Feature — elitefts Custom Functional Trainer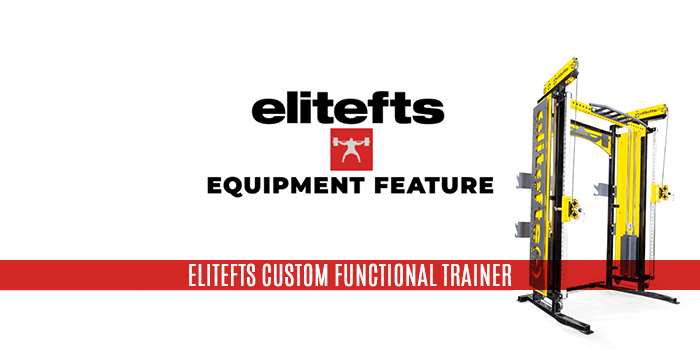 In this equipment feature, watch Matt Goodwin walk through some of the key features and customizable logo options on our elitefts Custom Functional Trainer. This is a premier, fully-customizable machine that offers near limitless exercise options due to unrestricted planes of motion and a versatile pulley system. It features:
9 ft. tall, 5-1/2 ft. deep, 6 ft. wide
Aluminum pulleys
3"x3", 7 gauge steel frame
back storage attachments
inside hooks for storage
Multi-grip pull up bar
Goodwin first highlights the pulleys themselves. Every pulley on the Custom Functional Trainer is solid aluminum. On this machine, there are no plastic pulleys that will inevitably break and put the machine out of commission until it can be repaired.
The pulley housings rotate along the vertical axis, allowing any handle attachment to do the same. This functionality is a key driver of the Custom Functional Trainer's versatility. Furthermore, the posts on which the pulleys ride are conveniently numbered for easy, quick, and accurate height adjustment. If you choose the optional logo package for this machine, laser-cut logos will be included on both sides of the pulleys for maximum visibility.
---
WATCH: Equipment Feature — elitefts Custom Bench
---
Moving on from the pulleys and rails, Goodwin talks more about some of the machine's other features. He explains that each stack maxes out at 250 pounds, providing enough weight so that even the strongest of athletes can train on the machine. A multi-grip pull-up bar comes standard and every machine, and really contributes to the versatility elitefts was going for with this particular trainer. The extreme functionality of this machine does come with a trade-off in terms of size: at over nine feet tall and five and a half feet wide, this machine cannot be described as "compact."
One of the coolest features of the Custom Functional Trainer is its integrated storage. The built-in bar and handle storage in the interior and back of the machine frees up space in the gym typically dedicated to miscellaneous storage. The interior of the trainer also features lat attachment storage and hook storage. Patrons can access any accessories they need to use this machine right at the machine itself, and keeping the storage so close to the trainer reduces misplaced pieces of equipment.
elitefts moved away from standard vinyl logos and opted instead for laser-cut steel. These raised logos provide a 3D effect to really stand out and catch the eye. Plus, being metal, they will not fade over time. Being laser cut, design options for logos are limitless.
If you want a top-of-the-line functional machine customized with your gym logos, contact elitefts at 888-854-8806.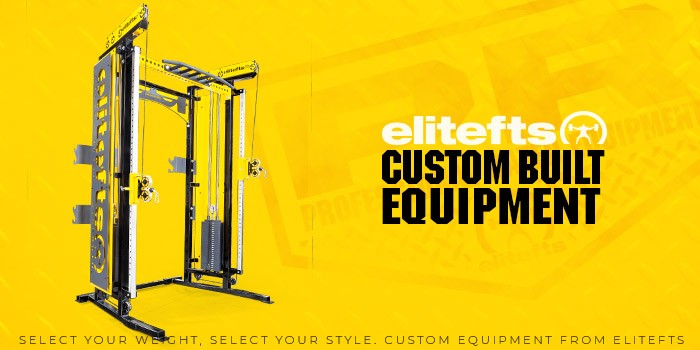 Loading Comments...