Express Gratitude This Thanksgiving

"As we express our gratitude, we must never forget that the highest appreciation is not to utter words, but to live by them." — John F. Kennedy
Are you thankful? Or just boasting?
I don't know if it is just my awareness of it or it is happening more often. This year, I have seen more articles, posts, videos, and seminars discussing the importance of gratitude than ever before.
At first glance, I was inclined to say this is a good thing. Unfortunately, I'm not seeing it coming from the heart; instead, it's for selfish reasons, such as marketing:
"If you start your day out of gratitude, you will be on your way to a seven-figure income."

"If you come from a place of gratitude, more people will do business with you."

"If you want to be happy, start with being grateful for what you have, and this mastermind group will show you how to do this (oh, and make a seven-figure income)."

"Today, I'm thankful that I have worked so hard that when I saw that BMW I wanted, I just bought it."
This has become so commonplace that we keep getting sucked into it, and the clickbait continues to grow.
The real gratitude we reflect upon doesn't come from others. It is not a gift that we are given. And it's not some new way of thinking that we don't already know. In reality, it is inherent in every human being.
We know that Thanksgiving is the expression of gratitude.
Growing up, I remember Thanksgiving dinner at my grandparents, then my parents, and then with all my extended family the next day. Over the years, I lost count of the locations, the number of tables, and the number of people. It was a lot.
After I got married, the strain of how to add double the amount entered the picture. Who would be cut, what location would be missed, whose table should we sit at? Soon after, kids entered the picture, and the logistics got even more complex. Of course, you want your children to spend time with all their aunts, uncles, cousins, second cousins, and others, but it comes with a caveat that more time will be spent traveling than actually visiting.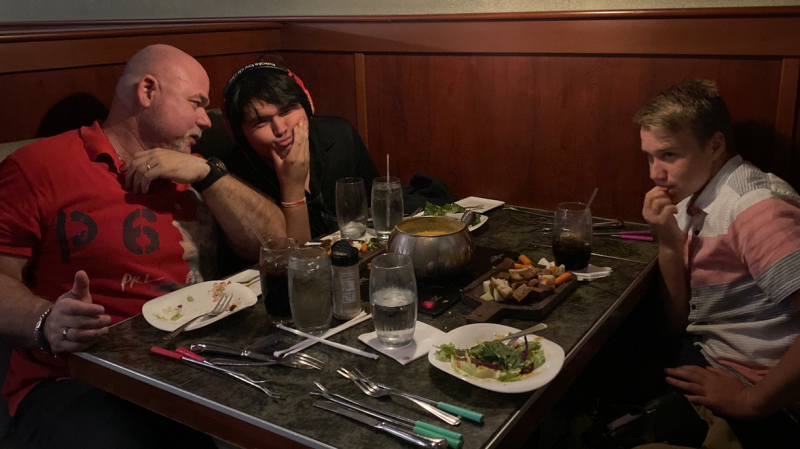 With my kids now grown, the number of locations and extended trips has dropped considerably. And for the first time in my life, I have almost complete control over where I spend my Thanksgiving. I can essentially do whatever I choose. If I wanted, I could spend the entire day in front of the television watching football.
When this first occurred to me, I thought of a statement Doug Heath made on Table Talk Podcast #31. We were discussing training days, and he said the only day he would not let his training group train is on Thanksgiving. He confessed that he has a sacred routine where he gets his Thanksgiving dinner from the store, stays home by himself, and watches football all day. And he absolutely loves it: a day of food, football, and reflection.
I am not sure how all this got tied up into BMWs and seven-figure incomes, mastermind groups, or even socioeconomic status. From the police officer to the fireman, the steel mill worker, and the small business owners, to the waitress, the farmer, and the CEO, we all have things that we are grateful for. You won't know it, though, because it isn't posted on social media or the headline of the e-blast you are about to receive. Likely, it's a culmination of little things that collectively bring happiness to our daily lives.
If you take the time to look inside yourself, I believe you will find there are far greater things to be thankful for than the obvious. If you dig a bit deeper, I am sure you'll soon recognize that gratitude isn't a backdoor brag. Put a hashtag in front of "grateful" or "blessed," and the meaning is forever lost.
Gratitude is a gift of introspection. Sharing what you're thankful for with the intention of opening yourself up to others can be a powerful thing. Shoving it down their throat to invoke envy not only undermines its very essence and is also pretentious.
When we mistake gratitude as an expression of excitement over we have to showcase to the world, we miss the entire point. Gratitude isn't about what other people think. And it's not simply another word for "positivity." It's something personal and unique for each of us and it impacts and shapes our lives in many positive ways.
Now that is something to be thankful for.
— Dave Tate, CEO of elitefts.com Inc.
Loading Comments...