From Living and Lifting to Hardly Living and Hardly Lifting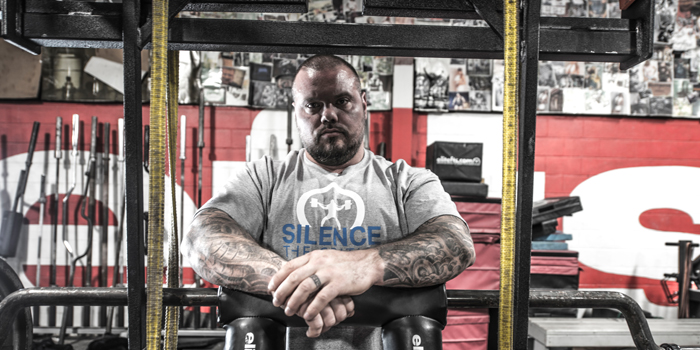 A Reflection by Chris (Tank) Janek
A few months before the Arnold Classic 2015 while siting with my family, I fainted. Now, understand this: I have played high level football most of my life and have banged heads with some monsters and never had any issues.
While getting up from my table to take my pre-workout drink and head to my lifting, I blacked out. I woke up to my wife screaming, "I'm calling 911!" I had no idea what she was talking about and couldn't figure out why I was leaning against the fridge. Once I realized something strange had happened, I agreed to go to our doctor.
The tests all were looking good. Cholesterol, blood pressure and other vitals were okay. However, they found that I had an enlarged heart, which they said is normal for athletes.They summed it up as an "athletic heart." However, just to be safe, we agreed to meet with a cardiologist to take a closer look.
Meeting with the cardiologist was eye opening. They found out I had a condition that is hereditary called Aortic Valve Regurgitation. We did not know it at the time, but to my wife and I this was going to be life-changing and a rude awakening. Surgery was the only way to fix my heart and it would mean cutting my chest open. My first thought: "Will I still be able to bench heavy, or at all?"
After talking more to the cardiologist and hearing that it would be better to get it done sooner than later, I came to a standstill on what to do. Do I compete at the Arnold Classic and get the surgery after or just get the surgery now?
The cardiologist made my decision easy. He recommended sooner than later. He did not make it sound like an emergency, but kind of left it up to me.
I had just gotten my sponsorship with elitefts.com and I wanted to represent them at the Arnold as well as total 2800 pounds at that tournament. Training up to the Arnold went great. The new Metal Gear was all on point.  I actually used metal briefs and a metal deadlift suit prior so this was an easy transition.  The only issue for me was the Bench Shirt.  I have never worn one and every other week was trying another Metal Bench shirt to find what worked for me best.

Competing at the Arnold started off good. I made weight and all warm-ups felt easy. On my first attempt I got called for depth. The second attempt was 1105 pounds and was good. Third attempt, I missed 1130 pounds due to technical issues.
Warming up, the bench felt good. My first attempt was 765 pounds and I missed it (shot my bar towards my head and they caught it). Second attempt was a little heavier, but focused on not shooting it forward so instead I lost it towards my stomach and the spotters had to catch it. On my third attempt, pressure was on because I just needed one lift.
---
XPC Finals: Chris Janek's Pre-Event Prediction
---
I missed my third attempt and didn't get to deadlift. If I could have stayed in the meet I feel like in would have totaled 1105/785/875 for a 2765-pound total. Oh, well there is always next meet.
Or is there?
A few weeks after the Arnold, the doctors inserted a catheter that ran up the main artery, up the groin to my heart. After seeing the test results, we all agreed to have surgery sooner rather than later. However, my plan was to make up for the terrible showing at the Arnold and do a small meet in May with the SPF federation taking place in Kentucky. This wasn't going to happen.
We decided to schedule surgery for May 6th. I was informed that the surgery would be a breeze and I would be able to continue to pick up where I left off. Because the surgeons knew of my hobby (powerlifting) and my job (owning a facility), they were going to triple reinforce my sternum back together in order for me to lift heavy again once I healed. I was also told that my shortness of breath (number one symptoms of Aortic Valve Regurgitation) would get better almost immediately. In addition, I was informed that being diagnosed with "Exercise Induced Asthma" was almost surely a misdiagnosis.
I was very confused with all that was going on. A major question I had to the cardiologist was, "How could I have made it through so many physicals and seeing all of the past doctors visits for Big Ten team football and several professional football teams?" The answer was simple. They said that unless the actual internal tests were performed, my problem wouldn't have been found. In addition, never having any concerns (other than shortness of breath) is another reason for not searching the heart further.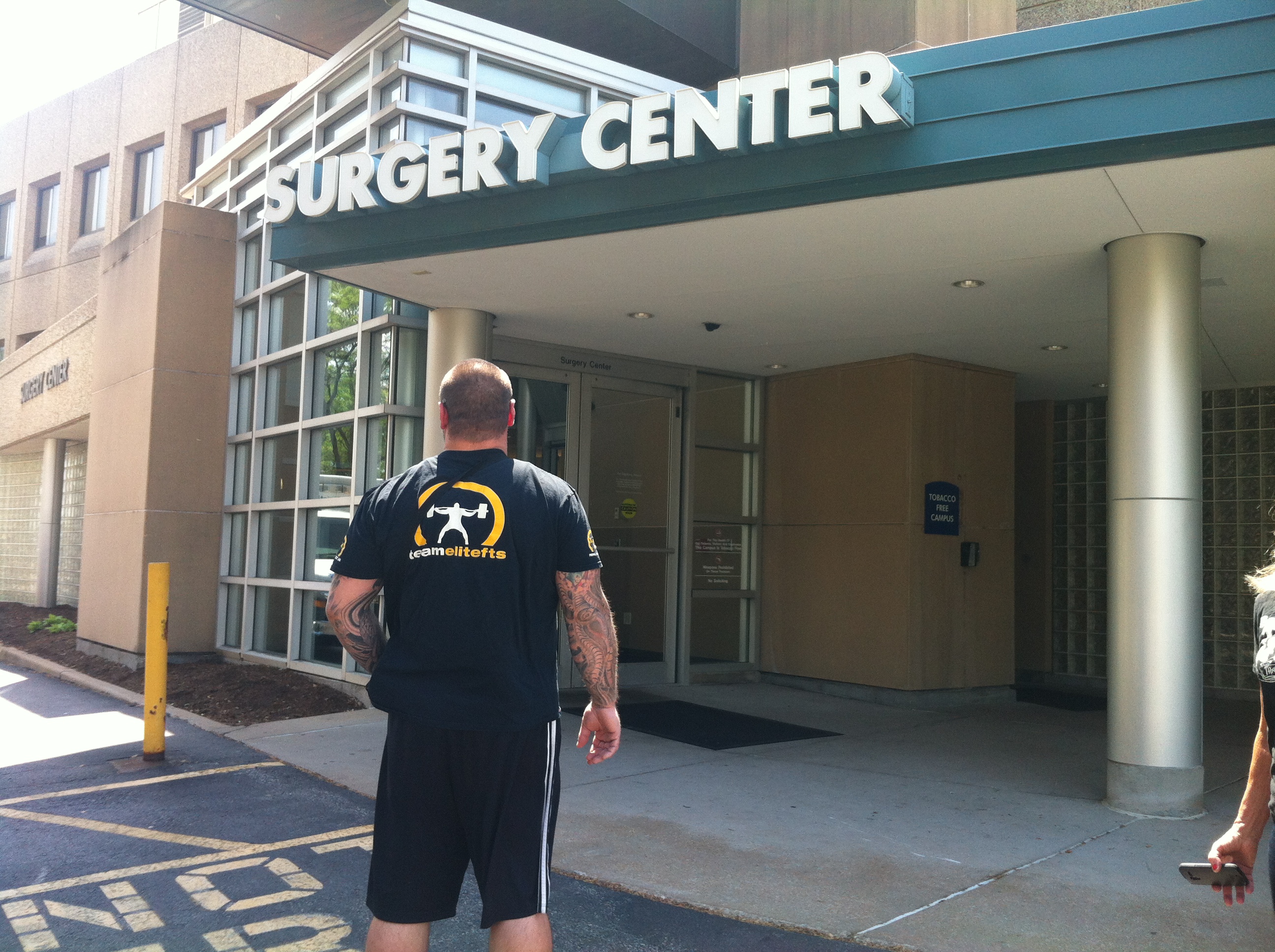 I thank God that I fainted that one day and they found this as I could have died without any knowledge of having a hereditary heart issue.
So May 5th rolls around I'm at the hospital with little nerves or stress.  My honest feeling was, "Let's get this done so I can go back to living life and lifting."
May 6th arrives and I am getting prepped to be put under. Kissing my wife and telling my family that I will see them soon was easy with no worries. I do not remember much after that.  The anesthesia and whatever else they give you to put you out are crazy. All I remember is waking up feeling very foggy and pissed off because there was this huge pipe in my mouth, tubes in my stomach, and I couldn't talk or move.
The next few days were rough. I was sore as hell, had a bunch of stuff connected to me, and the hospital (aka prison cell) was driving me nuts.
I never really felt good after this surgery. I was severely out of breath and doing minimal walking and/or anything else. On the fourth week, I was released to stop taking the diuretics/some other pills, cleared to lift, drive, work, etc. I felt good about this, as if stuff was going in the right direction. Little did I know that 'living my life' was just about to change even more.
On June 24th I retained 15 pounds of fluids and could no longer breathe.  At 1 a.m. we rushed our two children to my parents and quickly drove to the ER. They did a bunch of tests and gave me diuretics to reduce my retention of fluids. They found out that the replacement valve they used was too small and broke away from the sutures.
I had been regurgitating blood for a while. My heart function was so low that they immediately scheduled me for emergency surgery to re-do the valve the next day.
This was a major setback for me/my family/my business, as I was in the hospital for 19 days.
Everything was terrible. Waking up sucked, the tubes in my lungs sucked, the tube in my throat sucked, not being able to eat sucked, not being able to walk or function sucked, getting over your blood drawn 42 times sucked, the food sucked, the rehab sucked, the bed sucked, not being at home sucked. But, hey, at least I'm alive.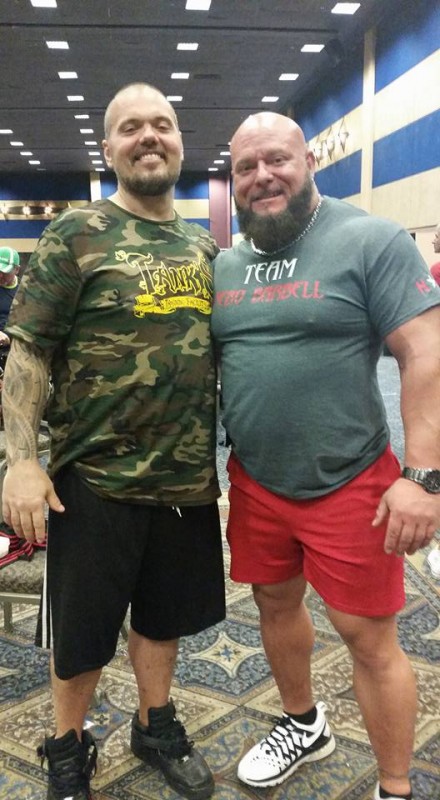 Getting the news from my family and the surgeons that I was close to death during surgery was so scary, almost as shocking as looking in the mirror for the first time in a couple weeks and seeing a person who resembled me but wasn't me!
I have, since the first surgery on May 6, lost 52 pounds. I look like I did when I was a sophomore in high school. Most muscle mass is gone. But, hey, at least I am alive.
---
RELATED How the Mighty Fall: Limbo
---
Getting back to where I was prior to all of this, is something I am unsure about. Weighing 310-320 year round definitely wouldn't be good on my heart. I would like to be a solid 285 and go from there. Seeing pictures of me that my family hung up in my room was difficult to imagine. I was super bloated. I looked like a chipmunk storing food in my mouth.
As of today (August 28th) I have been cleared to exercise (nothing over 40 pounds), drive, work, travel, and almost live normally. I can say I am feeling better from where I was. I can actually walk now and I am not so terribly out of breathe. My weight is still 260 pounds, but once I am cleared to eliminate the diuretics, I should gradually add some weight and feel better.
Performing my job is getting better, but I am still not fully able to demonstrate like I would like to. I am mainly just coaching my powerlifting group. I have been doing wimpy movements to activate my muscles and wake them up. I literally watch my crew train and become extremely jealous.
With GPC worlds in a couple weeks, I will be going to my first meet as merely a coach and not a lifter.
I cannot tell all of you who are reading this all of the feelings I am experiencing, but I can advise you of a few things.
Take advantage of the day! Make sure to train your ass off because you never know when "living life and lifting" could turn into "hardly living and hardly lifting."
I remind my clients of this daily. I am committed to using the newest techniques available in order to enable my clients to reach their highest completive level; they must have the desire to do so.
The word GREAT speaks for itself:
Growth   Readiness   Exercise   Attitude   Toughness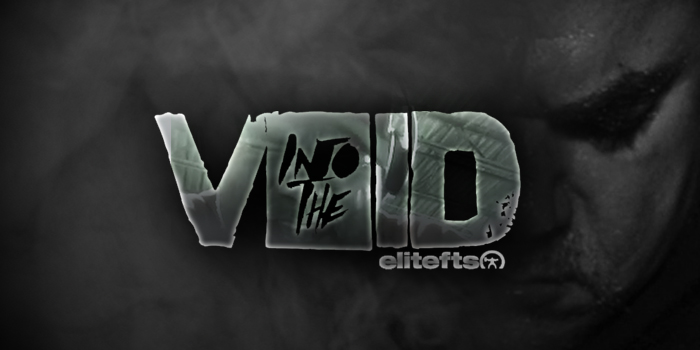 Loading Comments...