How to Build the Perfect Home Gym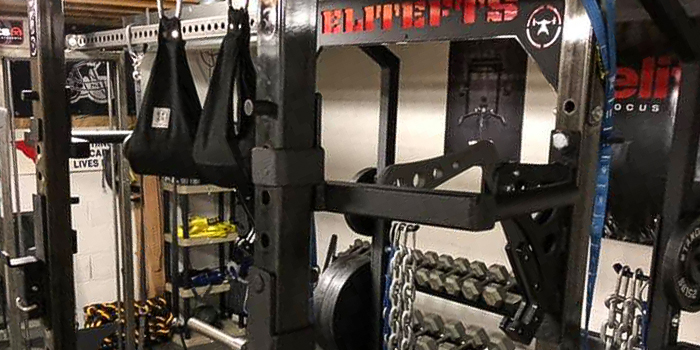 The G3 Compound is a sanctuary for Director of Sales Matt Goodwin and his family – a slow build of equipment over six years.
Matt began working on his vision of a home gym by purchasing equipment yearly in small increments. He started off with a Scholastic Full Rack, a Dumbbell Flat Bench, a Texas Power Bar, and 500 pounds of plates. A second major purchase included a five- to 65-pound dumbbell set and rack. In layered specialty bars, Spud Inc. cable attachments and Pulley, a 45-degree Back Raise, plyoboxes, an adjustable squat box, chains, and the Scholastic Lat Pulldown/Low Row Combo/Plate Loaded with the connector beam. The flooring is a combination of second-hand and Tractor Supply (or your local farm and fleet) horse stall mats. He imagines in years to come, if he's still alive and kicking, he'll install elitefts-grade flooring and turf.
In response to those at home without a gym, Matt says,
"You don't have to do this all at once. Get creative. Get bands. Get Blast Straps. Get all kinds of little utensils you can use to help you get the movements done you want to do without buying a ton of a machines, or tons of pieces of equipment. You can do this within a very reasonable budget. You don't have to break the bank or take out a second mortgage on your home to get a home gym."
Just think... this was once his home gym (pic below). You can see from the video just how it's grown over the long haul.
Call elitefts today at 888-854-8806 to speak with Matt Goodwin or Nate Harvey to get the ball rolling.
Loading Comments...