LISTEN: Table Talk Podcast #49 with Mark Bell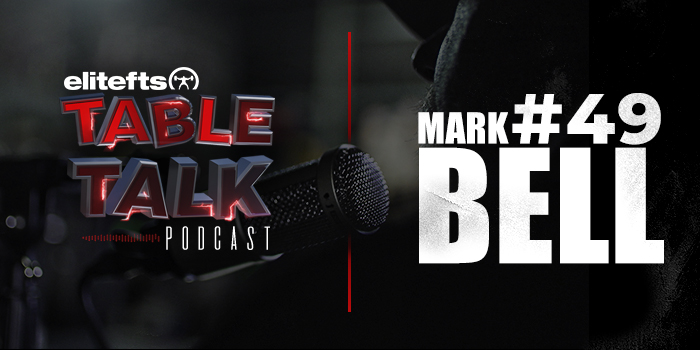 Mark "Smelly" Bell, while he needs no introduction, is a world and American record-holding powerlifter. He has totaled 2,628 pounds and has PRs of a 1,080-pound squat, 854-pound bench, and a 766-pound deadlift in multi-ply powerlifting competitions. He has turned this powerlifting success into multiple successful businesses with his Super Training Gym in West Sacramento California, his POWER magazine, his "info-tainment" style YouTube channel, his highly popular "Mark Bell's PowerCast", and the unforgettable invention of the Sling Shot®.
Mark and Dave were joined by Mark's podcast co-hosts Nsima Inyang and Andrew Zaragoza. Nsima Inyang is a bodybuilder, powerlifter, and Brazilian jiu-jitsu competitor who personal trains and coaches other powerlifters, bodybuilders, and martial art competitors. Andrew Zaragoza is the producer of their podcast and photographer at the Super Training Gym.
Did you know Dave Tate and Mark Bell used to be training partners and competitors? Listen as these two friends sit down years later to talk about powerlifting, business, and life.
0:00 Introductions
0:30 Scot Mendelson and being so big you can barely touch your chest with 225 on the bench press
3:06 How to balance a career and being the best powerlifter possible
10:24 Adversity and growth
15:07 The current fitness industry and the way things used to be
29:54 How powerlifting shaped their lives
33:04 What was Dave's first gym like
40:34 Westside
48:35 Mark Bell writing for elitefts
55:22 Formal versus informal education in strength training
1:02:40 How does Dave manage the staff at elitefts to maximize the website's potential
1:08:44 How Dave learned to translate Louie Simmon's ideas to be more teachable
1:16:22 How much did the programming versus the environment affect their success at Westside?
1:24:48 Is there anything Dave used to write that you now look back and disagree with it for being biased?
1:27:45 What did Dave learn not to do from Louie?
1:37:22 What was Mark's catalyst for realizing he was capable of learning more than he thought?
1:42:22 Empowering others
1:46:44 Ego in powerlifting
1:50:03 Family and being patient while being a parent
2:01:05 How does Dave combat people's impatience in training progress?
2:05:44 What autism means in general and for Dave's family
2:14:30 How Dave's experiences affected his views of his son experiences
2:24:26 Dave's views on autism awareness and avoiding excuses
---
Loading Comments...