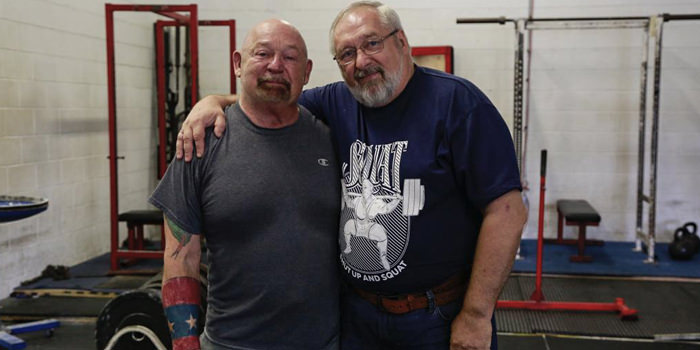 Boris Sheiko told me about his 2016 meeting with Louie Simmons in Columbus, Ohio. As much as I'd love to write the story from what I remember, I decided to share the encounter from Boris's perspective using his words.
---
"On the morning of August 16, we drove from Atlanta to Columbus, Ohio, to meet American and world powerlifting legend Louie Simmons. The road took us 11 hours, and we settled in the hotel well after midnight.

I was very surprised when our American friend and guide Janes said we should leave at 5:30 in the morning to meet Louie because he was waiting for us at the cafe for breakfast at 6 o'clock. This news plunged me into such a shock, from which I could not recover for a long time.
In Russia, I do not know a single powerlifting coach who would start his working day at 6 a.m.

We arrived at the cafe five minutes before it opened, but Louie was already there. With great excitement, I went inside. Our whole company sat down at his table. Just a couple of minutes later, his athletes began to show up. I asked Louie why athletes come to breakfast so early. It turns out that they have a tradition—on training days, they all have breakfast together in the morning, and during breakfast, they discuss the training plan, who trains which muscles today, what weights, intensity, etc.

Immediately after breakfast, everyone went to training. By the way, none of the athletes pays for breakfast. The coach (Louie Simmons) closes the total account. Simmons was very willing to answer all my questions. I felt he could talk about powerlifting for a very long time. For breakfast and conversations, three hours passed imperceptibly, and we immediately went to the world-famous Westside Barbell.

When I entered the hall, I immediately noticed that there were no advertisements, no posters, or no photographs on the walls of the hall, only a large blackboard with the names and best results of the athletes.

Near many results, there was a mark: WR.

With great envy, I looked at a large amount of equipment, many of which Louie Simmons designed himself. I did not leave any equipment unattended, and Louie patiently explained everything to me and showed me with the help of his athletes.

Of course, we discussed his world-famous training methods. He was sincerely interested in mine, carefully listening to every word of our translator Rostislav.

We did not argue about whose methodology was better or who had the best athletes. We just talked about methods of how to train athletes, and we enjoyed it. We realized that two elderly people (Louie turned 70 the year after I visited him and I am two years younger), who have given the sport more than 40 years, have much to share. I felt it brought us closer.

Another four hours flew by unnoticed; unfortunately, we had to go to the hotel to prepare for the next seminar at the University of Physical Education in Ashland.

On the way to the hotel, we stopped by the Westside Barbell office, where, once again, I was surprised. Behind the office was a huge warehouse of Westside products: sports clothes, WSBB T-shirts, and a large number of published books authored by Simmons. Louis gave me a royal gift—five of his books and a bunch of T-shirts.

At parting, I told Louie: "I realized that I still don't know much, seen of the big perspective of powerlifting. Thank you, Louie!"
---
Many think it has to be the Sheiko or Westside approach for training. Based on my experience, Boris's approach is about the perfect technique, while Westside focuses more on lifting weights.
Experience-wise, I have trained the conjugate system from WSBB for almost ten years, and I'm a certified special strength coach from Westside Barbell. I have run seminars about conjugate training with Westside lifter Simon Kankkonen. I am also educated by Boris Sheiko, who is a personal friend.
Image credit: Dmitry Spiridonov
---

Stefan Waltersson is a professional strength coach certified by Westside Barbell, lecturer, physiotherapist, author, personal trainer, kinesiologist, sports massage therapist, nurse assistant, and founder of Seminoff Sport & Rehab in 2004. Stefan has previously worked in neurology (Sahlgrenska University Hospital) and with researching doctors in microbiology and clinical chemistry. Check out his website.