Hello, My Name is: Gym Visitor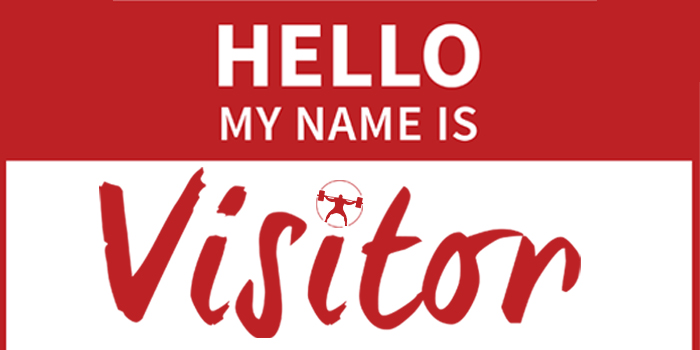 We've all been there. Anxiousness grows from the pit of your stomach. Your pre-workout starts to set in as you approach the front doors. You open them slowly, uncertain what to expect. You are not on home turf — welcome to a new gym.
As a first time visitor, it can be intimating to train at a new gym. You might not know what equipment is available, how many "regulars" will be there, or for some of my lifting ladies, you could end up being the only female working out in the weights area. But, you take a brave step and walk through the doors.
This past weekend, I walked through the doors of the elitefts S4 Compound. The apprehension peaked when I entered the metal complex, filled with old-school iron and weathered lifting gear. I was going to train with my bodybuilding prep coach and was not sure what to expect at her home gym. After a great one-hour session, I had five key takeaways as a visiting lifter at a new gym.
1. Introduce yourself.
If it is a gym you are visiting from out of town or meeting a friend, introduce yourself. It is mature to build rapport with those in a gym you are visiting, especially if you would like to come back again in the future. I was meeting my coach and elitefts columnist Alycia Isreal. I have been working with her for a few years and given the opening in our calendars, we wanted the opportunity to lift together. She invited me to the gym.
---
MORE: Are You Asking the Right Questions?
---
When I arrived, Alycia took me around to folks who were also training that morning so they at least knew my name and why I was there that morning. If you don't know anyone at the gym, it is always helpful to talk to the trainer working the entrance or front desk. The fitness industry is small. One hello can go a long way!
2. Bring your own gear.
Is there anything worse than going to the gym and not having the gear or accessories your want for your workout? I don't think so. It never hurts to be prepared. You also want to ensure that along with introducing yourself, you will not look like a novice lifter if you have your own bag. 
After the brief meet and greet with other elitefts lifters, I placed my things on the central table. I unzipped my 6-Pack Fitness bag and prepared to warm-up by grabbing an elastic band. I also set out my BCAAs, water bottle, wrist straps, and leather lifting belt before starting my first large-lift set: overhead shoulder press. It was shoulder day.
3. Find your needed equipment.
What are you looking for? Squat rack? 50-pound dumbbells? Cable rope attachment? Since you are not familiar with the layout and accessories at this gym, take the first few minutes after making your intros to seek out the equipment you want or need for your session. Make sure you will not interfere with anyone else's lifting space or just ask if you can rotate with them on a machine or area. This will help your workout flow smoothly.
---
RELATED: Building A Great Lifting Crew — Advice for Normal Lifters
---
Alycia and I were partnered that morning's workout. Since we were training shoulders, we found a squat rack for overhead presses, an adjustable bench, shoulder press machine, cable machine, cable rope attachment, and a select group of dumb bells and plates. It was not too tricky to find the weight sizes we needed, since the other lifters that day were practicing powerlifting movements and needed different equipment and larger plates. We also ensured we were out of traffic areas for others moving about the gym.
4. Prove your work ethic.
If you are visiting an elite, community-centered gym, it is likely people will observe your workout. They will want to see your skills and efforts. Focus on performing with correct form, strength, rest periods and overall, work ethic. Your nerves will be calmed if you remember why you are there. 
This is time to sweat hard and make gains. My breaks were active rests. I was approached by some lifters who just asked a few questions about me and my training. We would then float back into our sets. It created a nice rhythm. It will also reassure other athletes that you are not just there to be social or throw around weights. It shows you can perform and earn your time in their home gym.
5. Say thank you.
This is a necessity. Thank the people who shared their time and their gym. If you have the pleasure to meet the gym owner or manager, tell them thank you. It might sound silly, but gratitude goes a long way. I was humbled to meet Dave Tate and thank him for granting me time in his gym. He thanked me for joining and welcomed me back anytime. My experience visiting the elitefts gym was a memorable one. The people and ambiance made it a great workout. In that moment of thanks and a handshake, I brought my training session full circle from the introduction.
Although I have followed training programs for one year and a half, I learn something new each workout. Lifting at an unfamiliar gym can push you outside your comfort zone. Better yet, it can help you discover more about yourself and others who might be training like you or have something to teach you or learn from you. I know from the one hour spent at elitefts, I not only gained more personal confidence and focus on my abilities, but I also met some new people and improved my fitness techniques. Most importantly, I had fun! How do you intend to do the same at an unfamiliar gym?
I hope you can take these tips and walk out with more confidence and comfort visiting different gym facilities as a first time visitor. If you never go back to a gym again, keep these ideas top of mind and you can make the most of that experience like I did. You are well on your way to not just making gains with weights, but also gains in life. Enjoy your post-workout meal and see you next time, perhaps at the elitefts compound!
---
She had always been a skinny farm girl. However, in January 2014, Caroline Weihl started her journey to become strong(her). She was introduced to weight training with the Ohio State BarBELLES course her senior year. At this time, Caroline plans to have an off season focused on lifting heavy and adding muscle mass. She aspires to earn her IFBB Pro Card and compete internationally. She is also pursuing opportunities to educate and consult with professionals in the agriculture industry and help them live healthier lifestyles.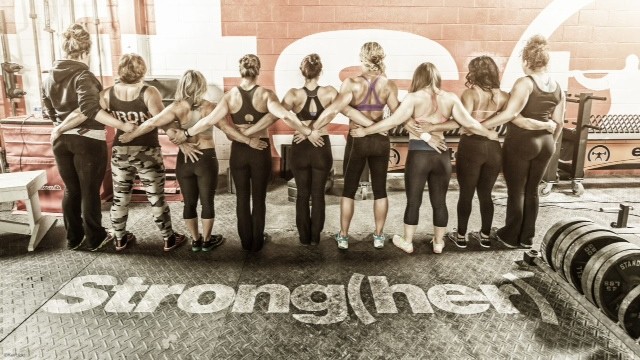 Loading Comments...