Kentucky Strong: Should You Compete?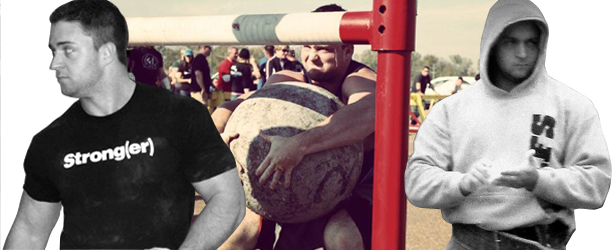 I get asked this question a lot—"Should I compete? I've never competed before, but I'd really like to." My response is typically something like, "Yes! You definitely should." The majority of the time, the person's next statement is along the lines of, "But…I'm not strong enough. I'm not ready yet. I think I'll wait until next year so I'm better prepared." Typically, my next response is along the lines of "That's bullshit. You should compete now."
If you're serious about your training and passionate about strength sports (this includes powerlifting, strongman, bodybuilding, and Olympic lifting) and are even considering competing, you should. There isn't any "right time" or "perfect time." Things never seem to line up perfectly. It's the way of the universe.
While I was training for nationals this year, my wife and I had our house up for sale with multiple showings each week. I had a ton of home improvements that took up a lot of my weekends, and we found out that my wife was pregnant (yes, it was planned). My first cousin got married six hours away one week out from nationals and I had to drive twelve hours in a day for an hour long wedding. In addition, I was drinking two gallons of water a day and eating cold tilapia and broccoli out of Tupperware. Not the ideal road trip, huh? Do you think that sounds like the perfect lead into a competition? No, not at all. But that's the way of life. I still competed and had a blast.
What I'm getting at is this—there may never seem like a "perfect" time to compete. But actually any time is the "perfect" time to compete, especially for your first time. Nothing gets your training, nutrition, and recovery dialed in quite like knowing you'll be competing in eight, twelve, or sixteen weeks. If it's powerlifting, strongman, or Olympic lifting, you'll more than likely blow past previous PRs once you get on the competitive stage. And if it's bodybuilding that you train for, you'll finally get to call yourself a "bodybuilder" and strip away as much body fat as possible to display the muscle and symmetry you've worked so hard to achieve.
I did my first bodybuilding show at 19 years old and had a great mentor to help and guide me along the way. He helped me with my training and diet and it was such a great learning experience. It also made me realize that I could accomplish more than I ever realized. This definitely carried over into all aspects of my life, and I really feel that the lessons I learned when I was competing in bodybuilding have helped me be very successful in multiple outlets in my life.
When I decided to do my first full powerlifting meet, I was very nervous. I didn't know much about powerlifting and didn't really know any powerlifters personally. But that didn't stop me. I read up on things and put together a program to help me peak for the meet. I ended up hitting a PR on all three lifts over my previous best gym lifts. I hit a 50-pound squat PR, a 35-pound bench PR, and a 20-pound deadlift PR in that meet over my best gym lifts. Just think—if I hadn't went out and competed, it would've taken much, much longer to hit those numbers. But because I knew that I was competing in just a few weeks, everything was spot on. That combined with a competitive mindset and a crowd watching definitely helped.
Coming off the powerlifting meet, I was very happy with my results and felt pretty strong. So when I was invited to train strongman with a local crew, I thought why not? I'm strong enough. This will be fun. I showed up and was humbled very quickly. I loved everything about the sport, but I didn't love feeling like the weakest guy there. This was a new challenge, and I was excited to see where I could go. I talked to the guy who's house I was training at and asked him about competing. We found a competition within three hours and about eight weeks away. I immediately sent my entry in and started training for it. About three weeks later, another guy from the crew gave me a phone call and asked if I'd be interested in competing in a small non-sanctioned competition about two hours away. I said sure and we headed up there that weekend. I ended up taking fourth place out of five in the light weight 200-pound class. At that point, I realized that I had a lot of work to do before my next competition, and I was focused more than ever.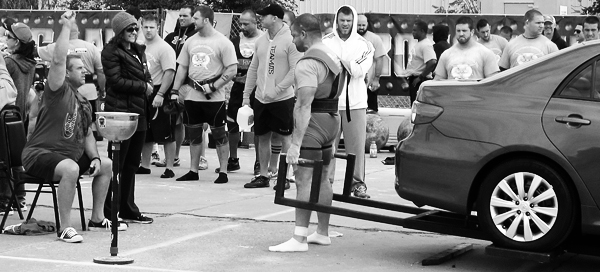 You see, I wouldn't be where I am today if I was afraid to get a little uncomfortable and go out and compete. I wasn't "strong enough" or "ready" to compete, but I liked the challenge and it got me out of my comfort zone. I've enjoyed all the strength sports that I've participated in and each has taught me a lot about myself, competing, and life. I'm so glad that I took the plunge to compete for the first time. If you're afraid to go out and compete, you really are limiting yourself.
If you're afraid of getting laughed at or made fun of, I promise you that this won't happen. All these sports have amazing athletes who are so helpful and friendly it's unreal. The fact that you are there and competing gives you automatic respect with all other competitors.  I've met some great friends while competing. Everyone is there to have fun and set PRs. And the knowledge you'll gain from talking shop with other competitors or by just watching them is worth it alone.
So maybe you've been on the fence about competing. Maybe you find yourself making excuses as to why you aren't ready just yet. If that's you, then I say go for it. Find a competition, meet, or show and sign up today. Once you've sent in that entry form and check, it's real. It's amazing how everything comes together once you've committed.
If this article inspires at least one person to go out and compete who otherwise may not have, then I've done my job. Good luck!
Loading Comments...