Texan Cowboy Stew
It's been a while since I've done a slow cooker recipe. So much so that I feel the need to extol the humble slow cooker's virtues once more. To do so, I decided to time how long it took me to prepare lunch for the following three days, and this is a favorite recipe of mine whenever I need to use up whatever is kicking about in the fridge and cupboard.
The ingredients list is really whatever you have at hand, but what makes it a cowboy stew is the addition of cow, beans, and smoked sausage. I'd just taken delivery of a month's worth of grass fed beef, so I was good for cow. I also had half a smoked Kielbasa about to go out of date in the bottom of the fridge. Pinto or black beans would be more authentic, but I had butter beans so that's what went in. (Don't used baked beans).
Ingredients:
500g grass fed beef
200g (roughly) smoked sausage
1 tin of chopped tomatoes
1 large onion
1 carrot
1 tin of beans (not baked)
1 beef stock cube
a good double handful of chopped celery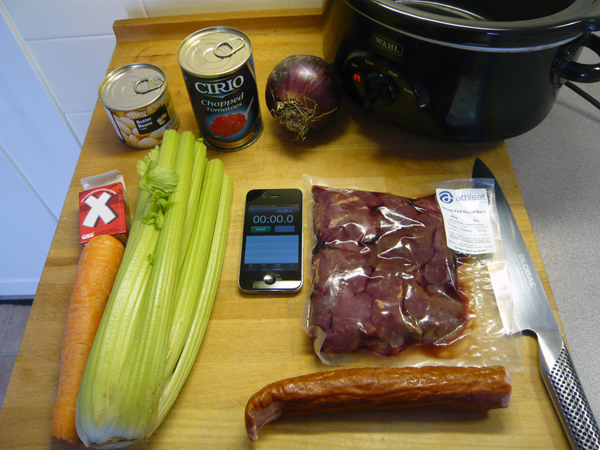 The method is simple:
Chop it all up and put it in the slow cooker with the exception of the beans.
Cook it on high for about three hours.
After three hours, add the beans and cook for another hour.
Total hands-on time: 2 minutes and 47 seconds.
It took less than three minutes to make a high protein lunch for the next three days! It would take longer to walk to the canteen. If you haven't invested the $50 in a slow cooker yet, what are you waiting for?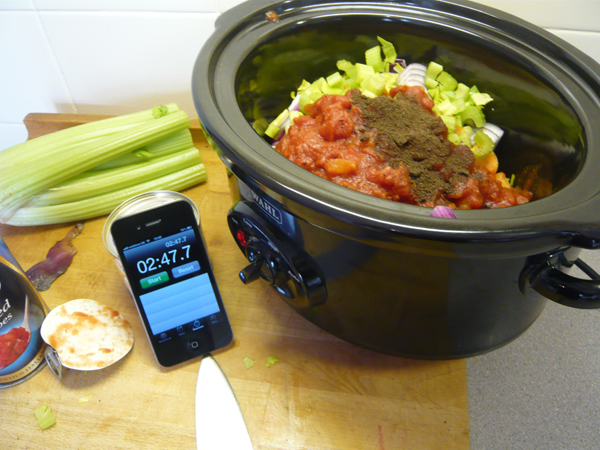 Loading Comments...