Ocalicon 2016 — Nation's Premier Autism and Disabilities Conference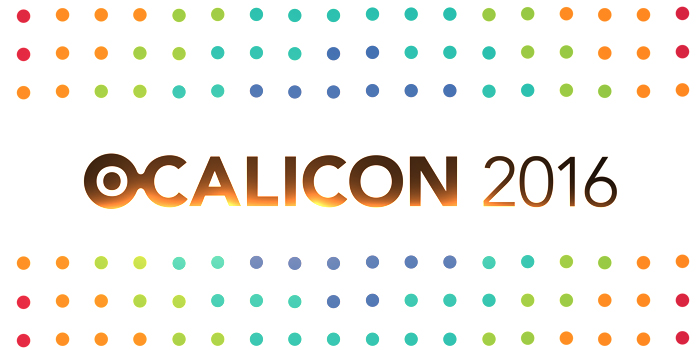 On November 16th, I had the opportunity to attend the nation's premier autism and disabilities conference in Columbus Ohio. OCALICON is a face-to-face gathering of state and national leaders, educators, parents, service providers, self-advocates, scholars, and policymakers to focus on common concerns and share proven solutions that address issues and challenges faced by individuals with autism, sensory disabilities, and low-incidence disabilities across their lifespan.
With the option to pick and choose over 40 presentations to attend within a 10-hour time frame, here are the presentations from which I learned a thing or two. I'll also share how I plan on implementing these lessons within both a private and a college setting, as these are where my current efforts stand.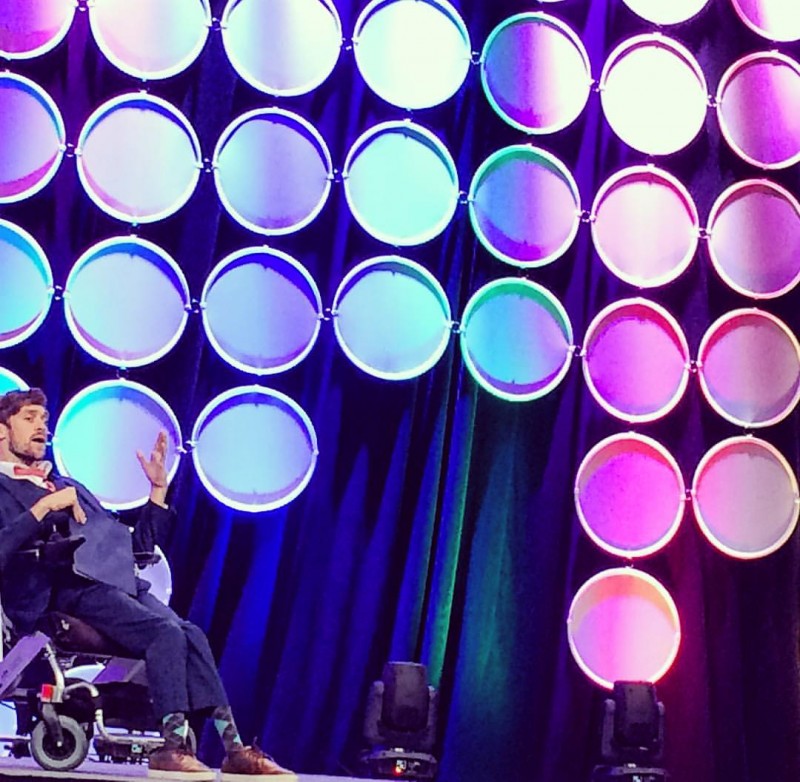 When Life Gives You Wheelchair, Make Lemonade
If the conference began and concluded here, I'd be ecstatic and fulfilled. If you're unaware of Zach Anner and his accomplishments, Zach entered the world with cerebral palsy and an uncertain future. By his 30th birthday, he had grown into an adult with a career in entertainment, millions of fans (check out his YouTube channel), a loving family, and friends who would literally carry him up mountains (video footage below). In 2011 he won the opportunity to host his own travel show, Rollin' With Zach, on the Oprah Winfrey Network. And today? As a thin-framed man, he sits in a wheelchair on top of a huge stage with enough charisma and humor to get thousands of people hysterically laughing and crying at the same time. More importantly, he's a rolling billboard of how those with disabilities can accomplish anything and everything (with creativity, confidence, and a lot of effort).
---
RECENT: A New Kid Under the Bar
---
So how did he get here? Sharing his life story, a memorable part included his elementary gym teacher. She was described as the kind that would never give up on him. She relentlessly resituated the entire curriculum in order to meet his every need, forcing him to be an active student within her hour window of class. Although he would've rather been forgotten in the corner and not bothered with basketball, soccer, football, you name it, she wouldn't allow it. He admitted, "I was a horrible athlete." This had the entire room crack up! It wasn't until one point in the school year (near the end), that he was thrown a ball and he actually caught it. HE NEVER CAUGHT ANYTHING. It was this moment, the first time, that he actually believed in himself and felt some self-worth. Catching a measly ball is all it took and that sense of accomplishment never left his side. In hindsight, he realizes why his gym teacher never gave up on him. She believed in him. All she was waiting for was for him to believe in himself.
Surely you can think of that person who believed in you when no else gave a shit (including yourself). Who are you advocating for? Who will you never give up on?
Here's a video from Zach's Riding Shotgun travel show. In this episode, Zach and his two friends attempt a two-mile hike to a remote waterfall.
Increasing and Maintaining Engagement in Whole-Group Activities
This session focused on hands-on activities to facilitate high levels of engagement and methods for meeting the needs of a wide variety of students. This ultimately led us to child interest. If you've read any of my previous articles, you'll know that genuinely showing interest in a child is my primary way of engaging. But that aside, how am I currently making this a priority?
In the individual sense, just last week Project Jenny concluded Blaine's training session. He's been talking about creating a robot for months now. Between sets is when we talk about her features (her name is Jenny) and the development plan. That was at least the first step: me, showing a genuine interest in what is consuming his every thought. How do you think our training would be impacted if I said, "You know Blaine, what you're talking about is nonsensical. I'd rather talk about more important things." Instead, my response was, "I'd like to see a blueprint!"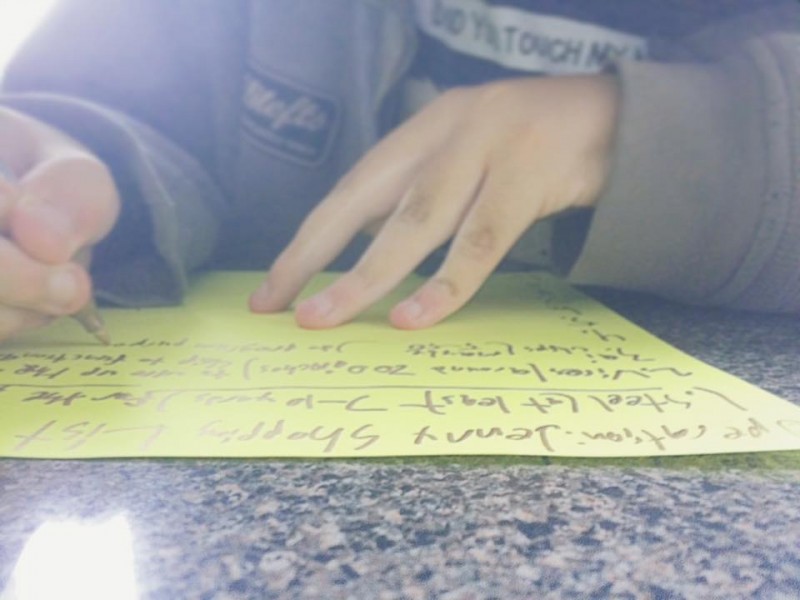 As I mentioned above, Project Jenny now concludes our training session. Our first meeting allotted time to get our thoughts on paper. We have a materials and operational list. Next week we'll create the blueprint.
So are we really going to create a robot? Maybe! What I do know is that my engagement in his interest fuels our entire workout. It also has created an alliance with a powerlifter who works for a steel company. Additionally, it has us talking about work and college, verbalizing that if his efforts are going to be replicable, getting a job and studying robotics is necessary.
In the college setting, planning for the Men's Aspirations OSU group (monthly social gatherings for high-functioning autistic male adults, 18-30 years-old, to meet, eat, and have fun) I'm relying on their interests to plan for the calendar year. Last week at Spaghetti Warehouse I went around with pen and paper and had everyone make a list of what they'd like to do for the upcoming months. With different interests and age levels all over the spectrum, there thankfully was a grand consensus: bowling, Skyzone, LaserKraze, and movies — there's four months worth of planning accomplished in under five minutes of my time.
So maybe this was the direction I was headed, but Christine Reeve and Susan Kabot brought us back to the basics, giving us reminders to always stay rooted.
ASD Services Research Funded by National Institute of Mental Health
Denise Juliano-Bult gave an overview of the autism research funding strategy at NIMH. She highlighted their funding priorities in this area, requirements for applying, and study approaches, with some information about the scientific review process. She also shared a review of studies that have been funded to date.
She brought up good points as she emphasized the implementation aspect of research: creating a study where people overcome barriers and show up to complete the entire data collection process. The data collection portion, therefore, circles back to value—a repetitive theme of the day—and without integration in the community, efforts may be limited.
What this and the next session reminded me of was not wasting time trying to reinvent the wheel (going about this process blindly or possibly thinking "no one has ever thought of this"). It's likely it has already been thought of, funded, created, and implemented. That being said, there's a greater chance you'll see what's out there and have a  sense of how to fill in any gaps (through expansion, minimization, or tweaking) that may strongly affect policy/program fortitude. This could sway you to join efforts already made or create something new based on researching the research.
In an abstract sense—because I'm currently not in the formal process of applying for funds to conduct research—whether or not you're in search for external funds to complete research, the research process should always be ingrained in our daily approach to whatever we find meaningful. This will automatically systemize our efforts to ask questions, find problems, locate resources, network, exercise processes and systems, establish facts, and reach new conclusions.
Another perk to this mindset is that once I knock on Dr. Bryan's Mann door for help with conducting my own research, most of the processes will be automatic.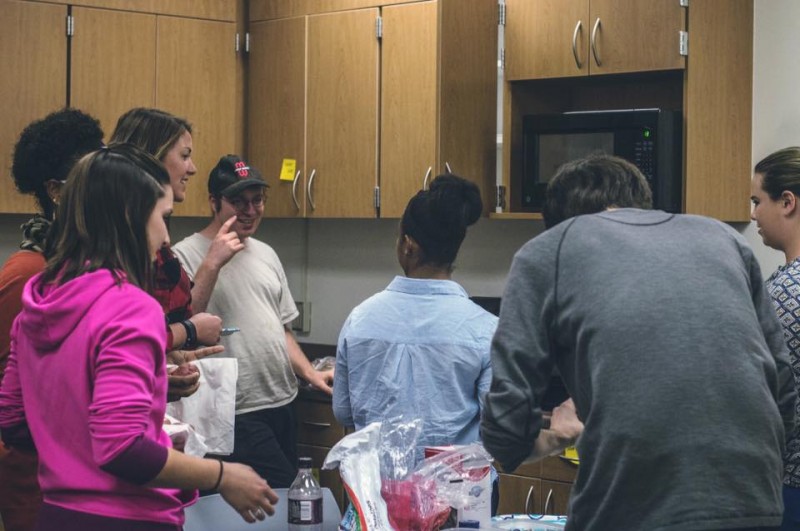 Innovate Approaches to Developing a Multi-Agency, College-Based ASD Transition Program
Led by Peter Doehring, this session described a recently funded proposal to develop transitional pathways to college and work for young adults with ASD, illustrating a collective impact approach to cross-agency collaboration.
To facilitate the core components of the programming, the National Autism Indicators Report(1) was referenced to locate gaps of experiences and outcomes of young adults on the autism spectrum between high school and their early 20's. This group was the specific subset this program services. This information allowed Peter to create program activities, tracks, and outcomes specific to the population. He used existing models to base this program on and relied on multiple partner agencies to play a collective role. Therefore, key elements shared between all partners were a common agenda, common backbone, mutual reinforcement, continual communication, and shared measurement. Program development would ensure growth through multiple strategies involving intense training and anticipation of gaps in leadership/advocates. Braided funding considered public, private, and philanthropic sources for direct services, program development, and eventual phasing out of philanthropy.
Joining efforts with Ohio State University Nisonger's Center for the past year in their efforts to provide a variety of programming for students with ASD, this is where my interests heavily reside.
Short-term and currently, my programming serves as a curriculum inlet within established groups at OSU, like ACE! — a club of college students with ASD that meet weekly for the entire school year, facilitated by graduate assistants and interns, to provide group support with daily transitional skills. Think of it as additional support that an appointed advisor alone wouldn't be able to provide weekly. I'm designing my presentations (nutrition and movement) on real stories from the guidance of group members and subsequent presentation topics are based on their needs and voiced interests.
What's cool is that after two presentations, other ASD services are contacting me to serve as an inlet within their curriculum.
I see a lot of value in how my programming is currently being administered, as it's activating collaboration across multiple individuals and programs. Long-term, I'd like for it to continue to gain value and become its own entity following an approach described by Peter.
Before this conference, I don't think I could fully articulate the value of what I'm currently providing privately and through OSU. As I see it now, this setup is allowing me to gain a real anatomical, logistical, and developmental sense for programming. I clearly see my place in the flow and the momentum it will have in reaching my long-term goals.
Thank you, Traci and Dave Tate, for the opportunity of providing ongoing education to fuel this column, Blaine's training, and my programming efforts with OSU. Look forward to attending Ocalicon 2017!
References
1. Roux, Anne M., Shattuck, Paul T., Rast, Jessica E., Rava, Julianna A., and Anderson, Kristy, A.  National Autism Indicators Report: Transition into Young Adulthood. Philadelphia, PA: Life Course Outcomes Research Program, A.J. Drexel Autism Institute, Drexel University, 2015.
Loading Comments...