In the Belly of the BEAST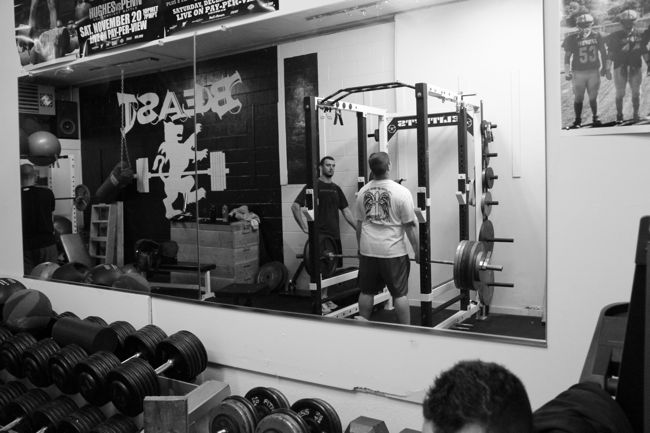 Erik Eggers went from powerlifter to gym owner. Does this sound like something you eventually plan to do? Read on to find out how he conquered the BEAST.
RC: When and how did you first learn about elitefts™?
EE: In 2002, I was a 32-year-old frustrated lifter in pursuit of a 500 pound raw bench press. My training was Albert Einstein's definition of insanity – doing the same thing over and over again and expecting different results. I would make marginal progress and then get injured; I'd work to heal, make some progress, and then get sick or somehow otherwise veer off course.
I eventually realized I had to find out how the biggest benchers in the world were training and more specifically what were they doing that I wasn't. I began to research powerlifting on the Internet. The volume of information available was incredible. I knew I'd have to locate the most reputable sources. Initially, I reached out to Scott Mendelson, at that time, he held the current bench press record in the 308 pound weight class. I just picked up the phone and called him to discuss training, but with Scott in California and me in Connecticut, we were never able to coordinate. Next, I discovered a powerlifting gym in Columbus, Ohio – Westside Barbell and Louie Simmons.
I devoured all of Louie Simmons' training articles and learned about the Westside training methods. Then, I finally stumbled upon an article that forever changed my benching life – Bench Press 600 Pounds: A 12 Step Program by Dave Tate. In my opinion, that article was the Holy Grail in terms of benching strength and technique. That article, of course, led me to learn more about Dave Tate and elitefts™.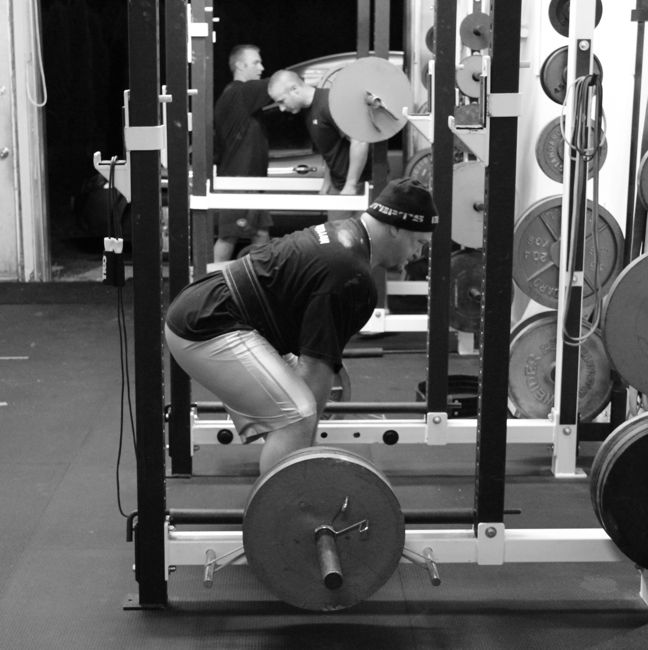 RC: After learning about Dave Tate, what made you decide to outfit your facility with our equipment?
EE: I've been weight training since I was 12 years old, so I've used a lot of different equipment. I have always considered elitefts™ equipment the top-of-the-line in terms of both quality and functionality. Elitefts™ seems to get the little details correct and they definitely place the training needs of their customers first. Whether it's quality band pegs, shallow j-hooks, or the design of their Power Racks (to allow for wide-stance squatting), elitefts™ pays tremendous attention to the needs of serious trainees.
In 2008, I took a job in New Jersey and was able to train at DeFranco's Training Systems for several months. Joe DeFranco outfitted his entire facility with equipment from elitefts™ and the training atmosphere is fantastic. Joe calls his facility "The World's No. 1 Hardcore Gym for Serious Athletes," and having equipment of the highest quality is the icing on the cake. Having the opportunity to train using elitefts™ equipment first-hand, definitely played a large role in my decision to outfit Beast with the top of the line.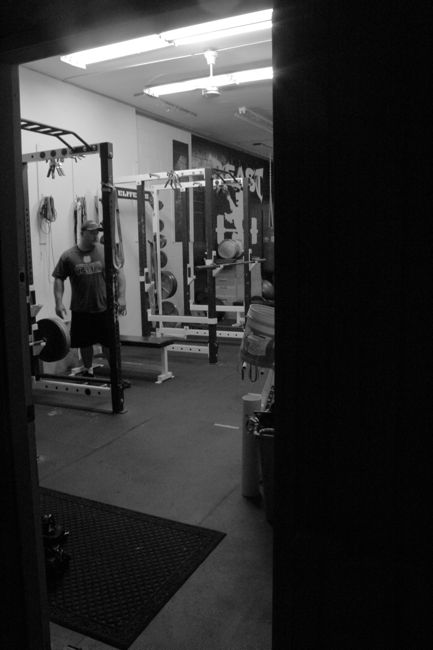 RC: What inspired you to open your own strength and conditioning facility?
EE: Prior to opening Beast, I was training with a small group of friends in my basement. The group began to grow over the years. I knew we were outgrowing my basement and from a liability perspective, I was essentially playing Russian Roulette. However, I couldn't stomach going back to a commercial facility. I needed to use chalk. I needed my music. I needed good sturdy power bars. I needed a hardcore atmosphere that I knew I wasn't going to get at any other facility.
Training at DeFranco's facility helped me conceptualize what putting together a "hardcore" strength and conditioning facility would entail. In addition, I saw the great stuff he was doing with his athletes and I was blown away by his video "Strong – The Movie" – it left me in tears. I have three children of my own, the oldest of which is thirteen. Part of the goal with Beast was to have a facility where they could learn how to train properly and safely.
I trained for over 25 years and was already programming for a number of individuals. I studied and earned my CSCS (Certified Strength and Conditioning Specialist) from the National Strength and Conditioning Association, rented space in Trumbull, CT, got on the phone with Jim Wendler, and later, Matt Goodwin, to discuss appropriate equipment choices, and the Beast was born.
Our goal was to take our knowledge and help local athletes with their training, ultimately to improve their on-field performance. Our hope was that improved on-field performance would translate to additional opportunities in academics such as through scholarship opportunities and/or facilitating acceptance into "reach" colleges. Beast has been very successful in this regard.
One of the real keys to Beast's success over the past two years, was our Performance Specialist, Chris Bogannam. I had to rely heavily on Chris to implement our programming because of my full-time employment in the finance industry,
My initial comfort with Chris as a trainer, stemmed from training with him in my basement for several years. I knew we shared a lot of the same training philosophies and I consider Chris one of my "adopted" sons. Chris is in the process of completing a BS in Human Performance at Southern Connecticut State University. In addition, Chris has over 13 years of martial arts experience, as he trained extensively in Hawaiian Kempo, Chinese Wushu, and most recently Brazilian Jiu Jitsu. An added plus for Beast trainees is that Chris excels in training areas where I'm not as versed. These areas include stretching and flexibility training. Therefore, we compliment each other well.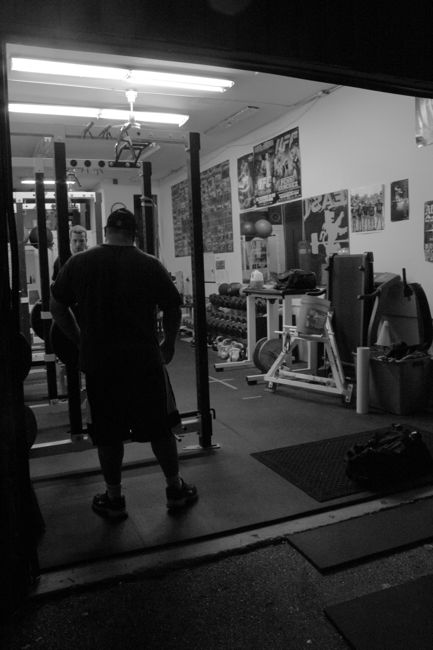 RC: I think "BEAST" is a great name for a facility like yours and I really like the design of your logo. Is there a story behind it? How did you come up with the name?
EE: I always liked being referred to as a "Beast" in the gym and I think "Beast" is a great moniker for extraordinary athletes on the field. For example: Ndamukong Suh of the Lions is a Beast, LeBron James plays hoops like a Beast, and Marshawn Lynch is an unstoppable runner when he gets into "Beast Mode." I knew our focus would be training athletes and I hoped they would appreciate the name and its on-field connotation.
My wife, Kim, subtly objected to the name at first, believing it could intimidate some potential clients, but I was sold on it. Ultimately, if an individual is going to allow the name of the facility to deter them from reaching their goals, we're probably not a good fit anyway because we're definitely not for everyone, but if you're willing to work hard, we're tough to beat.
I designed the logo by myself, initially planning on more of a "coat of arms" look, with the symbol in the middle of a shield. Ultimately, I decided we didn't need the shield itself. We're really happy with the design and it's very humbling and flattering to see student athletes proudly wearing the shirt around our town. Several of our athletes have referred to the Beast shirt as the "lucky shirt" under their uniform jersey, or over their wrestling singlet during pre-match warm-ups.
I also painstakingly painted the design on the wall of the gym; the mural is approximately twelve by eight feet and it took me close to 24 hours to complete, but it definitely adds to the entire Beast experience.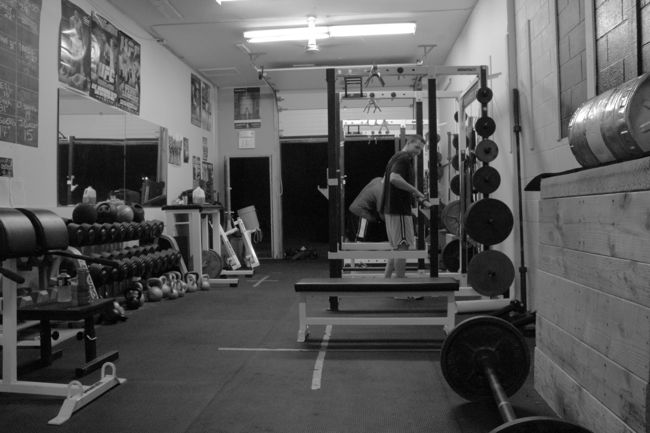 RC: Where specifically is your facility located and can you discuss some of the services that you offer?

EE: The Beast is located in the town of Trumbull, Connecticut. From a sports perspective, Trumbull, is probably best known for winning the Little League World Series in 1989. Beast's address is 7186 Main Street, Trumbull, CT 06611.
All of the services we offer are for small groups or one-on-one training. For athletes, Beast offers strength and conditioning, as well as speed and agility training. For female trainees, we offer morning "Bootcamp" and strength and conditioning group sessions.
In addition, we have a variety of "open gym" hours, or what I affectionately like to call "Fight Club," where those tired of the commercial gym environment can train hard in a terrific and supportive atmosphere. We're definitely powerlifting and strongman friendly. Currently, most of our open training is geared to those who either train in the evening, or on Sunday morning to early afternoon.
Please visit our "Programs" tab at www.beastllc.com.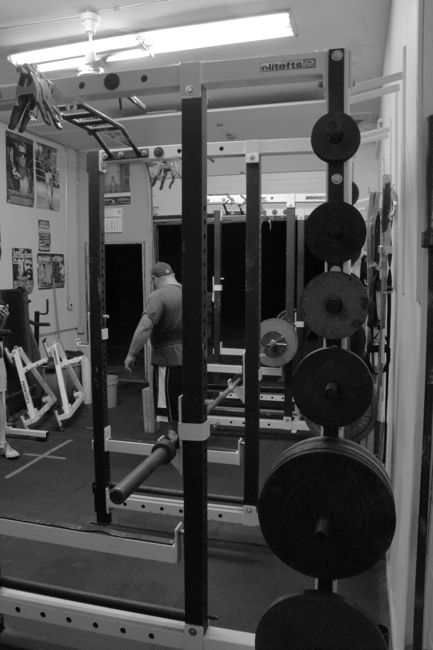 RC: Can you highlight some of the equipment you utilize in BEAST?
Several Heavy Tires for Flipping (~250 lbs to ~1,000 lbs)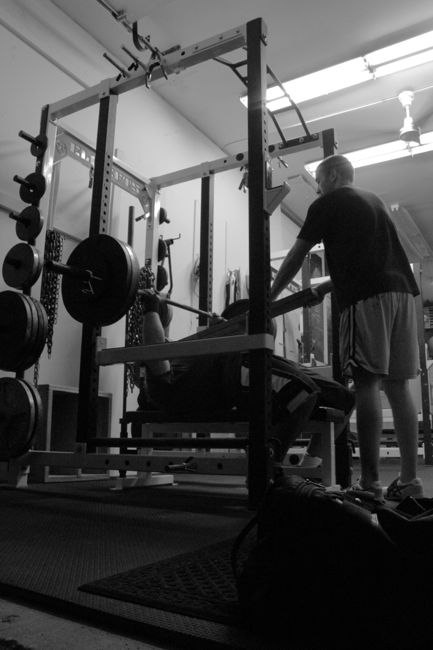 RC: What advice would you give to someone who wanted to open up his or her own facility?
EE: The single most important piece of advice I can offer is to start small and grow when the time is right. Our economy is currently struggling, which translates to most individuals having a limited budget to spend on training. You'll always have the opportunity to expand the facility if things are going well, but you can go out of business in a hurry if you don't keep overhead to a minimum while you work to build a client base. It's also challenging to focus on client strength programming when you are trying to stave-off bankruptcy.
Secondly, I believe strongly in under-promising and over-delivering to our clients. We don't really "clock watch" unless we absolutely have to, if a session needs to run long to achieve the desired goal, then so be it. I believe in this business, the first priorty has to be delivering results to clients, because if you take care of delivering results, everything else will fall into place, including financial remuneration.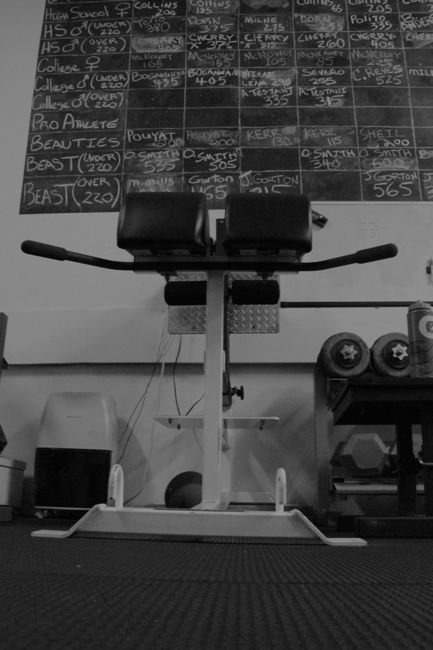 RC: What is your favorite thing about owning Beast?
EE: The knowledge that we are able to change individuals' lives for the better, is my favorite thing about owning Beast. Watching our trainees add to their overall athletic ability and/or 100 pounds to their squat or deadlift, is definitely very fulfilling as well. But, whether it's witnessing one of our athletes run for a touchdown, pin an opponent in wrestling, or rip a double down the third base line, knowing Beast was a positive influence on the lives of these individuals makes all the work worth the while. In addition, the relationships we fostered over the past two years were very rewarding and are very important to us.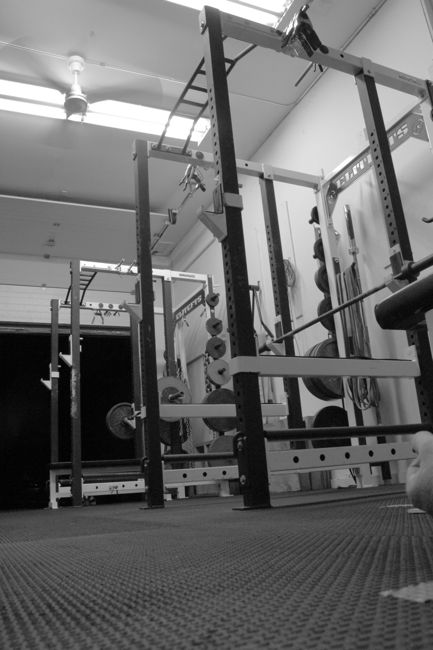 RC: What is the best way for a prospective trainee, athlete or other, to get in touch with Beast?
EE: The absolute best way is to e-mail Beasttrainingllc@gmail.com. Alternatively, you can phone us at: (203) 261-LIFT (5438).
We attempt to keep the website updated to the best of our ability and we blog information and programming that can be useful, so please add us to your web browser's favorites – www.beastllc.com.
Loading Comments...