Motivation, Sports Performance, Strength & Coaching
Strong(her) Coaching (Part 1): Athletic Influence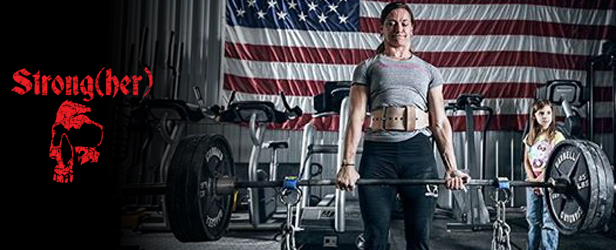 Collegiate strength and conditioning is undoubtedly one of the most competitive job markets for any young professional. The number of aspiring strength coaches compared to the job availability is grossly one-sided. Add the fact the field is male-dominated and you will start to see some of the obstacles a female strength and conditioning coach must go through.
In this day and age, there are female trainers who arbitrarily take the name "coach" and become their clients' best friend. You also see female trainers who build other women's self esteem through social media, in between their own "selfies." However, there is a pride of lionesses who have committed to the athletic performance enhancement of the young student-athletes assigned to them. These women have dedicated their professional lives and made numerous sacrifices within a demanding profession to earn the tile of "coach."
These women exemplify who I feel all strength coaches should be like (male and female). I have the privilege of knowing all of them personally. Whether seeing them present at a conference or talking shop in the lobby of the hotel, these women have the knowledge and experience to get the most out of their respective teams. These women have make the commitment to learn and pass that knowledge on. Callye Williams has written multiple time for elitefts.com while Cory Seif was the only female coach present at the Football Strength Clinic so she could help her athletes.
Watching these ladies coach and compete has helped me formulate a tremendous amount of respect. As a scrawny runt of a high school football player, I used to ask national champion bodybuilder Kim King for advice at her gym. I have watched clips of Beth Byron implementing strongwoman competitions for her teams, Allison Bradshaw Ledesma dominate a strongwoman competition, and Brigid Hamil lift at the Arnold. I filmed Jen Petrosino hit a PR squat at the last Learn to Train while Liane Blyn just bench pressed 391 at IPF Worlds. I watched Megan Young and Julia Ladewski present in front of hundreds of their peers. Tracy Prosser was my coach when I received my USAW Sports Performance Certification, and I was present at the CSCCa Conference when Anne Tamporello won the John Stucky Award. Finally, I was able see Mary Beth Krolikowski go through the process of being a college softball player, to an intern, to a full-time strength coach while learning from both Teena Murray and Kim King. All of these women share a dedication to improve as coaches and a passion to develop athletes.
In this four-part series, we will get to know these women and gain some valuable insight on how they got started in the profession, their training philosophy, their challenges, and their advice to other strength coaches in the field.
---
What was your athletic and/ or competitive background and how did that affect your career path?

I was captain of the soccer team for Texas A&M University and was offered a student worker position in the weight room upon completion of my eligibility. I had torn my ACL a few times and worked hard in the weight room to bounce back from injury and I suppose the strength coaches there at the time took notice. I was always amazed at how my rehab got easier as strength techniques were implemented post operation and once I was able to work in the weight room, I wanted to help in any way I could to help athletes succeed.

I swam and ran track in high school and continued swimming collegiately at Springfield College. I enjoyed training and challenging myself at practices and seeing the benefits of hard work when my times would drop in meets. I wasn't naturally the most talented athlete, but I prided myself on my work ethic. I knew I had to work hard if I was going to improve and compete at a higher level. Growing up, I saw the value in hard work and was blessed to have parents that also instilled that in me and my brothers with anything that we were doing- sports or school. When it came time to start thinking about college and what I wanted to major in, I wasn't exactly sure, but I knew I wanted to work with athletes in some way. I wanted to do something to help enhance athletic performance and help athletes maximize their potential. I chose to attend Springfield College because it had a great reputation for providing different majors related to sports and health sciences. Initially, I thought I might want to major in sports psychology, but quickly realized that wasn't for me and majored in exercise science. The summer after my freshman year in college there was a big article in one of the Boston newspapers about Nomar Garciaparra (I was a huge fan) and the rehab process he went through that off-season from a wrist injury. The article talked about the training he did with his strength and conditioning coach, Mike Boyle. At the time I didn't even know that kind of job even existed, and all I could think was, "I want that guy's job". The article talked about how the training he did went above and beyond injury rehab and also focused on improving strength and speed during that time period. Training athletes to improve their performance and enhance their skills really appealed to me. I was blessed to have a great opportunity at Springfield College, to be a student-athlete, and to major in Applied Exercise Science which had a course curriculum that prepared me well for this field. This was the start of my career that led me to do several strength and conditioning internships, a graduate assistantship, and eventually a full-time position. I was extremely blessed to have great mentors along the way that set great examples for me and I couldn't have gotten this far without their encouragement and guidance.

I grew up playing many different sports and was talked into joining the track and field team in high school. In high school my goal was to get a scholarship to a big Division I school as a thrower (shot put, hammer and weight throw) and I decided to sign with Clemson University. Throughout my college career as a track and field athlete, I always excelled in the weight room, and as a senior I decided I would enjoy being a strength coach more than a track coach. One of my college strength coaches was a Springfield College Alum and she talked me into applying for the master's program in Exercise and Sports Studies at Springfield College and helped my get a graduate assistant position as a strength coach. Once I finished college track and field I still wanted to compete, so I took up Olympic weightlifting. Since then I have also competed in powerlifting, and American Strongest Woman competitions at the national level. Each time I was encouraged to compete in these sports by fellow strength coaches that I worked with. My athletic achievements have opened doors for me in my career and it is because of those experiences that I am in the position that I am today.

I began playing sports as soon as I could walk. I started in gymnastics, worked my way into t-ball, and even tried out and made my elementary football team. I dabbled in volleyball and track and field through junior high. However, I discovered my love for basketball and softball at a young age and played competitively all the way through high school. I earned a scholarship to play softball at Mississippi State and started all four years as an infielder. Athletics was my gateway to strength and conditioning. I remember receiving my first off-season training manual before my freshman year of college, and I never missed a workout. I completed every day and I loved being in the weight room. I knew then and even when I first got exposed to weight lifting in high school, that I loved training. I loved the struggle, the fight, and knowing that I was in control of whether I succeeded or failed. As I became stronger and improved my conditioning, I also became a better softball player. When my career came to an end, I continued to train and I realized that even though I couldn't continue to play softball and earn a living, I could continue to lift, teach others how to do the same, and possibly build a career path.

I played field hockey and softball through high school and college. I started lifting in high school in the late 80's to become stronger and prevent injuries (I didn't really know what I was doing or why at the time, I just knew I loved being in the weight room and it worked). My undergraduate major was athletic training, I did a strength and conditioning internship with Dan Dalrymple (now at the New Orleans Saints) and I was hooked. It made me realize I wanted to make things happen rather than wait for things to happen. I went to Grad school in 1995 at Northern Arizona University and was a GA strength and conditioning coach for Rich McClure. While there I started competing for him in weightlifting and the other GA, Trevor Cotrell, convinced me to powerlift - because I had "retard" strength (ok not politically correct, how bout "idiot" strength). I competed locally and nationally at the time.
In my Collegiate and private setting career, I have been a USAPL national champion 9x's, NAPF champion 5x's, been to 7 IPF open World championships, been to the world games 2'xs, held IPF World Records, competed at Worlds Strongest Woman in 2003 and still continue to compete and get better at 41 years old. This past week, I just came in second at IPF Worlds! And set a new masters world record bench at 391!!!! All drug free!
All in all, competing was a huge boost to my career in strength and conditioning. I wasn't viewed as just some chick trying to coach. I was viewed as some strong ass chick that could squat more than half the football team. Even NAU head football Coach Axman only half jokingly asked me to play linebacker for him! I truly believe it was the reason I was hired at Nevada, Boston College, and Arizona State. As House (Joe Kenn-carolina panthers) would say…."I could talk the talk and walk the walk."

I played on an all-star softball team between the ages of 14-16. Since then I have competed as a powerlifter and professional bodybuilder, winning the NPC Nationals and being named Pittsburgh Athlete of the Year in 1994. All of these endeavors have pointed me in the direction of where I am today, especially the powerlifting and bodybuilding.

I was a pole vaulter in college and my strength coaches were some of my greatest mentors. They devoted a lot of time not only in making me a better athlete but also in developing me as a person. I want to impact the lives of my athletes in the same way as my past coaches.

I was an average high school athlete, volleyball and track were my sports of choice. I went on to run track for one year in college before moving on to focus on academics. My competitive nature quickly caught up with me and my off years led to me hitting the weight room, which ultimately led me to realize that getting stronger was better than helping injured athletes. I wanted to help other athletes get stronger, faster, quicker. That took me from Sports Medicine to Exercise Science.

I had a D-1 full scholarship for volleyball, and was a walk-on track and field athlete for all 4 years at University of North Carolina at Charlotte. At my university there were majors that athletes were not allowed to do, so I did Exercise Science instead of my original interest in Athletic Training. This turned out for the better as I loved my degree and the career paths it opened up. Participating in athletics meant I experienced strength and conditioning for 4 years and was immediately intrigued/passionate about it. This gave me great experience, in some ways, more than an internship because of the personal involvement and experience of the doing the programs and exercises.
I played everything possible growing up in small-town Canada. Mostly hockey (ice), softball, basketball, volleyball, badminton and a little soccer and track and field. I attended a very small high school, so the better athletes played everything.

When I was very young I competed in horseback riding, however in high school I competed in cross country and boxed. It was around that time that I also started lifting with some guys who had played football, and fell in love with that type of training. I loved the Olympic lifts, battling the iron, and the concept of being in control of my own empowerment abilities. Being a smaller female, people often told me what "I was", but the iron never told me anything, it let me decide. From there my love for training grew, as well as the ability to share that love, and I decided I wanted to work in strength and conditioning. While I am currently working as a graduate teaching assistant, my love for coaching still exists, but thankful, teaching still allows me to share my love of training with others, just in an academic setting.

I played college softball at a small DIII school, Denison University in Granville, Ohio. I originally was going to school for Sports Management, but my Sophomore year, Strength and Conditioning Coach Mark Watts changed all of that. He had just returned from a coaching stint at West Point and began teaching my team what training was all about. I never thought I had the chance to play collegiate softball, but I loved the sport and competing so much that I had to work that much harder than everybody else on my team just to be at their level. It was Coach Watts who "created a culture" that lifting was cool. He was what helped drive me and make me want to walk down the hill to go and lift. It was Watts who made me understand how what we were doing was going to make me a better athlete. I remember one day he came into one of my classes to talk about interning with him and that was the first time I ever thought I could be a strength coach. The career path was now there, I just had to use the resources placed in front of me and pursue it.

I played Volleyball for Texas A&M from 1983-87 under Terry Condon. Although we were not in the weight room a tremendous amount, Terry pushed us on the court and track far beyond our comfort levels and personal expectations. The benefits were far-reaching, affecting the physical and mental expectations I place on the student-athletes that I work with on a daily basis.
After my collegiate career, Coach Istvan Javorek (at TAMU at the time) allowed me to train with him in preparation to tryout for the now defunct Major League Volleyball professional league. I was motivated by how the "weight room" and his programming challenged me everyday, changed my body and my athleticism to play the game at another level. This training was the springboard for my "mission". Continuing to train enabled me to play indoor and sand volleyball until I was 40+ years old without injury, branch out into bodybuilding and later road racing while developing my strength and conditioning craft. In 1988, after being cut from the professional league and unsure if I wanted to coach volleyball or pursue the strength and conditioning realm I began to seek out GA positions for volleyball. In the meantime, I earned the CSCS certification at the prompting of Coach Javorek, and made it known in my resume that this was my niche. Not too many young professionals had that combination of experience in the late 80's but, in all honesty, I didn't even know that strength and conditioning was a legitimate career path for anyone outside of football. By the grace of God, Brenda Williams, the head UAB Volleyball Coach offered me a GA position with volleyball and was willing to coordinate with the basketball strength and conditioning coach, Jim Hilyer, to allow me to train the volleyball team. So my foot was in the door. Eventually, after seeing what I was doing with the volleyball program, the men's and women's tennis and men's soccer coaches solicited my services. In 1990, I was hired full-time as dual volleyball coach and sports performance. Two years later, my passion had grown for sports performance and learning the different movement patterns, energy systems, speed and power components of the other olympic sports I worked with. UAB hired me for full-time sports performance and there my 23-year journey had started. Later UAB added softball, women's soccer, and synchronized swimming to my portfolio giving me more opportunity to learn.
With all that being said, there are many paths to where God wants you. My path was more about creating what I wanted to do at a place where it wasn't established or even understood that strength and conditioning for sports outside of football was even necessary. Now we have moved to a staff of 5 full-time and 3 GA's with 17 sports utilizing all aspects of strength and conditioning. Although, the professional process works much differently these days, my best advice is to show-up, put your time in, grow your passion, and remember it's a mission not just a job.

I started my athletic career when I was 6, running with my dad and participating in road races. That led to my dad starting a cross country team at our grade school when I was in 3rd or 4th grade. I qualified for AAU Nationals 3 times and went to two national meets. I also participated in basketball and volleyball during my grade school years and freshmen year of high school. I stopped running in 7th grade because we moved and the new school didn't have a team. Sophomore year of high school I decided to try soccer and that became my sport of choice earning myself a scholarship to a Division II school where I played two seasons before transferring to Xavier and walking on the women's team. I finished my career there and continued to play recreationally until a few years ago.
I began lifting before my freshmen year of high school and developed a love for it as well, eventually helping start a girls only weight training class in my high school run by one of the football coaches. When I got to Xavier I met the strength coach who only worked with men's andwomen's basketball, volleyball and baseball at that time. I, along with a few other student athletes and general students from my Physical Education major classes, developed a relationship with Coach Armstrong and he took us under his wing and developed a strength programs for us. I kept up my relationship with him after I graduated and he eventually was awarded a graduate assistant position and I applied and got the job. Two years later I was hired full-time as the first assistant strength coach. I stayed on until April of 2005 where I took the assistant position at UCF and have been here since.
I have always, obviously, been very active and had a love for sports and am very fortunate to have had a mentor like Coach Armstrong to guide me along the path of a strength coach. Now, at UCF, Coach Ellis has pushed my boundaries of creativity in order to put more in a workout to get the most out of each athlete in a short period of time.
Background images of lifters' hands courtesy of Kenneth Richardson.
Part II: What is your general training philosophy and some of the principles you follow when training athletes?
Part III: What were some of the biggest challenges you faced and continue to face as a strength & conditioning coach?
Part IV: What advice would you give to any young aspiring strength & conditioning coach trying to break into the field?
---
Loading Comments...