Test of Time: The Power Rack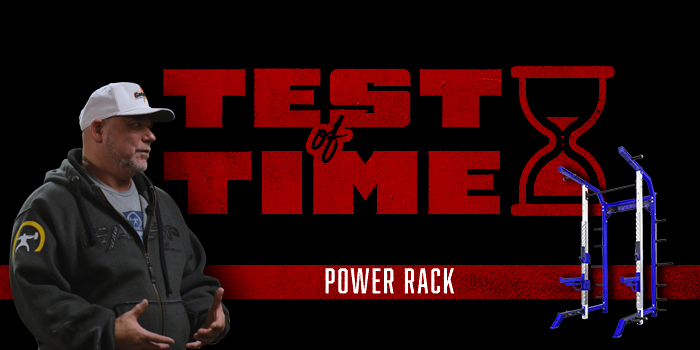 Walk into any gym and you'll see some sort of power rack; it's simply not complete without one. Even more so, for at-home workouts, lifters are choosing power racks. Although they've changed over time, first gaining widespread popularity in the 1960s as isometric racks, there's a reason power racks have stuck around through thick and thin: They just get shit done. Unlike most other pieces of equipment, you can get all of your basic lifts and more in with just a single power rack.
Taking a Look Back in Time
elitefts was founded in 1998 on the premises of education in powerlifting. Shortly after, in 2001, we began selling equipment. Back in those days, we offered up a simple two-by-two rack supplied from a local retail supplier. Unfortunately, that didn't work out past a few short years since the manufacturer that supplied the retailer went out of business without telling anyone. This left our customers without their product for four to five months, when the typical delivery time consisted of 10 to 12 weeks.
With thousands of dollars out on these delayed racks, the need for a new manufacturing partner was imminent. Consequently, Dave (cofounder of elitefts) bumped around a few different smaller suppliers before finding the right partner that was reliable from a customer service standpoint. That partner was Williams Strength.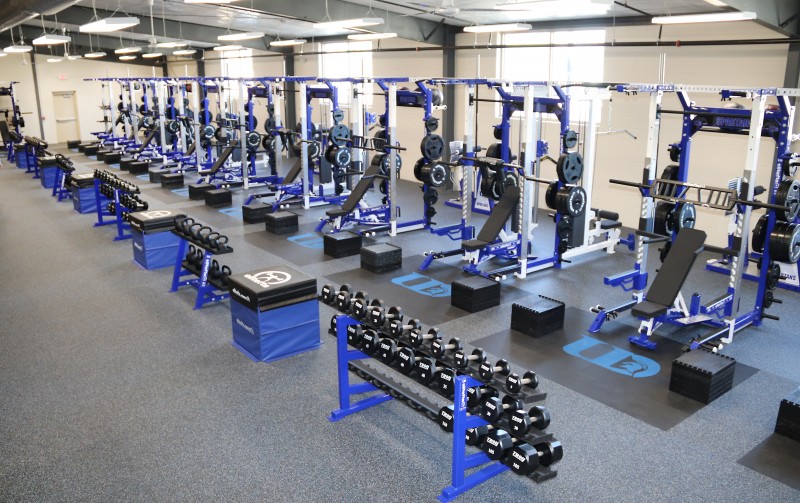 During Dave's second seminar in South Carolina, Ken Hicks (whom Dave also met at a seminar) referred Dave to a man named Mike at Williams Strength. Mike, of course, had questions. Since elitefts was solely online in the early 2000s, no manufacturer wanted to work with us. Operating without a sales rep in 2004/05 was unheard of and confusing in a time when the Internet was still very young. However, Mike did the calculations and decided elitefts was worth the risk. It paid off, and we have been with Williams Strength ever since.
As we mentioned, education is the core of everything we do at elitefts. By that we mean we aren't manufacturers. We are trainers and athletes, not engineers. We know lifting, not welding. You wouldn't expect a lifter to know how to weld a rack in addition to using one, would you? Their passion is lifting, not shop work. As such, we want to leave that part to the experts. That's why we combined our training expertise with the manufacturing know-how of Williams Strength.
Like we said, during these pivotal early stages we started with a two-by-two rack. However, it wasn't just any old two-by-two. Our rack had (and still has) revolutionary modifications that no modern rack is complete without.
Sumo Base
One thing you might recognize on modern equipment is the sumo base. Although commonplace now, it was still new to the industry in the early 2000s. Dave cites Louie Simmons as the first person he knows to begin using this type of base on a power rack. Consequently, it changed the industry due to its ability to create more stability in a rack.
Standard racks feature the bottom brace resting on the floor. This creates a problem if the floor is not perfectly level. As you can imagine, this leads to instability that oftentimes cannot be adjusted for easily. However, with the sumo base, you are able to compensate for any uneven floor levels, providing a solid, stable base for the rack. Additionally, because the sumo base is elevated off the floor, it gives those who are taller with wider stances room to spread their feet underneath the bottom bar. It caters to all sizes and stances.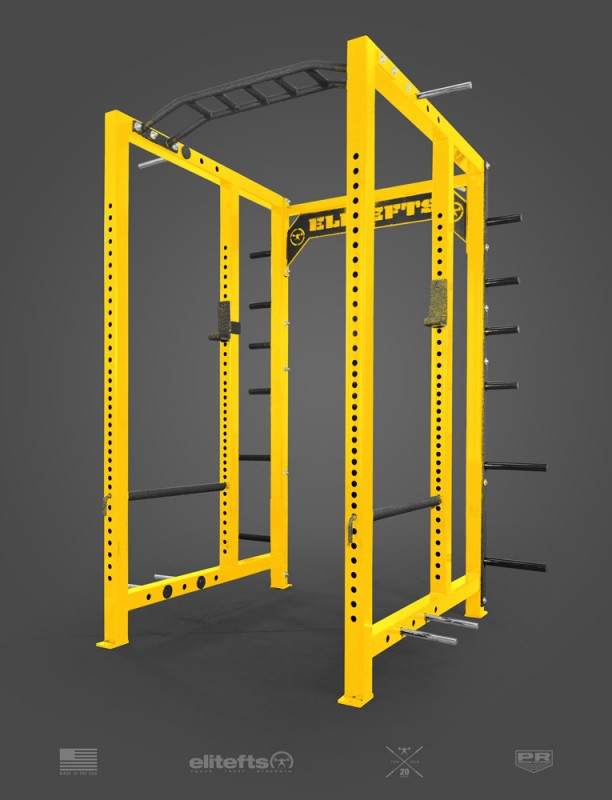 Hole Spacing
Taking another page out of Louie Simmons' book, Williams Strength cut down hole spacing in racks to about a third of the standard. Dave kept this in our original racks and our current ones.
Although this can make the rack more expensive, as originally each individual hole was a separate charge on cost, it does make a huge difference. More holes means more flexibility in what you can do with one rack.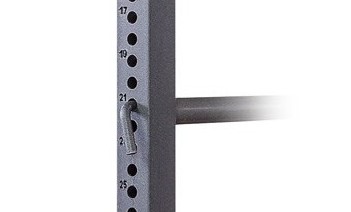 Monkey Chin Bar
Also originally unheard of at the time, the monkey chin bar (coined by Ken) was another addition that Dave added to our racks in those early days. It helped to open up the door for new exercises to be done on a rack besides squatting and basic leg work.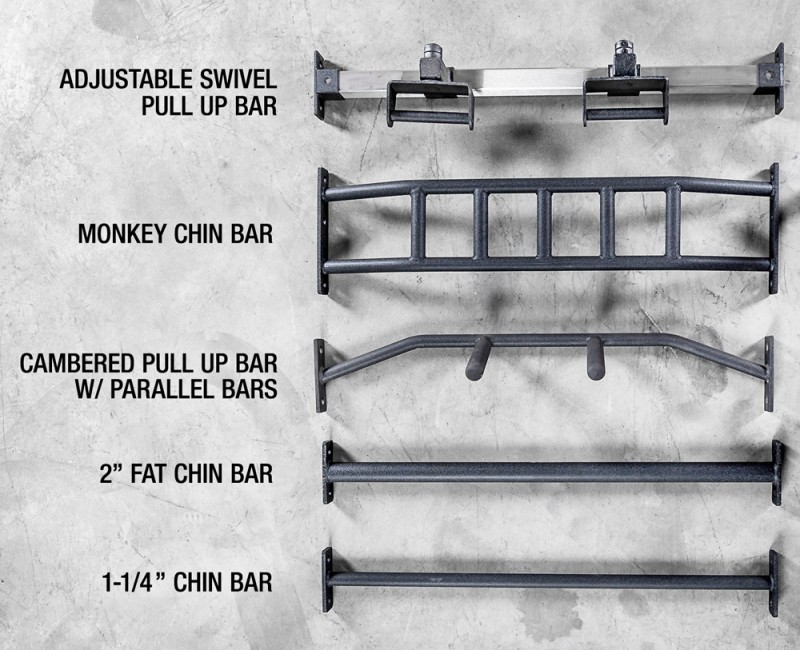 K-Brace
This one is a Williams Strength original. This piece, where you now see logos and whatnot, was designed to add more stability to a rack. It also provides prime real estate for subtly advertising your gym in lifters' inevitable photo ops. We'll talk more about that later.
Band Pegs
Another piece that many racks didn't have at the time were band pegs. With these, you can attach bands and get a plethora of new uses out of one rack. Today, you can see them everywhere. However, not all are the same. Many companies weld their pegs to the rack, which is both a tripping hazard and less user friendly than the removable pegs you'll see on our racks.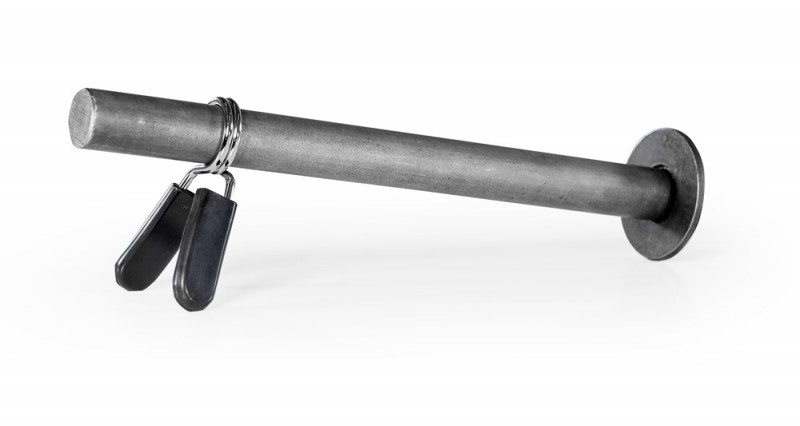 Customization
More than just a key collaboration between fitness expert and manufacturer, elitefts offered the before-its-time option of ordering not only online, but custom build-your-own racks. That idea of customization has stuck around with our equipment throughout the years. In fact, we have seen an uptick in a desire for more customization and unique branding in the past six or so years. This is perfectly fine with us; we'd rather it be your name on the piece than ours! We understand that it's important for your gym to look good and be recognizable. Ideally, all fitness centers would be easily recognizable through branded equipment in gym-goers' social media photos.
Stepping into the Future
Continued customization
We mentioned that customization plays a continued role in our power racks today due to evolving modern tastes and the advertising ability in social media photos. It's about combining aesthetics and function in perfect balance. For those who have been in the industry for awhile may remember when the color of racks didn't matter. Now, they are more like the investment of a new car, so the quality and the color does matter. Having a scratch-proof coating means your rack stays looking newer longer. As such, the quality matters and that lends itself to the price, for those who may be somewhat taken aback by the price tag. Remember, you get what you pay for (think: more holes = more options in one rack, but at a higher cost since each hole is a separate cost).
Backer Plates
Some additional improvements we have made to our power rack, aside from the ones we've been using for years, are things like backer plates on connection points (thanks to Williams Strength for the idea). With these, a rack gains more stability and these plates prevent the bolts from twisting the frame, which will make the rack unstable. It's a small detail, but one that matters and it's a great example of the importance of combining training knowledge with manufacturing expertise.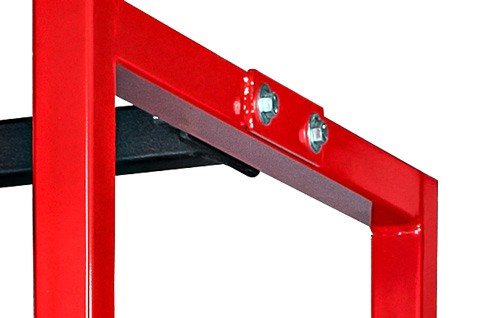 Shorter J-Cups
Another improvement is shorter j-cups. We've taken them down to a quarter of an inch, which means lifters can unrack more efficiently because they don't have to extensively go up and over the standard one-inch lip. It's a change that has made our j-cups coveted by many.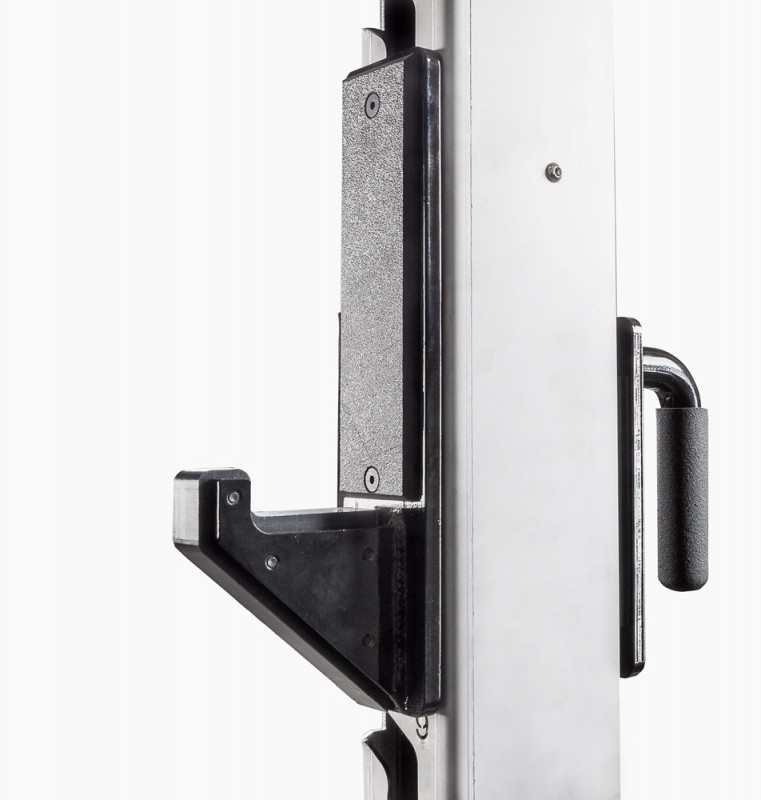 Rod and Pin
A recent Louie Simmons addition is an advanced rod and pin for dropping the bar. Typically, when you don't displace the weight properly on standard rods, it can hurt the elbow. It's better to bend the bar rather than injure an arm, so ours now displace the weight dropped on it in a way that is safer for the lifter.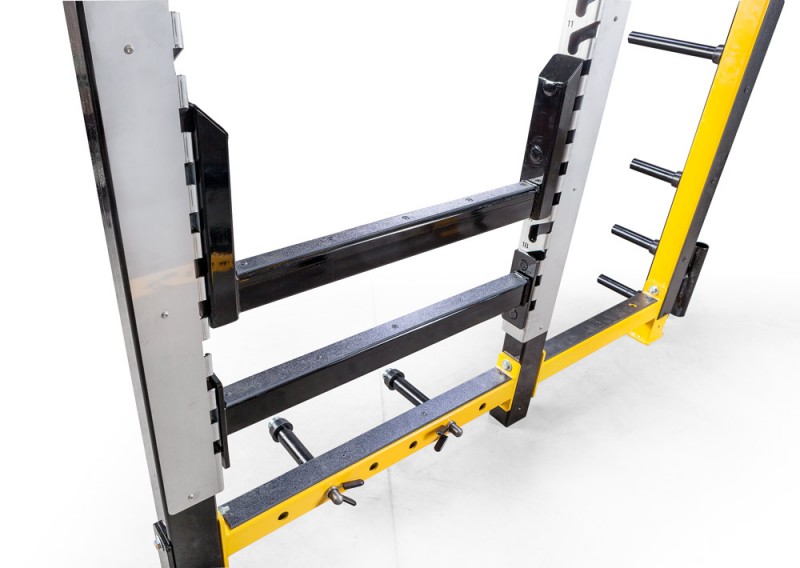 Why Are Power Racks Still Relevant?
Another reason power racks have stuck around as one of our core pieces is because it has the ability to give a coach every tool they need for training all in one. In other words, racks aren't just for squats anymore. Thanks to an array of attachments for power racks, they have become full-body stations. Just within the past decade, many fitness experts have been interested in how many accessory movements can be done in one rack. More than that, they still remain the focal point of any gym.
"It's the most important piece you could put in your training center. It's your billboard. When you walk in, it should hit you in the face." – Matt Goodwin
An upside to having multiple movements located in one rack is that high school coaches can be sure their student athletes are staying focused in one spot rather than getting distracted by socializing, as young people do, in between stations. Furthermore, as modular systems become more popular, gyms can continue to build onto their existing systems as their needs change.
Ultimately, elitefts' goals have always been centered around education and quality. Although we have come up with our own ideas, we believe in taking existing ideas and reverse engineering them to make the industry better. We hope and encourage that others do the same because when a piece of equipment improves, we all win. Keep in mind that a great piece of equipment is made by its ability to be used by the strongest lifters in the industry and hold up.
The Takeaway
Power racks have stuck around over the decades because they've always been around and provide extensive versatility in one piece. Could you imagine buying a machine for each exercise performed in the power rack? Think of the space that would require. Beyond square footage, how much would that cost? Your solution is buying just one piece of equipment and some attachments — a classic and modern addition to home gyms and fitness centers alike.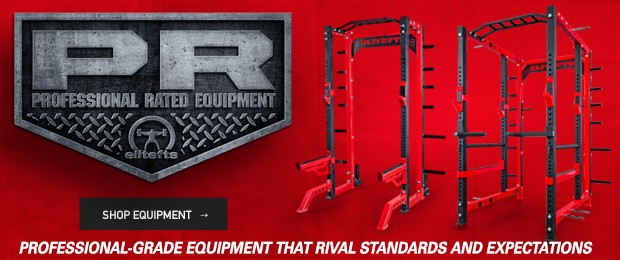 Loading Comments...