The Deconstruction of a SHW Powerlifter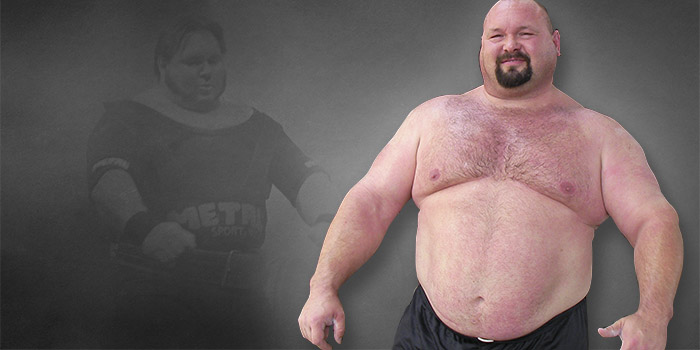 When I went to military school in the 1970's, the school motto was, "The making of a cadet is the making of a man!" Now, in those days all I cared about is what I had to do to not get swats (getting your ass beat with a swat board) and the amount of time until the next furlough. Simple enough.
Flash forward 20 years later. It was 1998. I finally took the pilgrimage to Columbus, Ohio.  I was to meet Louie Simmons and train at Westside Barbell for a week.
---
WATCH: Into The Void Documentary
---
Dave Tate was the first Westsider I met. He said, "Are you here to train or are you a pussy and gonna stand around and watch?" This set the tone for the next 9 days. Boy did I train. Lou's advice to me was if I was serious about lifting, then I needed to gain weight. For my height, 6 feet, I was too skinny — that and I had weak hips! So I headed back to South Carolina excited and pissed I had weak hips.
Now I have to go from the "Making of a Man" into the "Making of a Powerlifter."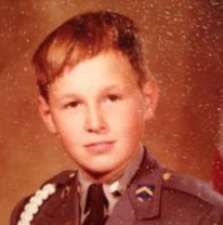 1976 Military School 
It Started When 
Back then, in 1998, I was going through a lot. My fiancée and I had just split up. She was not only engaged to me, but worked at my business, Thompson Barbell Club. At the time, my gym was one of the coolest gyms in the south, but as fate would have it, Gold's Gym opened a mile down the street. I lost half of my membership base and most of my employees jumped ship to work at Gold's. So much was happening to me at one time, I couldn't make sense of it.
I decided to go into powerlifting. I always wanted to, but a football player in the Arena Football League and now a gym owner, things just got in the way. For a few years I was into bodybuilding on a bet that I could do it. A former center losing weight and posing on stage...it was cool. I even managed to place. However, my real romance started with how much weight I could lift.
Powerlifting was easy: three lifts, three attempts, best of each lift gets you your total. Made a lot of sense. However, I spent 1994-1998 losing body fat and gaining muscle. During my stay at Westside Barbell in 1998, this guy named Louie Simmons tells me to gain it all back if I want to be a man on the platform. He even said my voice sounded weaker when I was lighter! He said he remembers talking to me on the phone in the early 90's when I purchased my Reverse Hyper from him. My voice was like a man's voice. Now I was pitchy because I was skinny.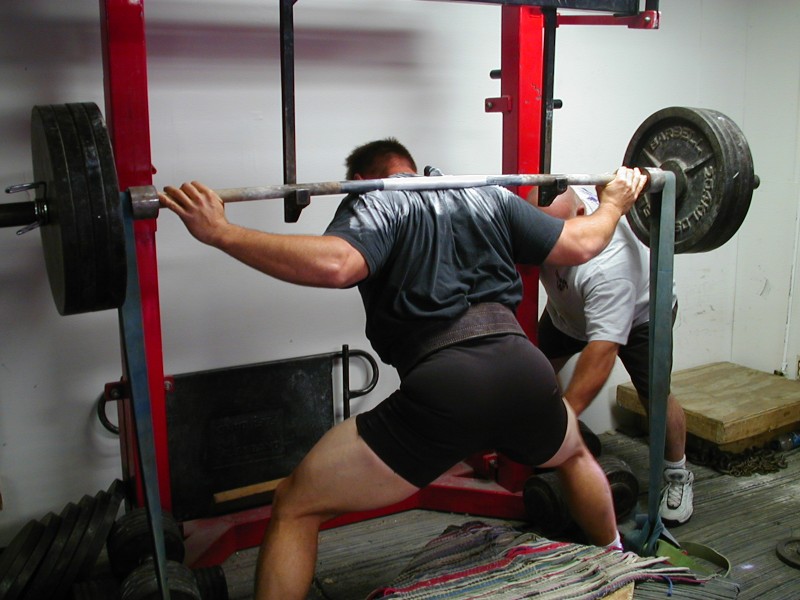 The Mission
In 2000, I sold my gym. It was the worst thing that ever happened to me. I had to; I couldn't afford it any longer. Because of all the drama of breaking up with my fiancée, membership loss, and no way to grow my business anymore, I put everything into powerlifting. I turned my back on the world. If getting bigger meant better performance, I was in. I started at a bodyweight of 231. My first couple meets were in the 220-pound weight class in 1998 and 1999. After another trip to Westside Barbell in August of 2000, the weight gain commenced. I was 242 when I left there. My previous diet was eating six meals and drinking two gallons of water a day. I had lived that life for the last six years. Louie said to gain weight, so I did. Now it was a trip to Wendy's everyday for a triple with cheese, large fries and a Frosty! By the seniors that November I weighed in at 275 pounds and competed in the same weight class. Some of the Westsiders didn't even recognize me.
February of 2001: I couldn't afford my house so that went into foreclosure. My truck also got repossessed. I was losing all I had but justified it by gaining strength and size. I moved into a dilapidated warehouse downtown Columbia. I spent all of my savings fixing it up. Renovations had to be done to live in it. One side was my living space; the other side was my gym. We called it The Compound. It was there that my real lifting started. I bought an English bulldog named Buddy. So from February of 2001 to August of 2010, I lived and trained there. I gained my weight there. I was forged there. It was a powerlifter's Utopia!
We had a meet in Charleston, West Virginia and I weighed in at 301. One year later at that same meet, February 2002, I weighed 343 pounds! I had gained over 100 pounds since I visited Westside a year and a half earlier. Louie looked at me and said, "You weigh big, but can you lift big?" I answered that with my first 2400 total. Only 20-40 pounds from Westside's biggest total! That  was by their strongest lifter, Matt Smith. Up to this point, I had never taken a steroid in my life. I was getting so big and so strong training my interpretation of the Westside Methods, why would I take drugs? I knew they would be a factor later in my career, but for now, I didn't need them.  I was in my late 30's.
Left, 1996 at 242. Right, 2002 at 343. 100 pounds gained. I totaled 2400 that day. 
My weight steadied at 355 pounds. I had several 2400-plus totals under my belt and crashing down on the 2500 barrier. Then kettlebell training entered my life. In 2004, I got so good at the swings and presses I gained another 23 pounds of muscle. All my lifts went up. The KB craze started in powerlifting and it was because of me.
Dave Tate came up to me after the Show of Strength in Atlanta, Georgia. He Said, "Okay, you sold me on KB's. Tell me what I got to do?"
Kettlebells helped me get stronger in all the right places for powerlifting. The refusal of the other powerlifters to even try them worked out heavily in my favor. Since I was not a big drug guy, I relied on very hard work. The younger competition refusing to use them, it opened the field of powerlifting for me to be king! I always banked on the lifters doing nothing extra to improve. My bodyweight was 384 pounds and it was October 2004. I stayed 380 plus for the rest of my career through 2011. I ate twice a day and drank a shake. Poor food choices, but I did consume a lot of protein.
Dreams Do Come True 
In 2011, I did what seemed impossible: I totaled 3000 pounds! It was surreal. I expected all the heavens to open up and angles sing. In reality, the meet director and federation owner didn't even thank me for doing the meet. I didn't place because it was based on coefficients.
So, three All-Time world records yielded no trophy, no money, and not even a free t-shirt. I just laughed and took my 46-year-old, 385-pound ass back home to South Carolina.
Retiring from the powerlifting lifestyle that I had known for the past 14 years, I didn't know what I was going to do. I knew I had to lose weight. But I couldn't. I couldn't let go of feeling big and strong. At the height of my success, I felt like a superhero. Big and strong! Invincible! However, what goes up, must come down. The prospect of losing weight was in my near future. Louie told me he didn't know of any 400-pound 60-year-olds that had a pulse.
So first he tells me to gain weight, now he tells me I am gonna die soon. His dualistic nature is his charm.
---
RELATED: Price of the Platform
---
What Now?
A couple years went by with me adjusting to life that was not full throttle into powerlifting. For 14 years, every thought, every dream, every waking moment was training related. Things like, how to get more out of less? How to get faster? Mostly, how to hold together? All I did was think of ways to lift bigger in meets. Now that life was over.
But for my head, it just doesn't stop like that. I went through this with football. So adjusting to this kind of change was not my first rodeo. However, when you give up something you love, it is hard. I did it with football. Playing center had me in different blocking scenarios all the time in my head. I even dream about playing center now! I did it with my gym and now powerlifting. I figured I would lose weight just like I did after my football career. Boy was I wrong.
Three times I started diets and failed them. My health was on the decline. Anti-inflammatories were like candy to me. Life was not good, but I figured I was just going to be a fat ass the rest of my life.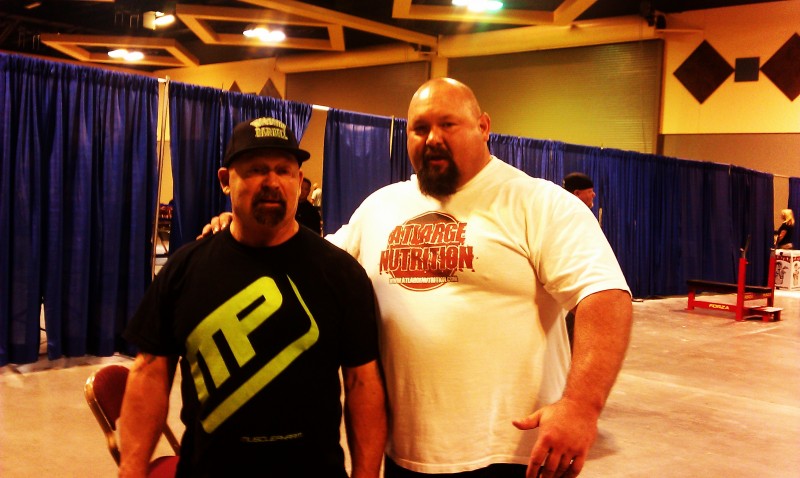 Lou and me in 2011 after I totaled 3000. 
Time for a Change
Last year at the 2015 SWIS Symposium, I had the opportunity to be a presenter. My topic was Body Tempering. It was packed. Other presenters were there also, including the great Bill Kazmaier. He said I needed to lose weight or I was going to be a medical nightmare. Then pictures of me started popping up on my Facebook from the people I worked on.
I have never seen myself quite like that before. I looked bloated. Unhealthy! Like I had all the things wrong with me medically that could be fatal. I felt tired all the time. On the verge of diabetes, I decided that was it. Something needed to be done.
So I figured I had two decisions to make. One, I just keep going in the same direction. Two, make changes to my life and start dropping this weight off. To change the way I train and get my health back. I weighed a whopping 379-385 pounds. Either I had to start losing weight or die. My daughter is only 7 years old. There was no way I could just not care, because her needs come before my wants. I made the commitment to change. To deconstruct this old iron body from its current state and build it back up again.
The first step was being honest with myself. I had to come to grips that I was actually clinically obese, not just a big SHW Powerlifter like I passed off to others all the time. It was the end of February 2016 and I started. There was no turning back. No failure. I either did this or would just go ahead and die.
The younger Donnie Thompson had such determination, he would never fail. This current Donnie Thompson was no longer like that. I knew it was going to be hard. I knew it was going to be slow. I knew it was going to be painful. And I knew it was going to take a long time.
So, let the deconstruction begin.
Let the Work Begin
There was no magic way to get around being obese. The only option for me was to roll up my sleeves and get to work. I had two girls, one in upstate and one in Australia, to keep me on track. We worked out what I should eat and then let the game begin — the game of lose it or die! My meals were four to five a day. Honestly, it was more food than I am used to. However, I was accountable for everything that went into my mouth. Skipping meals was the worst habit I have had in the past, so I prioritized. Two things I love to do is lift weights and business. The deal I made with myself is I can do either of these two things unless I first had my food ready. It worked great. Prioritizing.
Lifting 
Lifting comes easy for me, five to six days a week. I broke away from my night group. I de-emphasized the heavy days.
Now, before you think I went into powerlifting blasphemy, I still did my powerlifting training, just added some bodybuilding in my routine. I know no other way than to powerlift. So two heavy days and two light days were staying. However, weight was NOT going to be an issue. I lifted more heavy things in my time than a small farm tractor. Taking a step away from singles and all-out-grind was actually a good thing.
With the acquisition of my Thompson FatBells, it was exciting doing all my KB and DB work with these now. Plus, they have "Thompson" stamped on the side of them. Not many lifters get to lift with weights that they invented.  he FatBells actually make the same boring shit feel fun again. I believe they will be the standard years from now.
(Shameless Plug)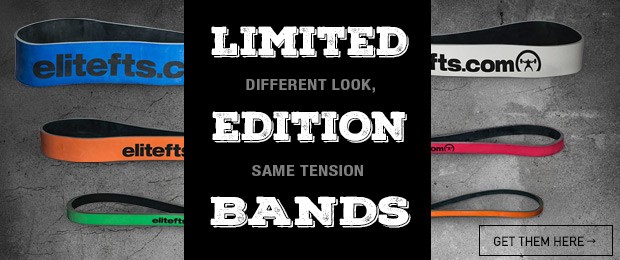 Diet
So, now I am faced with food. No longer could I blame my wife for not being prepared with my meals. I accepted the responsibility of prepping all my food.
IF I failed, my fault!  
IF I fell short, my fault.  
If I ran out of food, my fault.  
If I had no money to buy food, my fault.  
If food tasted bad, my fault.  
Everything filed under me to blame and no one else — I AM COMPLETELY RESPONSIBLE FOR MY FOOD INTAKE IN EVERY WAY, EVERY DAY!
Hey, it is ok to bitch, but in the end, I have to take care of myself. No one can spoon feed me.
My food is my number one priority. Business is my second. Lifting is my third. That all falls under my duties of being a father, which is most important. If or when you have a kid, you will know what I mean. My food is nothing special. All the meats, but mostly chicken. I switch to turkey when I chicken out. Then I switch to tuna when I turkey out. Red meat, very lean, throughout the week. Plus the dreaded vegetables, which was hard to do but I have grown to enjoy them now.
My only supplement is my protein for AtLargeNutrion. Everyone who likes their source of supplements brag about how so-and-so is the best. Well, Chris Mason of ALN is wonderful. He not only gets me my protein but gives me advice on timing of meals and some parameters. I like that. I take zero anti-inflammatory, zero HRT or pills of any kind — not even an Flintstone vitamin.This is just me, me against my weight. No help but hard work.
The first three weeks were easy and I dropped 12 pounds. Then for 3 weeks I dropped nothing. So what, I stay the course. My starting weight was up near 380 pounds and I was 51 years old. Nothing to brag about. My biggest obstacle was the nine-week mark. You see, I have been down this diet road three times since 2011. I got to nine weeks then quit. Why? I was not prepared. I missed a meal and got so pissed I said, "fuck it, I quit!"
So as nine weeks rolled around, I reported to my girl upstate, Jenna, and put her on stand by for my shipwreck. This time I made it. Then, that turned into 12 weeks. Then 15. Then 20. I saw that the six-month mark was coming.  So I did my before and after pics.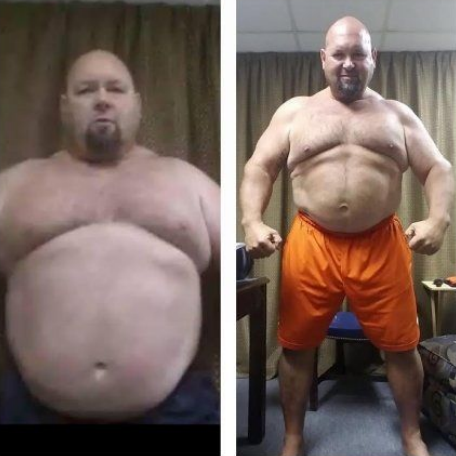 Start size on left in February. Now at around 315 pounds in September.
I went to state surplus and bought a Stairmaster that was in perfect condition. I find I am getting more excited about eating right and change as time goes by. To weigh myself, I set a date. It's not every two weeks like at first. Now it is a month or two. I put the scale at 320. If it doesn't budge, I walk off. If it moves then I record the weight. I only record success. Let me repeat that: I ONLY RECORD SUCCESS!
When I retired from Arena Football back in 1993, I was 309. In September of 1994, I started eating right and doing cardio. I did the Apex Nutritional Program that Neal Spruce came up with. It worked great. My cardio was the Stairmaster four times a week at 15 minutes. This September 2016, I weighed around 312. I started my cardio on the StairMaster — four times a week, 15 minutes! 22 years later and I am starting all over again. Reclaiming my body, reclaiming my health, and reclaiming my life! My how times change and stay the same!
In 1999, Dave Tate gave me an article that Vasily Alekseyev wrote. In it, I will never forget his advice. He said,
"The time to look good is when your competition days are behind you. Then one must work on physique and look as good as one wants. But during your competition days, a lifter must have a midsection that can stop a bullet. Not giving any care to how aesthetic he looks or pleasing to the eye he can be!"
So I, Donnie Thompson, am working on my physique, how good can I look and feel. Because my competition days are long behind me and my glory days are way ahead of me! I must deconstruct this SHW body like a lump of clay and build something of beauty! Well, not Casey Williams beauty, but close enough for this ex-powerlifter. If the "making of a cadet is the making of a man" then the undoing of a man is his failure to make himself the BEST he can be with what he has got! With the help and the encouragement of others, I will not fail them; I will not fail me!
Part II "The Completion" is coming May 2017.
---
Donnie Thompson worked 6 years for Progressive Sports Physical Therapy in West Columbia, South Carolina. He acted as the Strength and Mobility Director for the 10 clinics statewide. He ensured the implementation of strength and advanced Rehabilitation techniques to physical therapists and assistants.
Donnie now works with athletes abroad teaching and implementing Strength Performance Therapy, specializing in ankles, hips/lower back and shoulders.  His own methods are now protocols worldwide. Check out his website at www.thompsonbarbell.com. 
Loading Comments...