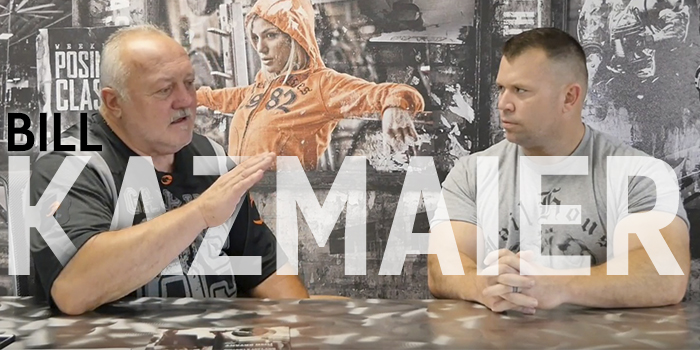 A former oil rigger, bouncer and lumberjack sounds pretty badass, and that is certainly an accurate description of Bill Kazmaier. But more impressive than these things is that we are talking about the greatest strength athlete of all time. Some of Kaz's most impressive titles and feats of strength include:
Three-Time World Strongest Man
Two-Time IPF World Champion, when there was only one federation
First person to bench press 300 kilograms (661 pounds)
2425-pound three-lift powerlifting total, with strict judging and without modern supportive gear
Kaz, now a born-again Christian and motivational speaker, sat down with me in an exclusive interview at the GASP headquarters. In the interview, Kaz talks about getting started in the iron game, training techniques, various contest and competitors, and mental strategies he used to create success. If you've already seen the legacy interview GASP posted earlier this week, this one contains about 30 minutes of additional footage.
By the minute
(0:37) How Kazmaier got started in the iron game
(3:30) Carrying trees and work ethic
(7:00) Sports, University of Wisconsin, and finding powerlifting
(9:50) The five things Kazmaier learned at the YMCA
(13:20) Young Kazmaier and Fred Hatfield
(14:49) Training style: the bigger the base, the higher the peak
(19:27) Kazmaier's heroes
(21:02) Kazmaier's diet
(23:19) Highlights and hardships of strongman
(30:38) Perception of reality and positive mental imagery
(37:15) Kazmaier's trip to Mexico and how it changed him
(41:17) Accessory work and bench exercises
(44:35) Kazmaier's unique training for World's Strongest Man