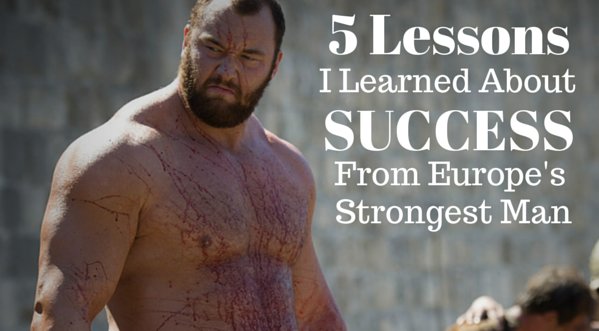 Photo Credit - Addicted to Success
SOURCE: ADDICTED 2 SUCCESS
Out of the 5 lessons listed in the sourced article these two really stood out to me.
There's No Such Thing as a Setback

At 6' 9" tall and over 400 lbs., it's obvious that Bjornsson is well-suited for lifting heavy stuff, but he wasn't always a strongman.

He actually grew up playing basketball. In fact, he was a starting center for the D2 Icelandic National Basketball Team in 2006-07, and then he played on a professional team called FSu Selfoss from 2007 to 2008.

Unfortunately, just as his professional basketball career was starting to take off, he sustained a debilitating knee injury that put an abrupt end to his dreams of playing pro 'ball. Losing even a few months for recovery in such a competitive sport is a literal death blow to any possible career.

And yet, despite the knee injury, Bjornsson wasn't done showing the world what he could do. Later that year he met an old-time Icelandic strongman legend, Magnus Ver Magnusson, who convinced him to give strongman competitions a try.

Two years later he was the Strongest Man in Iceland. Six years later he was Europe's Strongest Man. This teaches us one very important lesson about setbacks…

There's no such thing as failure; just doorways to new, better opportunities.
Leverage Your Unique Talents

This brings us to another point, which is that Bjornsson latched onto something he was good at and never looked back.

Think about it… There's no doubt that he made less money in those intermittent two years between his basketball career and strongman career. Yet he stuck with what he knew he was good at and it paid off big time.

All of us have something that we're really, really good at…

Maybe you're really good at writing engaging content
Maybe you're really good at finding profitable niches or keywords
Maybe you have a knack for project management or working with contractors
Maybe building an audience on social networks is one of those things you "just get" how to do

Either way, figure out what your natural strengths are, and then never let those talents out of your sight.

Hone your strengths until you're so good at what you do that it eclipses your weaknesses.

To read all 5 lessons -->