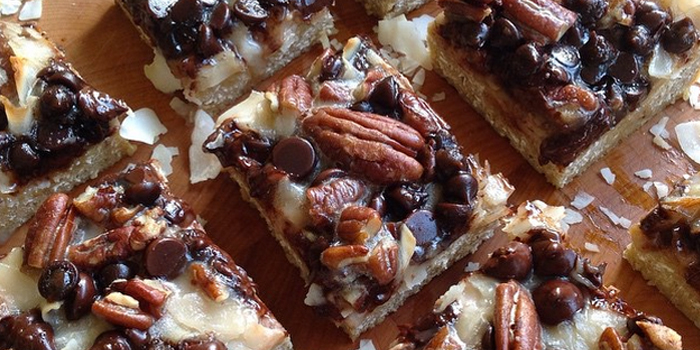 Information source and header image: Barbell Shrugged
A nutrient-dense protein bar recipe inspired by Hello Dolly Bars is at your finger tips. This multi-layered bar is made with star ingredients: oatmeal, whey protein, eggs, pecans, and coconut milk.
When you think it couldn't get any better, it does.
Drizzles of maple syrup are added to the coconut milk which help form the chewy dough.
Bits of chocolate chips and flakes of coconut combine with the pecans for the crunchy finish.
Here's the complete recipe and 30-minute how-to:
Ingredients
For the "condensed milk"
1 can of coconut milk.

1 tablespoon of maple syrup.

1 tablespoon of pure vanilla extract.

Pinch of salt.
For the cookie base
1 and 3/4 cups of fine oatmeal. I grind old fashioned oats in my blender until they are the right texture.

2 scoops of whey protein powder. Be careful, too much powder will make the dough too dry. Too little…your cookie dough will feel too wet.

3 beaten eggs.

1/4 cup of coconut oil or butter.
For the topping
1 cup of dark chocolate chips or broken chocolate. I use 80% cacao.

1/2 cup of pecans.

1/2 cup of unsweetened coconut. I like a mix of shredded and flaked for varied texture.
 How-To
Grease and line a 9 x 9 inch baking pan.
Mix together the coconut milk and maple syrup, heat in a small pan and allow to simmer until it thickens. This should take about 15 minutes. Add the vanilla and salt, then whisk.
While the milk is cooking, mix together the ingredients for the cookie base. This should form a soft dough. Press the dough evenly into the baking pan and then bake for about 15 minutes at 350 degrees, or until everything is golden brown.
When the cookie base is done, layer the coconut, chocolate chips and nuts on top and then pour the "condensed milk" all over. Bake for another 15 minutes and the allow to cool.
Hide a few in the fridge, or else you won't have leftovers. These things are seriously delicious.
Macronutrients
Per bar (about 1/16th of the total batch):
138 total calories

9 grams of fat

12 grams of carbohydrate

2 grams of sugar

9.5 grams of protein