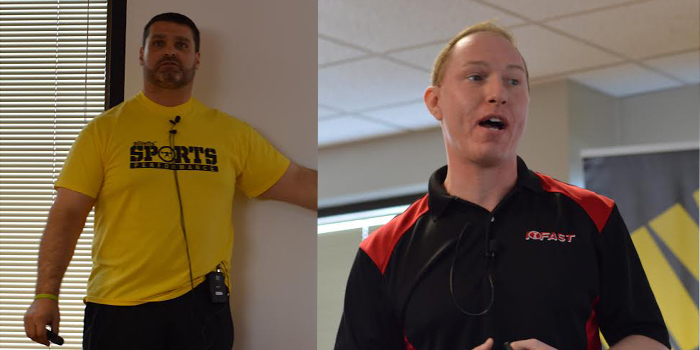 Joe Kenn and Mike Robertson not only talk the talk, they walk the walk.
EADS 2.0
Friday, March 20th and
Saturday, March 21st, 2015
This years event will be hosted at the beautiful Sheraton Indianapolis, Keystone at the Crossing.
Sheraton Indianapolis
8787 Keystone Crossing
Indianapolis, IN 46240
You can also call 317.846.2700 and ask for the Robertson Training Systems group block rate to reserve your room.
In this seminar, you'll be introduced to Kenn and Robertson's unique and comprehensive approaches to athletic development.
This seminar will run the full spectrum, from programming to coaching and everything in-between.
While there are tons of great resources out there on entry-level programming or coaching, there isn't much out there at the next level.
Here is just a small sampling of what will be covered at the EADS 2.0 seminar:
Mike's philosophy for developing elite athletes, as well as how to develop, tweak and refine your own philosophy for maximal success.
How to develop a simple annual planning template for your athletes.
How to develop a long-term athletic development plan for your elite high school and college age athletes.
What you must consider to keep athletes strong, fit, and healthy over the course of the competitive season.
Using the tier system with multiple periodization protocols (i.e. undulating, conjugate, block, concurrent, linear, etc.)
A review of the "Words Win" coaching philosophy, and how to develop personal excellence on and off the field with your athletes.
In-depth, detailed and step-by-step reviews of real programs used with real athletes!
If you're a coach who truly cares about his or her athletes, and you want to take your own skill set to the next level, this is a can't miss event.
- See more at: http://robertsontrainingsystems.com/elite-athletic-development-seminar/#sthash.6sThvaIc.dpuf
Who Are Joe Kenn and Mike Robertson?
A 25 year coaching veteran on the High School, College, and Professional level, Joe Kenn is the most decorated strength and conditioning coach in the history of the National Strength and Conditioning Association (NSCA).
Kenn most recently was awarded the inaugural Professional Strength and Conditioning Coach of the Year award from the NSCA. Kenn also won the College Strength and Conditioning Coach of the Year award in 2002 making him the only coach to have won both awards.
Last but not least, Coach Kenn is a well-respected and highly sought-after speaker. He routinely speaks at some of the highest level events in the strength and conditioning and performance enhancement industry.
Mike Robertson is a highly sought after performance coach, speaker and author.
Mike is the President of Robertson Training Systems and the co-owner of Indianapolis Fitness and Sports Training (I-FAST) in Indianapolis, Indiana. IFAST has been named one of the Top 10 Gyms in America by Men's Health magazine three times in the past six years.
Mike has made a name for himself as one of the premier performance coaches in the world, helping athletes in numerous sports achieve their personal and professional goals.
In the past year, Mike has trained and coached professional athletes from virtually every major professional sport, and worked full-time as the performance coach for the Indianapolis 11 professional soccer team.
What We Will Be Covering at EADS 2.0?
Session 1: Developing Your Training Philosophy for Elite Athletes (Mike Robertson)
Believe it or not, writing a program is often the last thing you should do when working with an athlete.
Arguably the first (and most important) thing to do is get clear on your training and coaching philosophy.
In this presentation Mike will outline the "big rocks" of his training philosophy, and provide real-world examples to show how a training philosophy is built and refined over the years.
Session 2: Periodization Concepts 1 (Joe Kenn)
In his first of two periodization talks, Coach Kenn is going to discuss the foundational concepts necessary to develop training programs for elite athletes.
Coach Kenn will start by helping you see the big picture, as it's imperative to have a vision when laying out a multi-year program for a young athlete. However, when done successfully, this four year programming block can take an elite high school or college age athlete and make them a monster.
From there, things will be broken down even further into the goals and foci of individual training years, and how to write a detailed annual plan as well. In this session, everything from the off-season, in-season and transition phases will be covered.
Session 3: Managing the In-Season Athlete (Mike Robertson)
Off-season training for athletes is fairly straight-forward. As a coach, your training is their primary focus, and outside demands and stressors are limited.
Managing athletes during the season is a totally different animal. Your job as a performance coach is to keep your athletes powerful, fit and on the field/court, with the goal always being to win as many games as possible.
In this talk Mike will discuss his work with the Indy 11 professional soccer team, beginning with focuses and goals for the season, and then drilling down even further to highlight specific training and recovery strategies that were used over the course of their 7 month competitive season.
Session 4: Periodization Concepts 2 (Joe Kenn)
In the second of his two periodization talks, Coach Kenn will start outlining how to build out the months/mesocycles of your annual plan, and how to determine what needs should be addressed in each.
From there, Coach Kenn will show how various periodization protocols can work within the Tier System. Regardless of what type of periodization you prefer (undulating, conjugate, block, concurrent, linear, etc.) you'll see how this can be tied seamlessly into the Tier System.
Session 5: Elite Athlete Case Studies (Mike Robertson)
During last years presentation, numerous attendees remarked at the transparency and depth of the elite athlete case studies.
Quite simply, it was rare to have a coach who would work fellow peers step-by-step through his program design process.
So if something is working, why mess with it?
In this talk Mike will take you through the off-season programs of two of his athletes, and discuss everything from laying out the various training blocks, down to exercise selection and everything in-between.
Session 6: Coaching 202 (Joe Kenn)
Coach Kenn will begin by briefly reviewing his Coaching 101 presentation given at last years EAD seminar, and then go deeper and talk more about his "Words Win" philosophy.
As we all know, we don't just coach athletes, but human beings as well. Coach Kenn will talk about thriving for personal excellence both on and off the playing field, and how to give your athletes the best chance for success not only in athletics, but life as well
Do You Need Continuing Education Units?
Need to keep your training certifications current? We can help!
We've been approved for 1.2 CEU's from the NSCA, and for 6 CEU's from the CSCCa.
After all, there's nothing better than attending a great seminar and getting CEU's to boot.
If your goal is to become the best physical preparation coach you possibly can, then this seminar is a must attend.
For more information and registration, click here.