IMPRESSIVE Raw Squats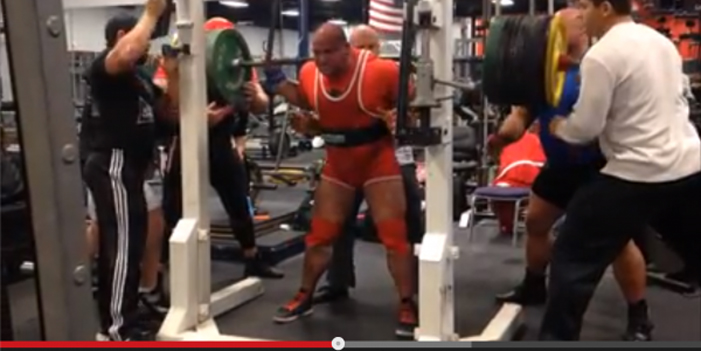 Source: Eric Lilliebridge  Facebook Page.
Image Credit: Video Screen Shot
From Eric's Video:
Published on Nov 2, 2014
This was my last heavy Squat training session of my meet prep for GPA Worlds. I'm currently 3 weeks out and will be de- loading all the way up to the meet now.
For this training session, I basically just went by how I felt. The goal was to go up to at least my planned opener for the meet (420kgs/926lbs) and if I felt good, I'd go heavier. If not then I would just cut it there. Since that felt good, I decided to take a couple more heavier singles after. My dad picked the weight for my last set which was 465kgs/1,026lbs. That ended up feeling much better than I was expecting, it also moved faster than I expected too.
I'd say the depth was right around parallel for that set. I got a side view of it just to make sure. I talked with Ed Coan right after this training session and showed him my depth. A couple weeks ago he had told my dad and myself that he might be judging at GPA Worlds. Since I knew he might be judging there, I asked him to give me a 100% honest opinion on how it looked.
He had said it looked perfectly parallel and that I would need to take it in at least a 1/2 inch deeper to get white lights on depth at GPA. I'm taking his word for it and I'll definitely get it in a tad bit deeper at the meet. I won't be posting anymore videos until after the meet since all my heavy training is done now. If you want to keep up with me from now leading up to the meet, follow me on Instagram @ericlilliebridge.
Loading Comments...