Introducing New elitefts Coach Nate Harvey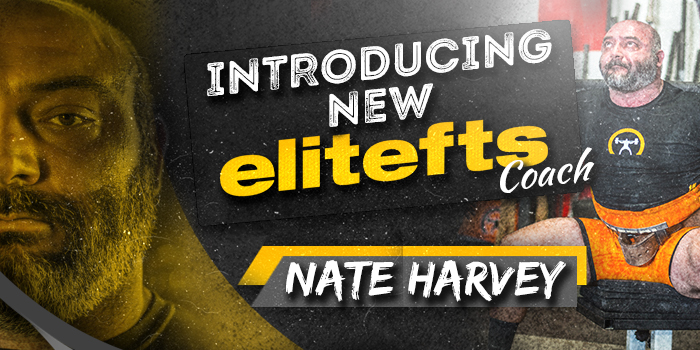 We're excited to announce Nate Harvey as the newest addition to Team elitefts. Nate is the Head Strength Coach of Olympic Sports at The State University of New York at Buffalo. Distinguishing him from our other coaches, his log will spotlight his use of the conjugate method when programming for his collegiate athletes. Complimenting his coaching log, follow his personal training as a top tier multi-ply powerlifter.
I'm super pumped to be here. Obviously from a personal standpoint this is huge for me. Before I got into this profession I spent a TON of time learning from Elitefts.com. I know all the stuff I learned helped me land a job, which is not easy to do. I lived in an area where people didn't train, so there was also a huge sense of community I got from the site. Hopefully I can bring some of that to the table for you along with highlighting some of our athlete's training.  It's also important for us to pass on.

Paul Childress, Buddy Morris and Julia Ladewski endured my daily barrage of training questions when they were all at UB, so I guess it's my turn. More important than the personal side, this is a great thing for our program to be associated with Elitefts.com. The resources that just became available to our student athletes will absolutely help their performance.

Lastly this is a great way for me to thank a lot of our current and former athletes who trained so hard for our program. You'd be surprised how many of them know of the site and follow it. I/ we are here because of YOU!

I'm looking forward to hearing from you and posting our team's training.
More about Nate
During his eight years at UB, he coached their first ever national champion (shot put), four-team conference champions (one back to back), eight of the schools twelve total All-Americans, 18 Olympic Trial qualifiers, over 50 individual conference champions, 16 individual national qualifiers, and over 75 individual regional qualifiers using the Conjugate Method. His best total is 2450 in the 308 weight class multi-ply division. In the 275-pound class, his best total is 2250 sans supraspinatus. His best lifts are a 1000-pound squat, 750-pound bench, and 750-pound deadlift.
Loading Comments...