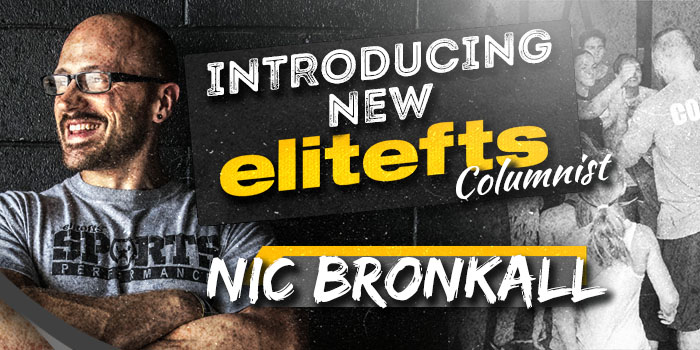 We're excited to announce Nic Bronkall as the newest addition to Team elitefts. As a sports performance coach, Nic provides progressions and regressions for athletes through "The Strength Coach Development Center" series. He is passionate about great coaches and shares his insights for aspiring coaches to cultivate their skills. You can feel his devotion in his 2014 article Dear Coaches. His work ethic, passion, and experience put him at the top of his field.
"Writing for 

Elitefts

 has always been a dream and goal of mine when I first started coaching. I have binders full of articles that I printed off using my printing credits in college instead of my actual school work. It's an honor to be able to give back to the site and the people that have given me so much. It's also an honor to be in a position to give back to the field that has done so much for me. 

My goal with this column is to help young strength and conditioning coaches get the information that they need to succeed when starting out

." —Nic Bronkall
More about Nic
Nic is a native of Ohio and graduated from Cleveland State with a bachelor's degree in health sciences. While at Cleveland State, he worked with men's basketball, women's volleyball, wrestling, and swimming athletes. Nic got his start lifting for high school sports, specifically football, wrestling, and lacrosse.
Currently, Nic serves as the Director of Performance at the Spot Athletics with fellow elitefts teammate JL Holdsworth. He oversees all training, program design, and coaching while also running one of the nation's top coaching development programs.
Check out his latest article, The Strength Coach Development Center — Deadlift Progression.