Mint Chocolate Chunk Popcorn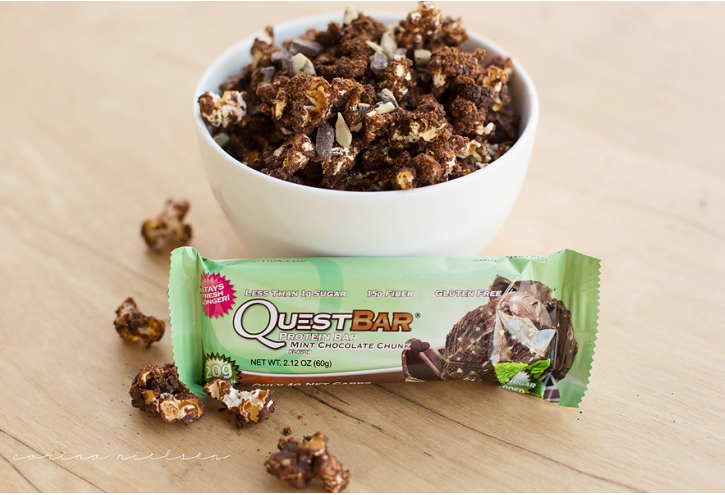 Corina Nielsen does it again. If you haven't checked out her live fit blog, you should. You'll find she has a large collection of healthy and creative recipes that every strength athlete will appreciate and approve of.
In the recipe below, Corina toasts Mint Chocolate Chunk QUEST protein bars (in combination with a few other melted ingredients) and coats coconut-oiled popcorn to create a chunky, crunchy, airy, protein-packed treat.
For the full article, click here.
Enjoy!
INGREDIENTS
1/2 Mint Chocolate Chunk QUEST protein bar
.5 tablespoon Enjoy Life mini chocolate chips
1 1/2 tablespoon Walden Farm's Chocolate Sauce
2-3 drops mint extract
1 tablespoon PEScience Milk Chocolate protein (30% off coupon below)
1/4 cup popcorn kernels
3/4 teaspoons coconut oil
OPTIONAL
1/2 tablespoon Andes Mint Chocolate candies
DIRECTIONS
Begin mint chocolate popcorn topping by breaking Quest bar into small pieces (roughly 1/4" in size) and placing them on a baking sheet. Carefully broil on high for 2-3 minutes until slightly toasted and firm to the touch **DO NOT WALK AWAY**. These will go from perfect to burnt very quickly while broiling. Remove from oven and let cool 3-5 minutes. They should be somewhat crunchy. Place in a mini food processor and pulse for 15-20 seconds. Set aside.
Add chocolate chips, Walden's chocolate sauce, extract, and 1/2 tsp of coconut oil in a small bowl. Heat in microwave for 20 second increments (stir between each) until completely melted and smooth. Slowly stir in protein powder. Mixture will be very thick.
Place popcorn kernels in a lunch sized brown paper bag with remaining 1/2 tsp of melted coconut oil. Shake in bag 15-20 seconds to ensure kernels are coated with oil. Fold top edges down 3-4 times. Heat in microwave on high for 2-2 1/2 minutes. 2 minutes and 10 seconds popped mine perfectly.
Remove from microwave and pour into a large bowl. Using your hands, work chocolate protein mixture onto popcorn as carefully as you can ensuring you do not crush popcorn. Sprinkle with reserved crushed Quest bar and toss to coat popcorn.
Add chopped Andes mint chocolates if desired. Eat immediately.
NOTE
NUTRITIONAL INFORMATION (makes 2 small servings/1 large serving): calories- 158, fat- 7 grams, carbs- 20 grams/fiber-6 grams= 14 grams NET CARBS, protein- 10 grams per serving.
Header image and recipe source: www.corinanielsen.com
Loading Comments...