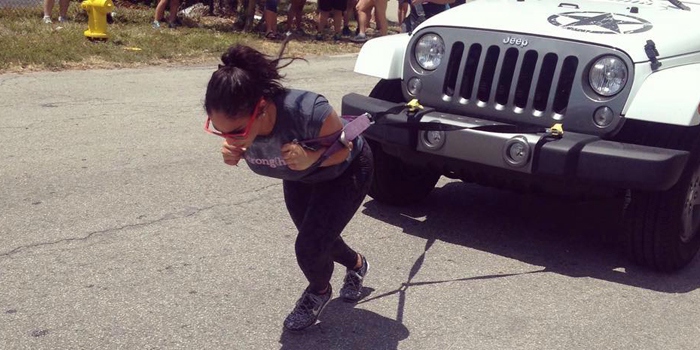 Source: Facebook
1st place!!!  Surprised myself with this last minute competition:
Keg: 50/75/100 lbs
Sled: 185/205/225lbs, 2 min, 17 sec
125-lb Log Press: 2 out of 4 in 90 sec
Stone Carry and Load (50 ft): 115/130/148 pounds in 46 seconds
Tires: 100/200/300/400/500/600lbs in 2 min, 45 sec
Car Push (Jeep Wrangler): 300 ft in 1 min, 17 sec
My support system is unreal, thank you guys for always pushing me @thebattleaxegym @vinnner @mandyh826 @megsquid, and thank you to all who showed up to support everyone. The energy and the sportsmanship in this competition was probably the highlight of it all. Seeing everyone cheer each other on, despite if they were their competition, was the best thing to witness.
‪#‎elitefts‬ ‪#‎battleaxe‬ ‪#‎idolmaker‬ ‪#‎westside‬ ‪#‎strongman‬‪#‎girlsthatpowerlift‬ ‪#‎girlsthatstrongman‬ ‪#‎inthistogether‬ ‪#‎roadtonationals‬