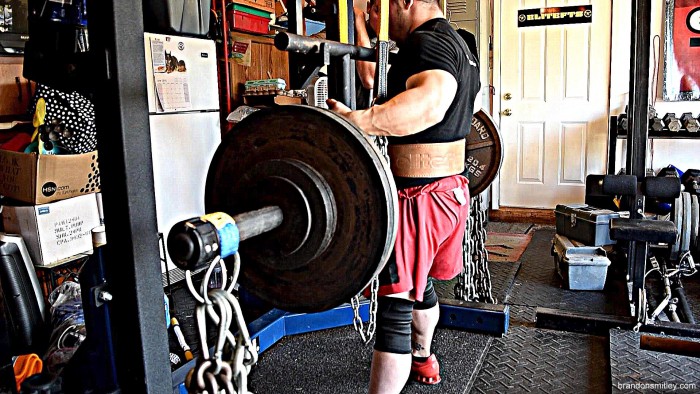 While I might not still be back to 100%, I'm healthy enough to compete bench only. Therefore, I am currently in meet prep, where I will compete at the APF/AAPF Summer Bash on July 29th, 2017. I'll be competing the 132-lb. weight class, multi-ply, where I look to bench press 500+ pounds, yet still mending my low back issues.

For programming and coaching inquires, please email SmitleyPerformanceSystems@gmail.com or visit brandonsmitley.com
---
Tuesday kicked off a new speed squat/deadlift wave for the training cycle. With how I'm feeling and how things are going, I increased my squat training max by 10 pounds and ran my numbers off of those. Things moved exceptionally well, and I'm happy where things are. Good mornings are still a bit iffy, but I managed to get up to about 80% numbers or so with no issues, but I just opted to shut it down there. We'll see how those go once my bench meet is over. Baby steps in the right direction that I'm really happy with.
---
Items Used in this Training Session
Cambered Squat Bar
Box Squat Box
Short Light Bands
Texas Deadlift Bar
Mini Bands
SS Yoke Bar
Warm Up
PRI Breathing Work - 5 min
Hip Flexor Stretch - 30 sec per leg
Leg Swings (forward and side to side) - 10 each
Single Leg RDL - 10 per leg
Bulgarian Split Squat - 10 per leg
Goblet Squat - 10
Standing Band Crunch - 15
A1) Cambered Bar Speed Box Squats vs Short Light Bands
65x10
65x5 - add bands
115x3
135x2
155x2
180x12x2
B1) Sumo Speed Deadlifts vs Quad Mini Bands
135x5
135x5 - add bands
185x3
225x2
250x10x1
C1) SSB Good Mornings
65x8
115x8
155x8
185x8
205x8
225x8
D1) Single Leg RDL
3x15 per leg

E1) Reverse Hyper
3x15
E2) Single Leg Deadbug Hold with Breath
3x3 per side
---