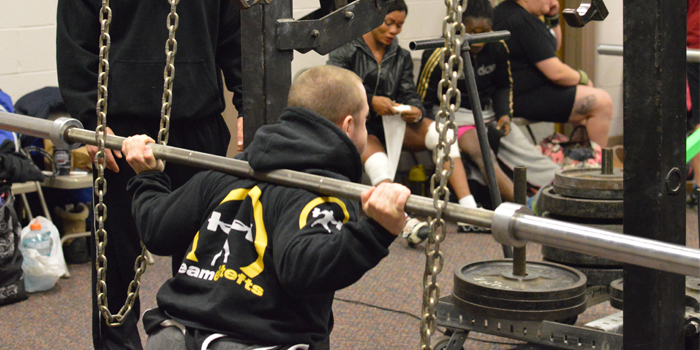 While I might not still be back to 100%, I'm healthy enough to compete bench only. Therefore, I am currently in meet prep, where I will compete at the APF/AAPF Summer Bash on July 29th, 2017. I'll be competing the 132-lb. weight class, multi-ply, where I look to bench press 500+ pounds, yet still mending my low back issues.

For programming and coaching inquires, please email SmitleyPerformanceSystems@gmail.com or visit brandonsmitley.com
---
Well after a super crappy Tuesday, I wasn't able to get in any training at all. I got up in the morning to go get some weights off someone that lived about 90 minutes away. When I went to go withdraw some cash from the ATM, I discovered that my checking account had somehow been hacked into as I had next to no money. So I was forced to cancel my card on my trip on the way there. Then once I realized I had fraudulent transactions, my dad's truck (which I took to go pick up the weights) blew an anti-freeze hose, which went everywhere and ended up having to have me call AAA. I still ended up making it over to get the weights, but I got no training in. And I was late for work later in the evening. So needless to say my Fourth really sucked. But I guess that's the way life can go sometimes.
So I just ended up pushing all my training back a day, and things still worked out well. Just some more speed work for squats and pulls and that's really it. I even kept the accessory work down to a rather low level for now. I'll start building things back up hard once the meet is over.
---
Items Used in this Training Session
Cambered Squat Bar
Box Squat Box
Short Light Bands
Texas Deadlift Bar
Mini Bands
Warm Up
PRI Breathing Work - 5 min
Hip Flexor Stretch - 30 sec per leg
Leg Swings (forward and side to side) - 10 each
Single Leg RDL - 10 per leg
Bulgarian Split Squat - 10 per leg
Goblet Squat - 10
Standing Band Crunch - 15
A1) Cambered Bar Speed Box Squats vs Short Light Bands
65x10
65x5 - add bands
115x3
135x2
155x2
185x2
205x2
225x8x2
B1) Sumo Speed Deadlift vs Quad Mini Bands
135x5
135x5 - add bands
185x3
225x2
255x1
275x9x1
C1) Goblet Step Ups
3x10 per leg
D1) DB Stiff Leg Deadlifts
3x20

E1) Plate Slide Plank
3x10 per side
---