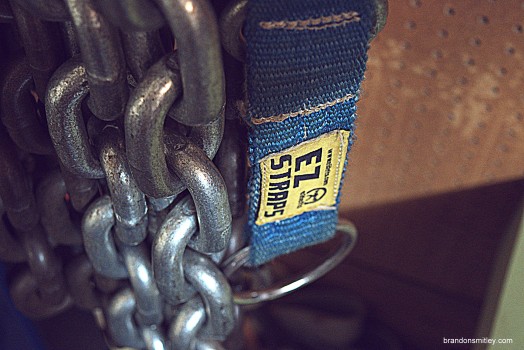 I'm currently in meet prep for the RPS Lexen Spring Fling in Columbus, Ohio on May 9th, 2015. I will be competing in my first multi-ply meet, going bench only at 148 pounds.
For programming and coaching inquires, please email SmitleyPerformanceSystems@gmail.com
---
Thursday was a decent day of speed work and some work up sets. My close grip bench has been making some great strides lately, and I think that is do to the extra tricep work I am hammering for the meet. It's good to see that start to carry over into my raw work, but right now I just need it to carry over to the gear.
I've got some time out of the shirt planned for Sunday, so getting back to some raw work is nice. My lovely girlfriend traveled over to train as well, and we all had a good time and then we had some spicy shredded Mexican chicken. I'm no Minx when it comes to cooking but this was super simple:
Layer your crock pot with 4-5 chicken breasts
Cover with taco seasoning (1 packet)
Cover with a can of salsa, and add in your hot sauce of choice (habenero for myself)
Set on low for 4-5 hours
About half way through, stir/mix things up a bit
After 4-5 hours, shred and let sit for another 30 minutes
SERVE!
High in protein, low in carbs, low in fat, and SUPER easy.
We had ours with some wraps (lower carb for the lady), and white rice
Let me know how you like it!
---
[youtube=https://www.youtube.com/watch?v=Jm8eSu7GguY]
---
Warm Up
DB Bench Press - 50's x4x12
Micro Band Pull Aparts - 100 total reps
Cable Side Bends - 3x12
A1) Speed Bench vs Chains
45x10
45x5 - add 2 chains per side
75x3
95x3
115x3
135x3
160x6x3

B1) Close Grip Bench vs Chains
180x5
205x3
230x6
C1) Incline Bench w/ Shoulder Saver
135x10
185x8
225x8
275x6
245x12
225x20
D1) Cambered Bar Bent Over Rows
5x15
E1) Skull Crushers
4x12
F1) DB Side Laterals
2x15
F2) DB Front Raises
2x10
---