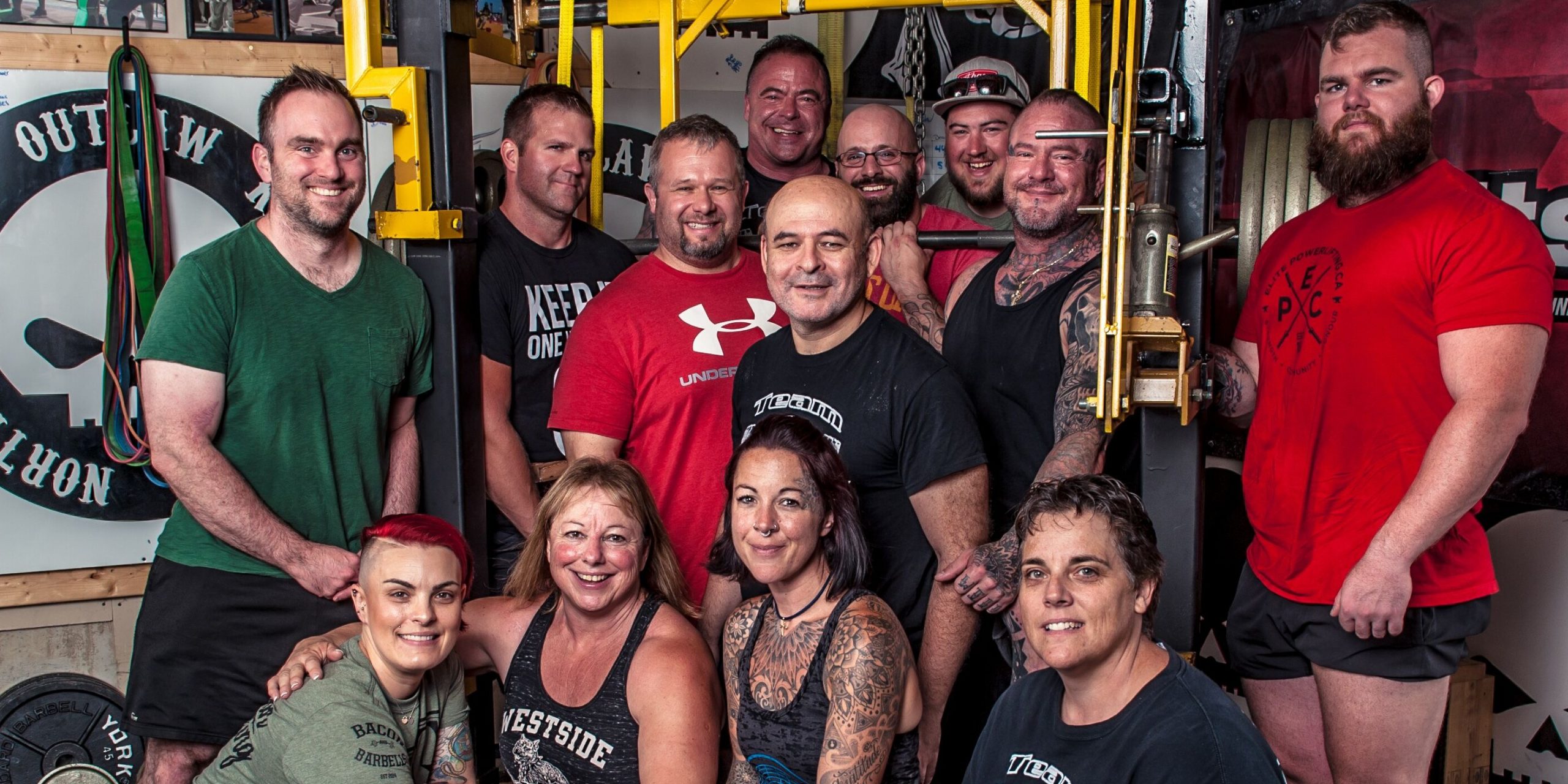 I have talked over and over about opportunities and social networking.  Well here we go again with another huge opportunity all because Ken decided to stop at a booth at the Toronto Pro Show and speak with Andrew Pearson. The Toronto Pro Show is like a "Mini Arnold Expo" with sports events, exhibit booths, bodybuilding, powerlifting, CrossFit events, you name it, they have it.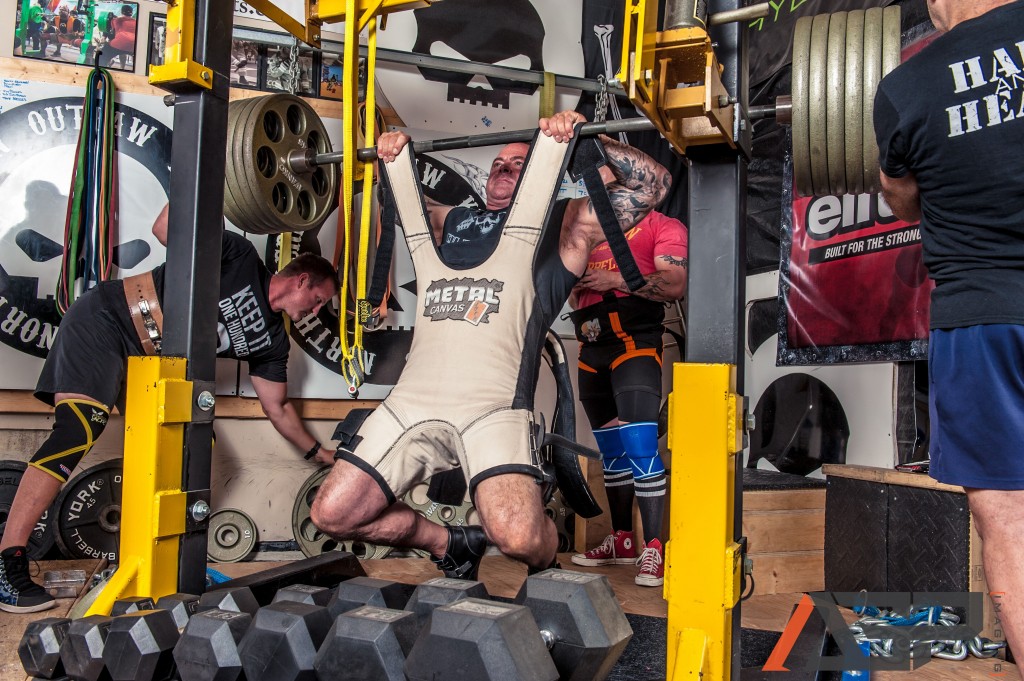 Ken was telling Andrew about our home gym and Andrew offered to come out on a squat day to take some pics of our Outlaw Crew squatting. I honestly thought it wouldn't happen because people say things all the time and most times it never happens. This turned out to be the real deal. Shortly after Ken and Andrew set the date of July 23rd to come out to our home gym and take pics. We had our regular crew and invited a few more of our powerlifting friends to join in this opportunity.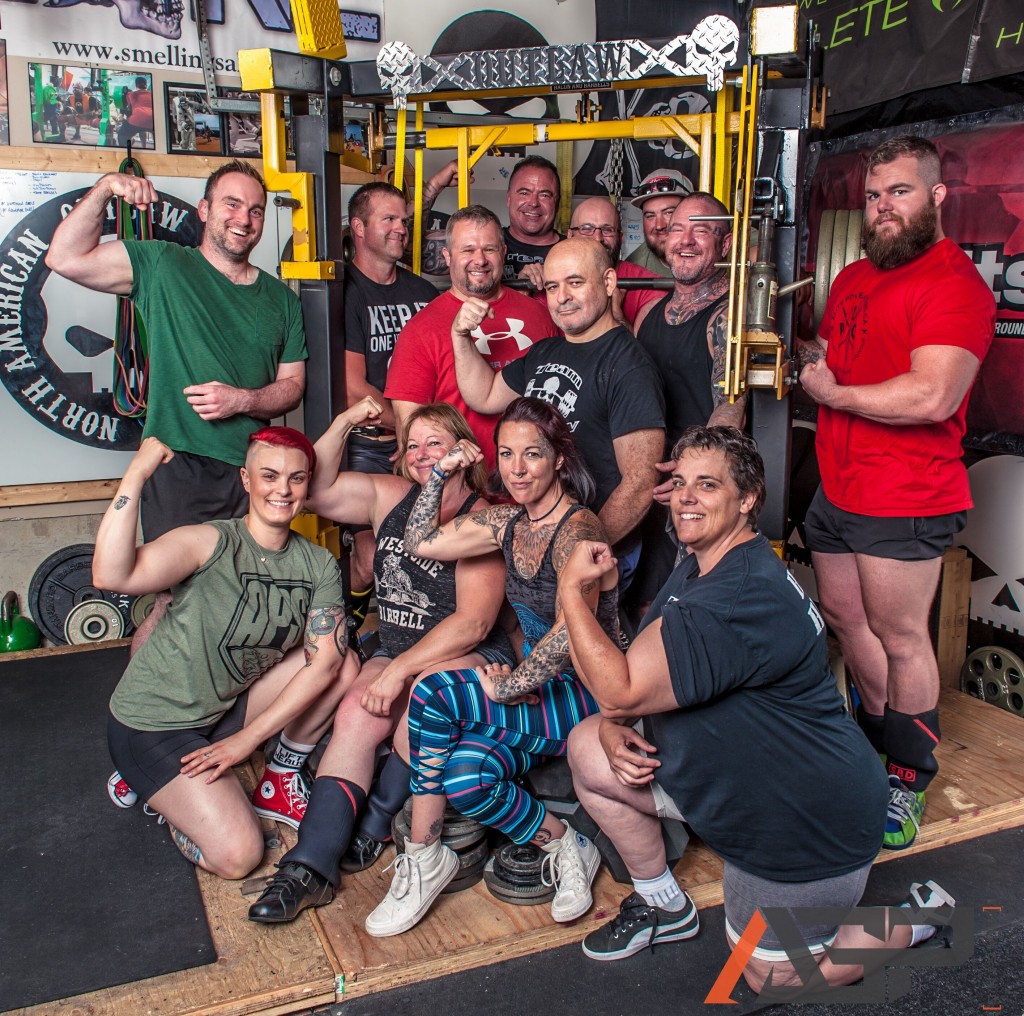 Let me introduce this fabulous photographer.  All pictures in this blog are  some of his talent and some of the pictures that he captured are lifetime PR's which are absolutely priceless. These photo's not only capture the squats but the team atmosphere and what it's like to be part of something monumental.  I asked Andrew for a bit of background, and here it is.
Andrew Pearson (Photographer Extraordinaire AGP Fitness Imaging)
I'd like to start off with a thank-you to Sheri and Ken for having me out during a squat session ! Before even expressing any interest in fitness and athletic culture I had always been very passionate about the arts and tried to push my own creative edge. The level of excitement and emotional impact involved with creating art for others brought me a large degree of happiness and self-fulfilment. After becoming involved with weight training and learning to eat better I experienced a completely new culture of vibrant individuals whom right off the bat all were incredibly memorable and visually striking.
During college , pursuing a visual arts diploma with photography I had a friend who was freaky shredded come into the studio for a quick project. After seeing the utter joy and excitement from him, as well as the awe from other students and staff it was decided this is what I'm going to do.
With an athletic background and extreme level of discipline in bodybuilding training/diet I bring a different level of understanding to bodybuilding and powerlifting photography. I come with the mind of an athlete mixed with the artist. I identify with 'clients' if I can even call anyone that when the majority of the time we stay or create a friendship through the event. When we are training , we all try to capture cool photos to share on social media. I take that one step further and make it a big experience , control the lighting, pose back grounds, push people mentally and physically. Very often athletes will hit a new PR during shoots , and its captured forever as proof.
I focus on the raw power, and emotion during sessions. I want to capture the transformation from a regular friendly person to the raving beast that's unleashed in the presence of cold steel! With powerlifting especially the dynamic of the friendliest, most supportive, inclusive, and positive group I've ever experienced, it's phenomenal to watch this transformation. Most athletes are here because of their undying passion and love for the sport but very few if any have a professional photo other than from graduation, let alone doing what they love, in their world, doing what they do best!
The main bulk of what I shoot is singular one on one sessions with bodybuilders pre competition. I also often travel to reasonably close powerlifting meets to capture friends and everyone else at the event! On special occasions I get the incredible opportunity to visit a private gym or club like Outlaw Powerlifting to capture the real blood and grit that goes into the sport in the most authentic raw, uncensored way possible!
To contact me email andrew.pearson@live.ca or Instagram @andrewyeay and lastly my facebook account andrew pearson. To view my work and a glimpse into my personal life check out my instagram @andrewyeay
THE SQUAT FACES OF TEAM OUTLAW
JAYNIE WHITE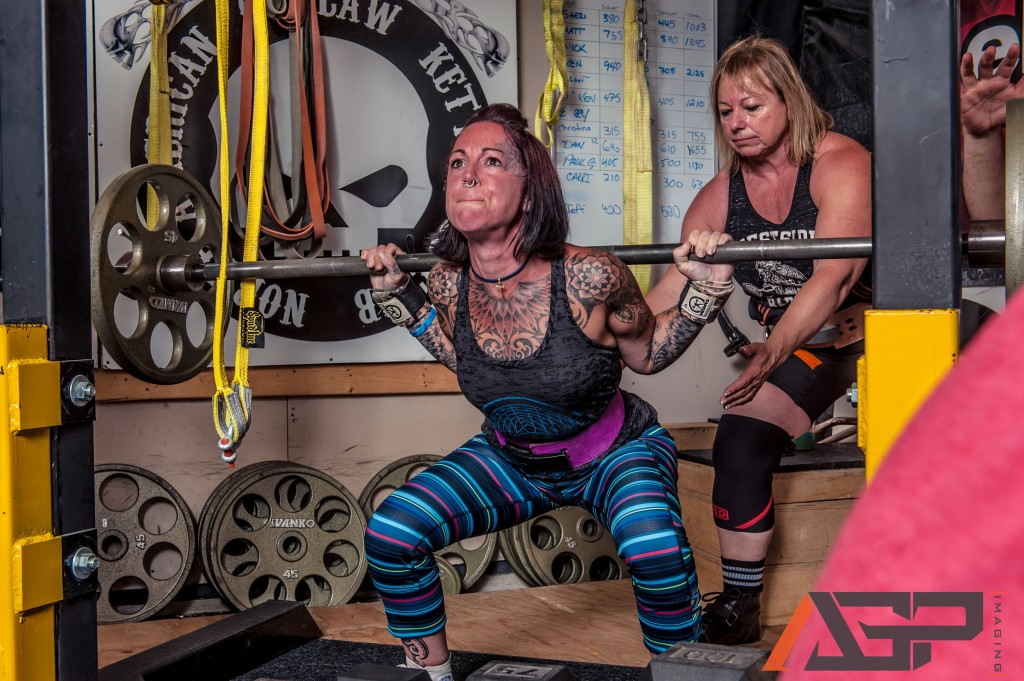 BRIANNA KANE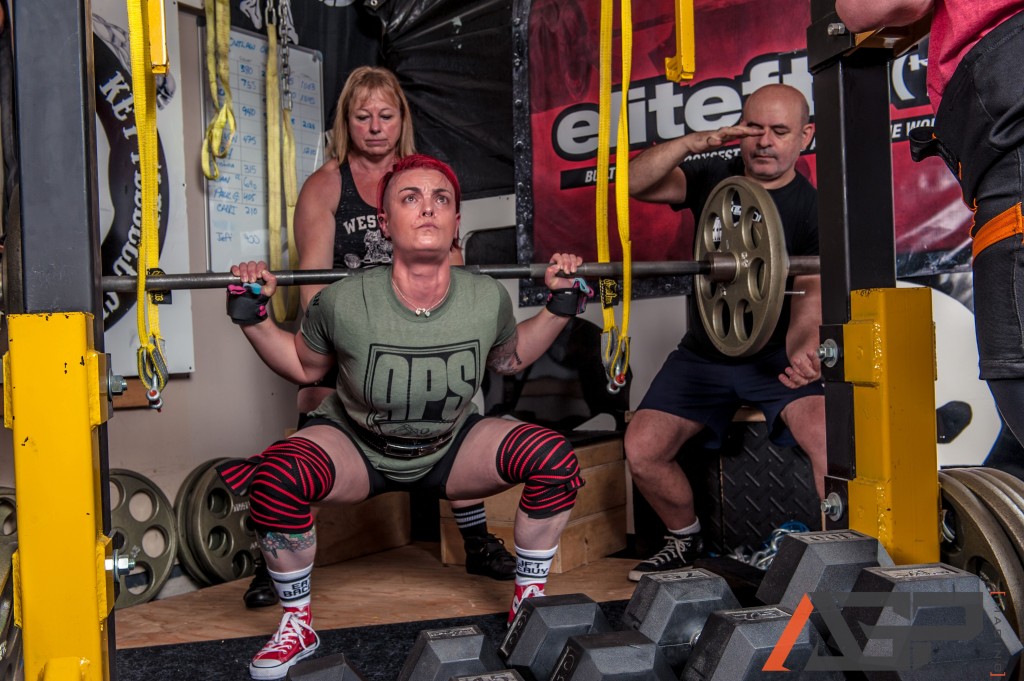 CARRI CHILLINGWORTH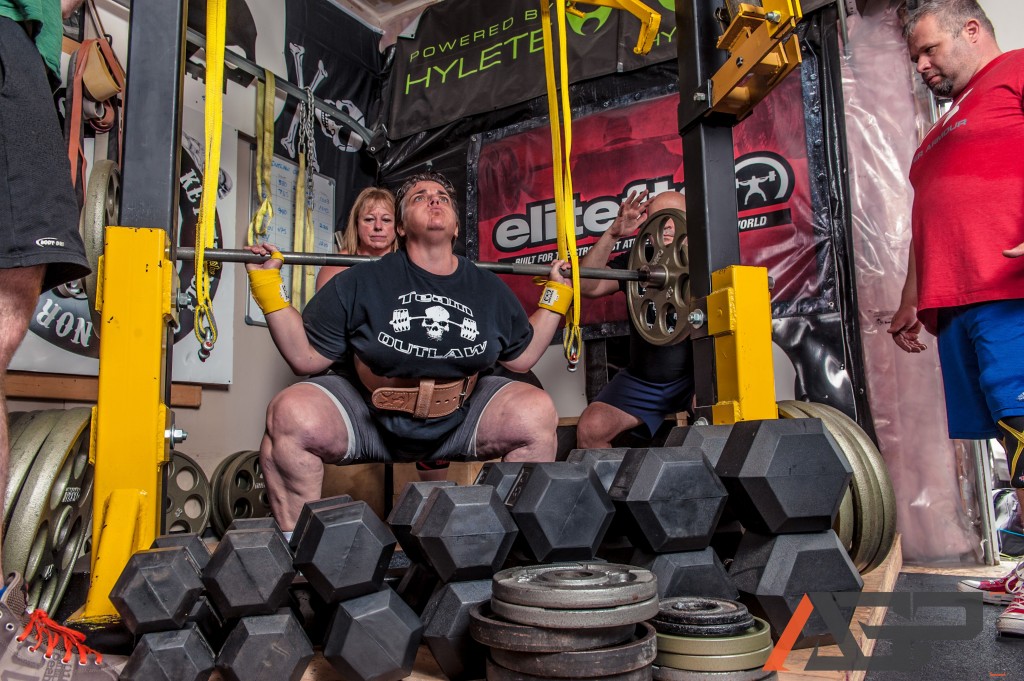 SHERI WHETHAM (MRS. OUTLAW 400 LB ALL TIME PR SQUAT)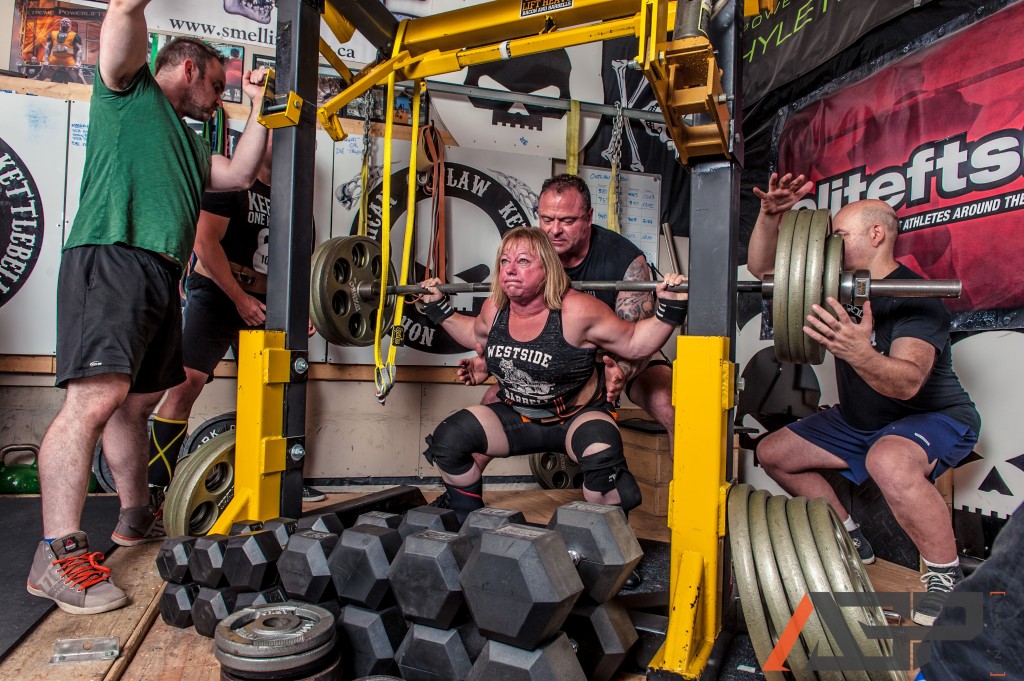 DAN BRUCE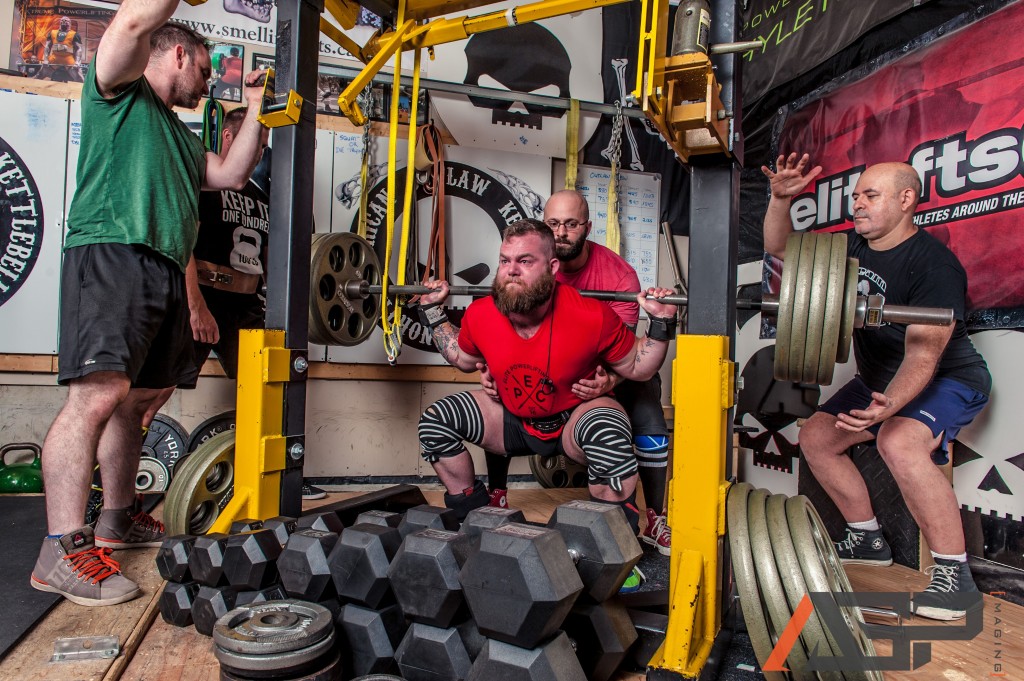 ROBIN MCLEAN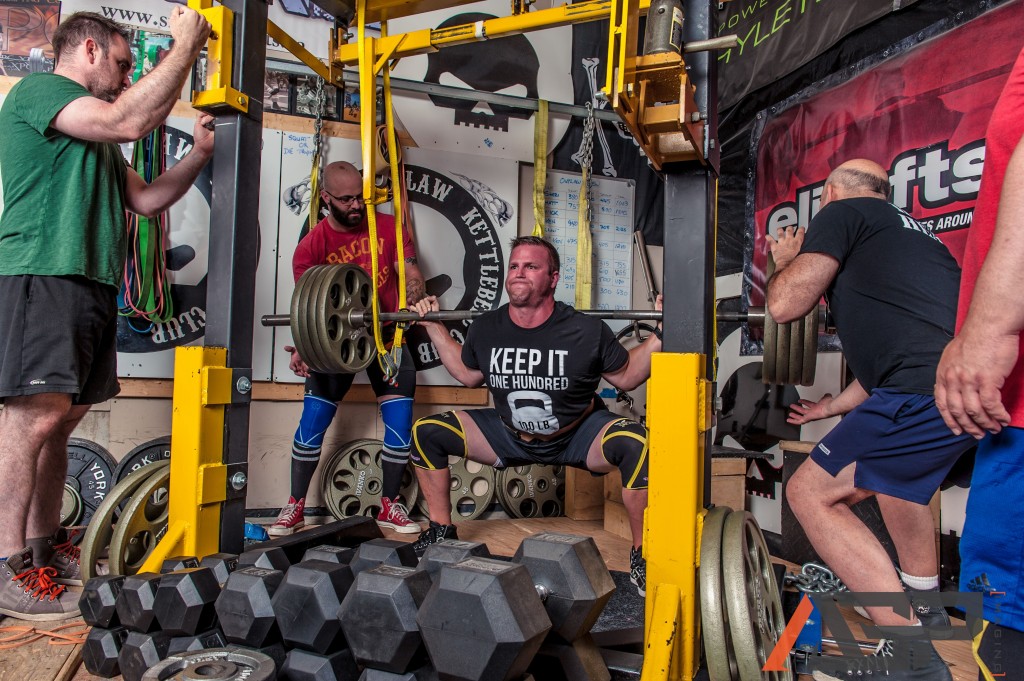 MATT BRASS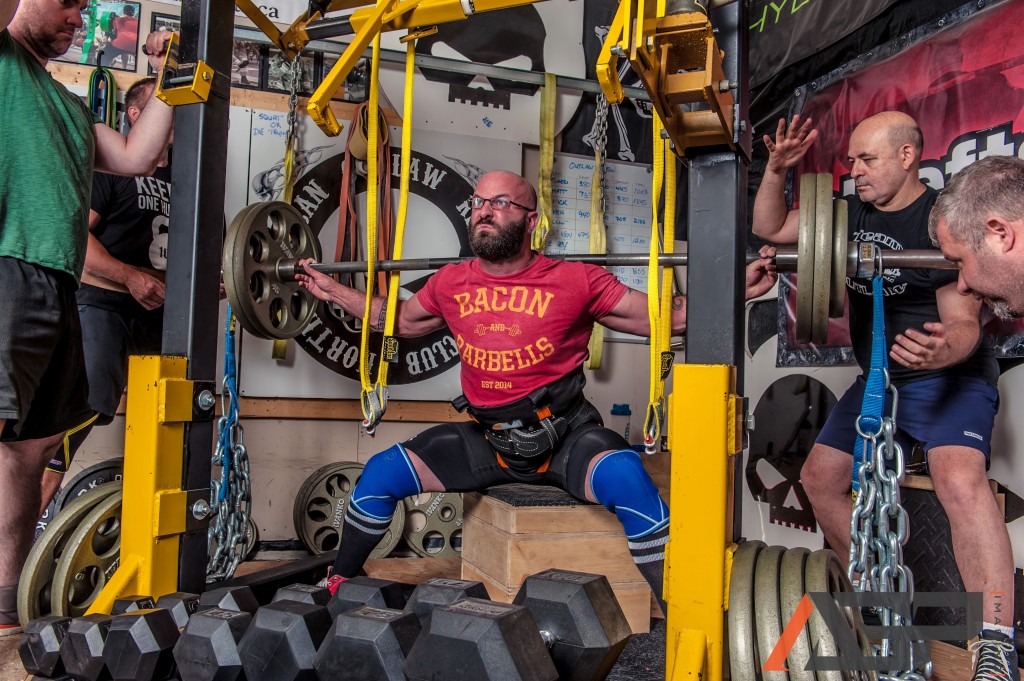 GROVE TURTLE (ALL TIME PR SQUAT 525 LBS)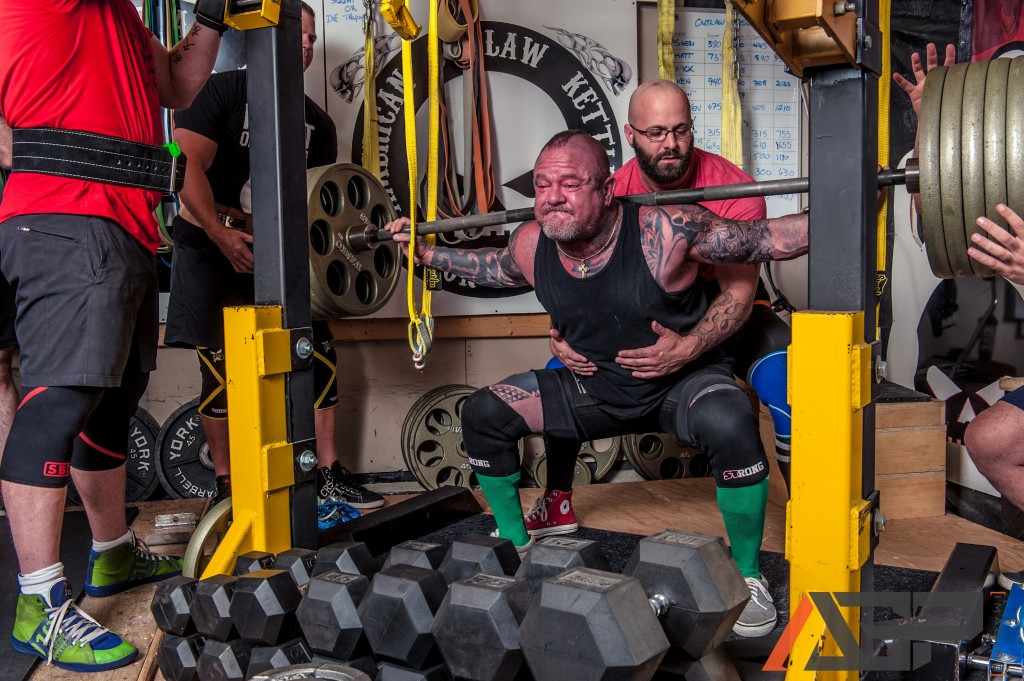 KEN WHETHAM (MR. OUTLAW 885 SQUAT)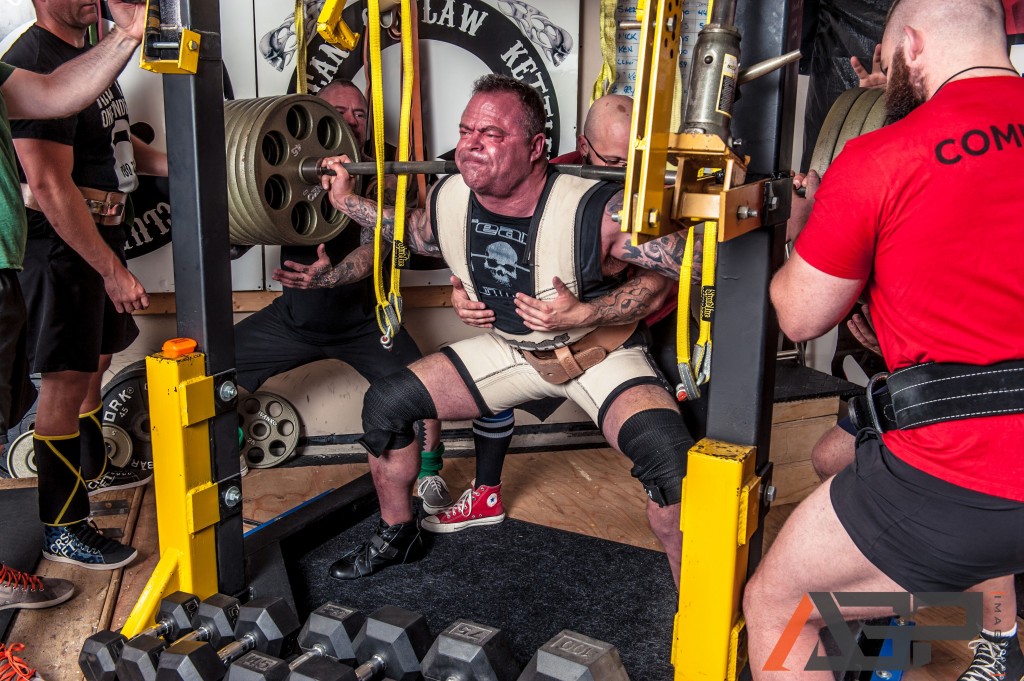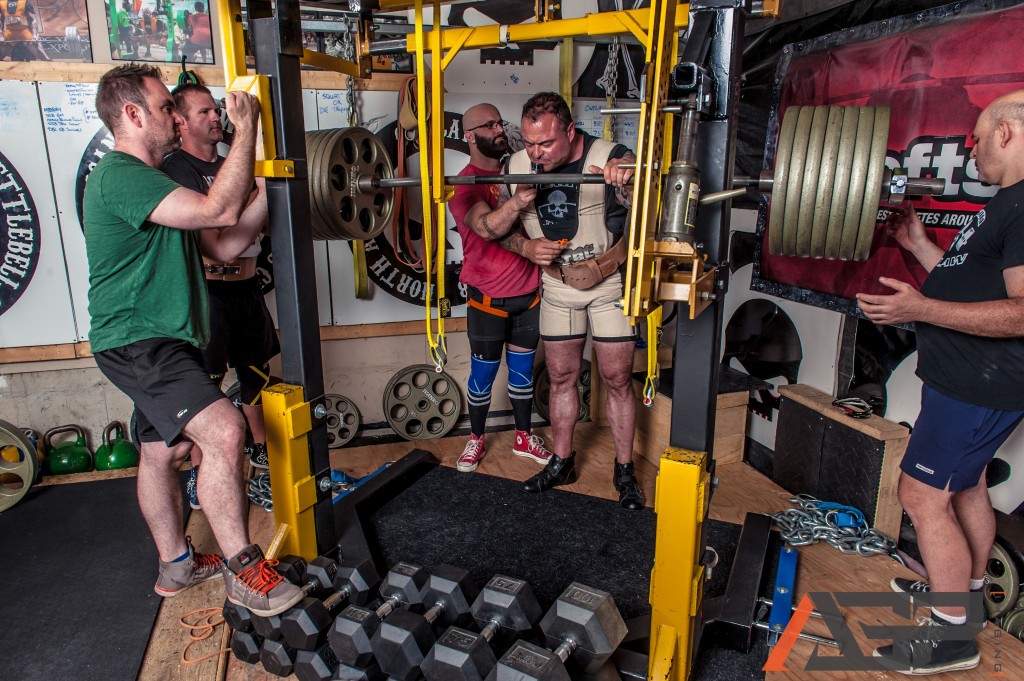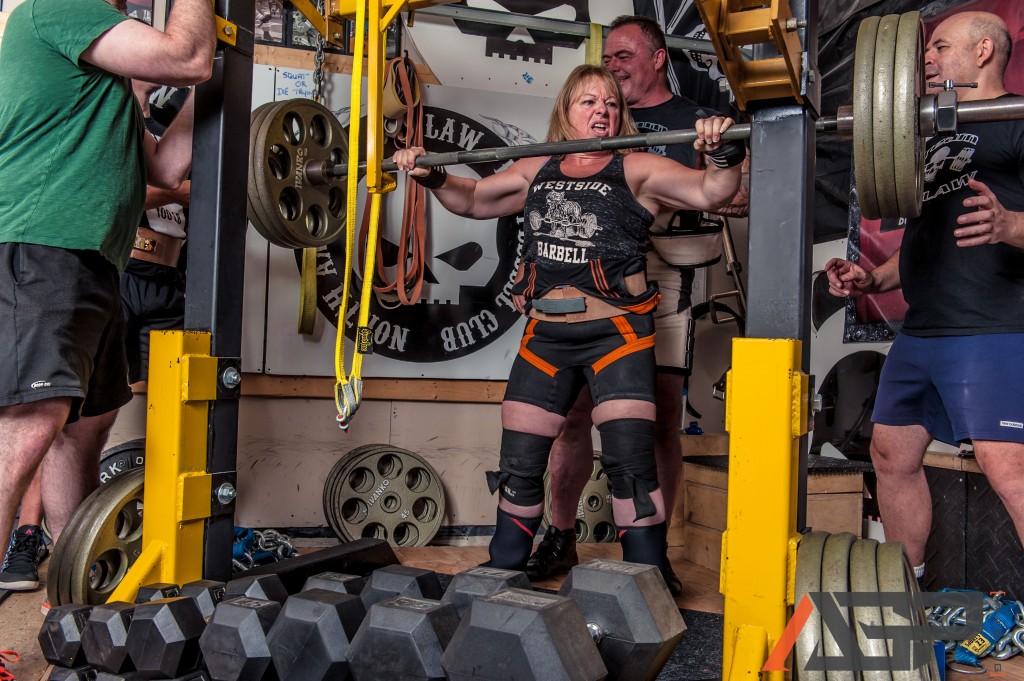 Squatted but not captured was none other than Jamie Don, owner of One Health Clubs, he came early and got his squats on before set up so no pro-photo of him squatting.  Also a special mention and thank you to our two spotters and loaders Paul Greeley and Pietro Cammalleri who are both suffering from a shoulder injury but helped tirelessly throughout the entire session to ensure the safety of all the lifters. That is what team work is all about, we don't grow alone, we grow as a team, strength in numbers.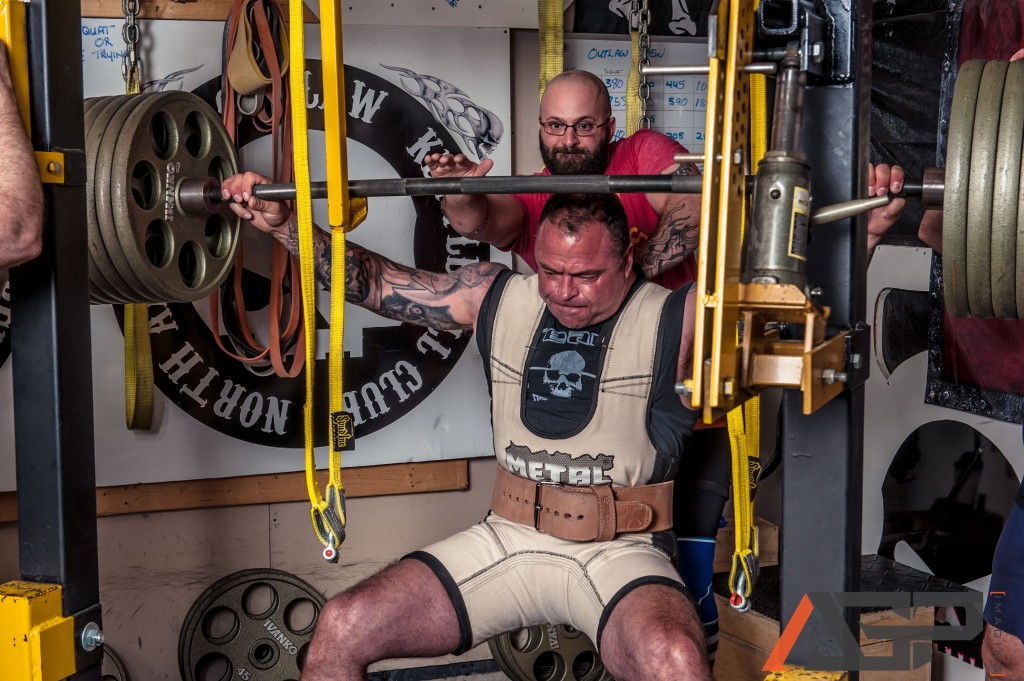 So it turns out Andrew was right. There were a couple PR squats that day, I myself had one of them. The environment, the fact that it was all going to be captured on film left no room for failure. In fact I don't think anyone failed a squat that day. We had a huge crew, some came just to spot and load, some came to watch like our bench only guy Nick Drimmel and just to be with their powerlifting family.  At the end of the day we are all family, a community of people wanting the same thing, to be better than we were yesterday and to Live, Learn, Pass On.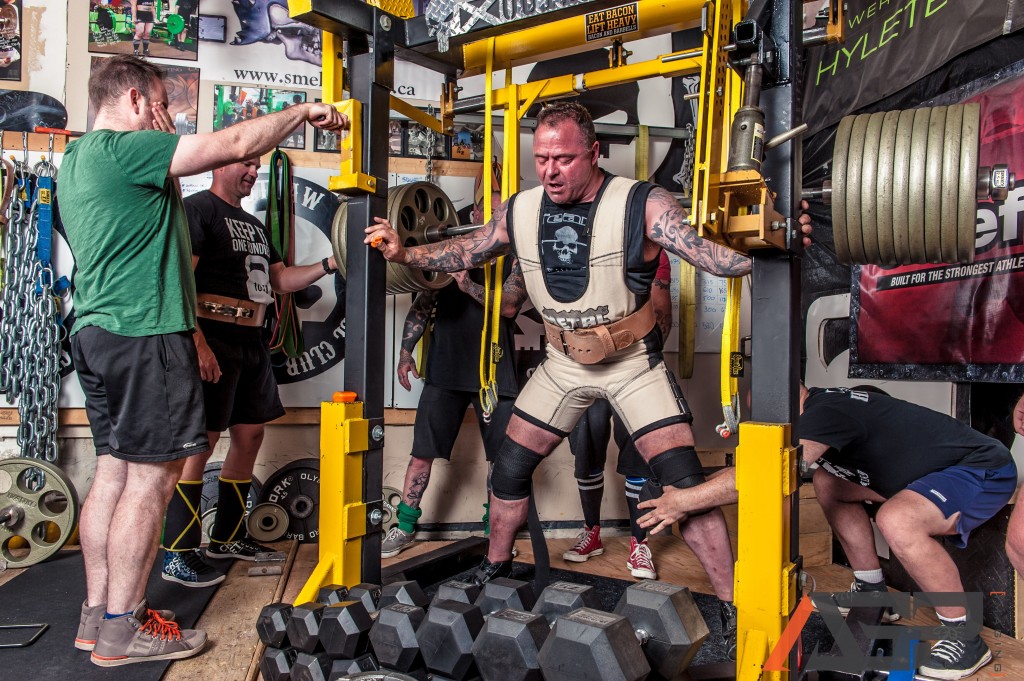 This was a glimpse at some really awesome photo's and some awesome PR's of Team Outlaw, Ken, Sheri, Jamie, Grove, Jaynie, Carri, Brianne, Matt, Nick, Robin, Paul, Pietro, Dan.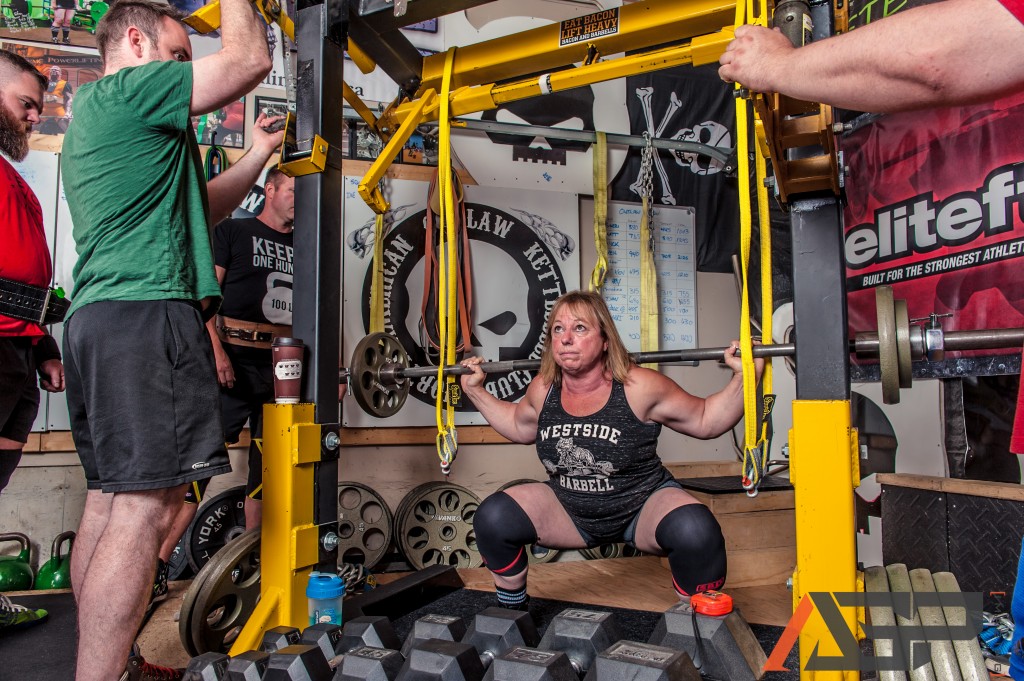 I cannot thank Andrew enough for volunteering to come out and take photo's for us. He drove almost 3 hours to get to us so 6 hours of travel time alone. That shows so much credit to the type of person he is. He brought top notch equipment and shot some really epic photos, thank you again Andrew, your talent is amazing.
#livelearnpasson #strengthinnumbers #teamoutlaw